Aloe Vera – lily of the desert aloe vera gelly, for ages, has worked as a skin-soothing agent. You might hear about how beneficial using aloe vera for your skin. and you are eager to try a better aloe vera product for your skin.
As per research, Aloe Vera is proved scientifically that it has powerful healing properties that are very beneficial to our skin. Such as soothing and moisturizing your skin, wound healing, and many more.
But how to choose the best aloe vera products that worth your investment?
In today's article, We are going to explore this amazing forever aloe vera gelly that is a total lifesaver. and I can proudly say this is the best aloe vera product you ever used.
Keep reading this Forever aloe vera gelly review till the end. You will find out why I rate this as one of the best aloe vera products in the market.
Product Specification
Product Name
Forever Living Aloe Vera Gelly

Brand

Forever Living Products

Item #

#061

Items Weight

4 OZ.

Key Ingredients

Aloe Barbadensis Miller


Availability

In Stock

Rating

⭐⭐⭐⭐⭐  

5

/5
Forever Aloe Vera Gelly Review
Forever Aloe Gelly is a non-greasy soothing clear gel from aloe vera gel. It is suitable for minor cuts, scalds, burns, and other skin-sensitive phenomena.
What makes it unique and different from any aloe gelly that you can get from the local store?
1). Multi-Purpose Usage Gel
Forever Living Aloe Vera Gelly is a multipurpose usage gelly that you can use in many areas.
Because it has a high content of aloe vera and no alcohol ingredients. it is perfect to use for :
Dry Skin moisturization
Skin hydration Mask, penetrating into the second layer of skin
Relieve mild burn, restore and recover sunburn
Help to stop bleeding
Insect repellent
Faster recovering on wound healing
Reducing the itchiness of mosquito bites and many more.
First aids emergency
and many more
Small, easy to bring along and if you love outdoor activities, this could be the best helper in your bags.
2). Dermatest Award
With this dermatest award, it is safe to use by any skin type and provides the best hydration and moisture on our skin.
Check out the dermatest certification here
3). International Aloe Science Council Seal(IASC)
IASC program seal represents a manufacturer's commitment to a high level of quality and purity of aloe vera in its products.
The quality and purity of aloe vera have been scientifically validated and certified by an independent group of professionals in that area. Besides that, It is a symbol that stands for integrity, honesty, and quality.
Check the IASC certification here.
Forever Aloe Vera Gelly Ingredients
Let's take a look at the unique ingredients on this aloe gelly forever living.
1). Best Aloe Vera Species(Aloe Barbadensis Miller)
According to the research, Aloe Barbardensis miller is the best aloe vera species in the aloe vera family. It has been widely used in the medicinal industry to dermatological industry.
Forever Aloe gelly is using only the inner gel of the aloe leaf. This removes the harmful laxative ingredient and fully boosts the nutrients of the aloe gel towards our skin.
Soothing clear gel aloe vera gelly has over 85% of aloe vera ingredients in the tube. A high percentage of aloe indicating your skin is able to absorb higher nutrients from aloe. This increases the soothing and moisturizing effect on your skin.
Forever Aloe Vera Gelly Benefits & Uses
Let's explores the top 8 amazing benefits of Forever aloe vera gelly that you can expect from:
1) Using Aloe Vera Gelly For Face
Is forever aloe vera gelly good for face?
Forever Aloe Gelly is suitable for any skin type. Whether you have oily, normal, dry to dehydrated skin type. These little tubes are able to relieve your skin problem.
It has high aloe vera content that able to penetrates the epidermis without leaving a trace. It has a soothing and moisturizing effect.
You can feel and notice the immediate effect of the hydration on your face after applying the gelly. Because your skin can immediately be absorbed. So dry and dehydrated skin feels well, softer and brighter.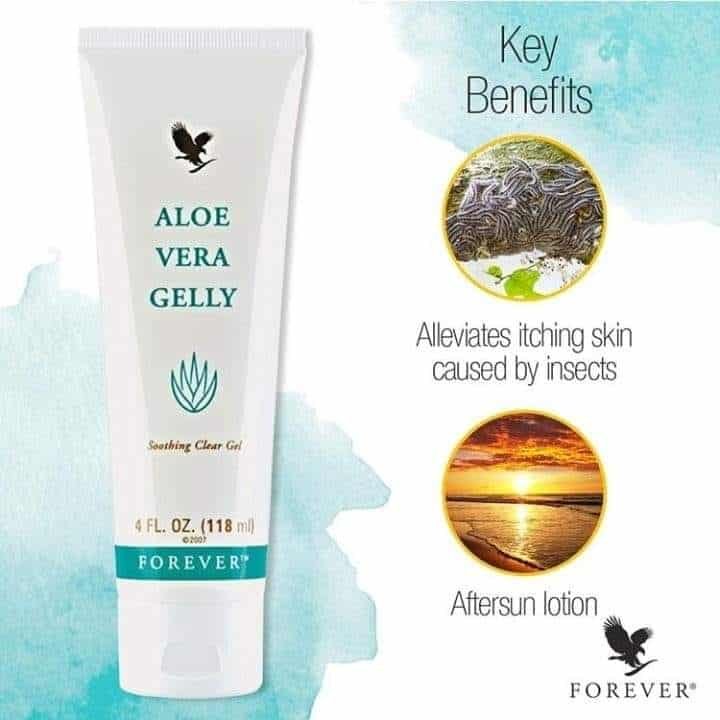 So, how to use forever aloe vera gelly on the face?
Depends on your skin condition, apply it thoroughly on the face every day if you have dry skin. You can also do a cool mask every week using forever living aloe vera gelly.
2). Applying Aloe Vera Gelly For Acne
The acne problem has been troubling many youngsters today.
The good news is Aloe vera has antibacterial properties that can help control and reduce acne-causing bacteria. And by using aloe vera gelly soothing clear gel forever helps to provide more nutrients to the skin, prevent inflammation on your skin.
There are many reason acne happen to our face. The most common is due to toxin and face cleansing is not properly done.
Therefore, if you are sure you done a great job in face cleansing but still having acne problems. You might need to consider doing a full-body detox using forever clean 9 programs. Because detoxify and purify body toxins will help to improve our skin condition.
Read more about how aloe vera helps acne problem
3). For Sunburn & Blister
Aloe Vera Gelly forever has the cooling effect that allows you to soothe your burning skin faster and help to recover faster.
If you experience a sunburn, apply more aloe vera gelly on the sunburn area 2-3 times a day, you will see amazing results in a few days.
Also, you can apply before going under the sun as it will help to reduce or prevent sunburn. You can also consider applying aloe sunscreen to protect your skin.
Read more about how to use Aloe vera for sunburn
4). For Mild Burn
Burns and mild burns happen in our daily life, not always but it does happen. If it happens, forever living aloe vera gelly is a big savior.
Apply an extra amount of aloe vera gelly on the burn area several times a day for soothing purposes. This will help to recover your skin tissue to prevent scars after full recovery.
5). For FrostBite
For superficial frostbite that has been rewarmed, some people find it soothing to apply aloe vera gelly or lotion to the affected area several times a day.
6). For Eczema
Aloe vera has a natural antibacterial moisturizer. Using aloe vera for eczema can hydrate the skin and may reduce the risk of eczema becoming infected. If you mix it with Aloe propolis creme, it will have an even better effect.
Aloe vera combined with vitamins A, E, and C work to nourish and moisturize the skin while bee propolis helps rejuvenate skin for a smooth, supple look and feel.
Forever Aloe Propolis Creme also enhances the soothing power of aloe with the addition of chamomile.
7). For Minor Injury
Aloe Vera is well known for wound healing. Therefore, Forever aloe gelly is like a first aid kit in my home. You can always count on forever aloe gelly if kids having minor injuring during their playtime or get burn during cooking time. It helps to staunch bleeding very fast.
It also has a sterilizing effect to help wound healing faster without leaving ugly scars.
8) Using Aloe Vera Gelly for Hair
Aloe vera contain more than 200 ++ nutrients, mineral, vitamins and amino acids. It penetrates to your scalp and provide nutrients to your hair roots. This helps you to develop healthy shiny and strong hair root.
So if you are using forever aloe vera gelly for hair growth, you will see amazing results after sometimes.
how to use forever aloe vera gelly on hair?
Apply on your scalp, do some soft massage on scalp to help to absorb the nutrients. You can also use Forever living aloe vera gelly as hair gel daily. You will see amazing results.
Read more on the benefits of aloe vera for hair.
There is a lot more area forever living aloe vera gelly uses on such as for baby, for pets and many more. Now you should know why I say this forever aloe vera gelly as gentle as its like home first aid that can be used in many areas.
Why Aloe Vera Gelly is popular among our users?
Very High Content of 100% stabilized Aloe Vera Gel(pure aloe gelly)
Calms irritated skin
Quickly absorbed
Non-oily & does not stain clothes
Suitable for all skin types, even sensitive skin.
Ideal for minor cuts, wounds, burns, acne, and pimples
Good for us as a moisturizer and moisturizing mask.
Other Uses – for piles hair styling gel, insect bites.
1. What is Forever Aloe Vera Gelly used for?
A: Forever Aloe Vera Gelly having about 85% of aloe ingredient, For skin care, It help to hydrated and moisturizing our skin and absorb the nutrient to our skin. It it also a very effective personal first aids that can help soothing all kind of skin related problems. Futhermore, is it suitable to use from baby till old age.
2. How to Use Forever Aloe Vera Gelly On Face?
A: For daily skin care, you can apply a thin layer on your face every night to keep your skin moisturize and hydrated.
3. Can I use aloe vera on my face every day?
A: Yes, You can use it every day, Thoroughly cleanse skin in the area where aloe vera gelly is to be applied. 
4. Can I use it for babies and pets?
A: Definitely yes, as it is using natural aloe vera gel. It is safe to use for baby or pets. 
5. What is forever Living aloe vera gelly price and where can i get it?
You can click the order button top or bottom to go to forever living official website your very first Forever living aloe vera gelly today!
Bottom Line
There is a reason that aloe Vera has been described as a "miracle plant". Many researchers still discovering the usage and benefits of aloe vera in our daily life.
But one thing for sure is, it did solve and help many around the world. And forever living aloe vera gelly is one of the best aloe vera products that are quite popular and famous.
As you can see, Forever Aloe Vera Gelly is like well little nurse in a tube that helps us during an emergency. To me, this product does magic when using topically on the skin.
For Internal consumption to maintain or improve your health condition, I would highly recommend their aloe vera gel. Which is also a wonderful aloe vera supplement product.
I hope that this forever aloe vera gelly review does help you in exploring the benefits of aloe vera in your life. 
Now, It's your turn, let us know your opinion about "Forever living Aloe Vera Gelly" and your experience using it. 
Leave your comments and questions about "Forever Aloe Vera Gelly Review" in the comment section. And we promise to answer your questions quickly because we know that time is of the essence!
And don't forget to share the article, because sharing is caring