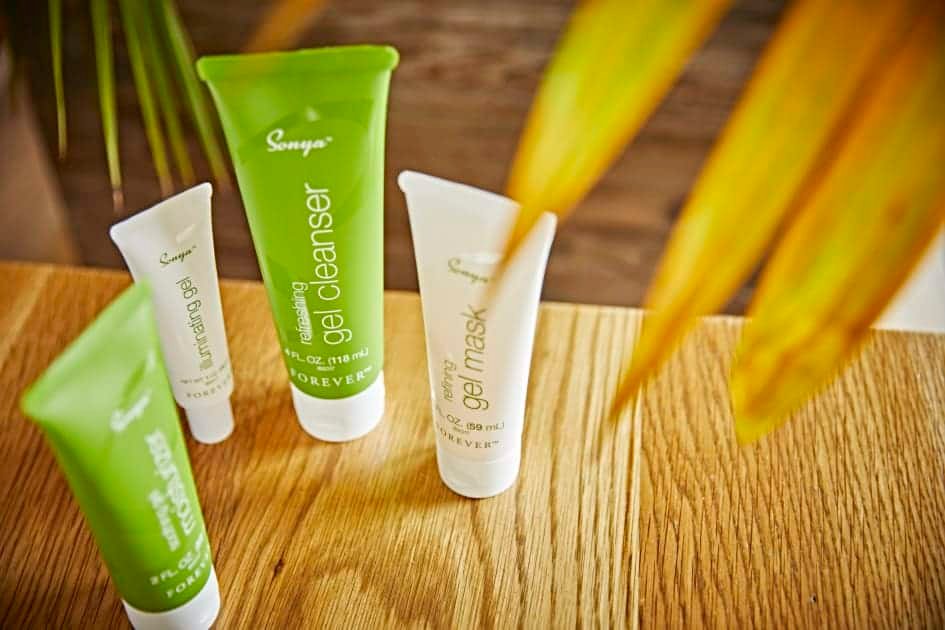 Sonya Daily Skincare System Review
This Sonya Daily Skincare system delivers aloe, moisture, and botanical deep into your skin. This formula is specially designed for combination skin.
What is combination skin?
It is dry in some places, oily in others, and depending on the season and environmental conditions, it can fluctuate. Even for sensitive skin, Aloe Power gives the skin excellent power to restore balance to the skin. Leaving it feeling soft and hydrated.
Just keep reading this Sonya Daily Skincare review, you will find out how this skincare system helps you keep your skin healthy with its aloe-based formulas.
Product Specification
Product Name
Sonya Daily SkinCare System

Brand

Forever Living Products

UPC

#609

Key Ingredients

Stabilized Aloe Vera
Made In
USA

Availability

In Stock

Rating

⭐⭐⭐⭐⭐ 

5

/5
Why Sonya Daily Skin Care Set?
Pamper your skin with this Sonya Daily skincare system by a forever living company.
This lush pack of skincare products that are stuffed with natural aloe Vera extract and botanicals by Forever Living Products Company.
This feast of botanicals and Aloe Vera is specially formulated for oily skin. Aren't you excited to get an oil-free shine on your face? Of course, you are! Then be ready to put your hands on these four products which will give your skin an irresistible glow without clogging pores.
Why you get oily skin?
Because of the overproduction of sebum. Sebum is also known as oil in the normal language which is produced by sebaceous glands, present beneath the skin's surface.
Due to the overproduction of sebum, your open pores get clogged and cause acne. So here we are to treat your oily skin with Sonya daily skincare system. It is packed with nutrients, Aloe, and botanicals to give the best diet to your oily skin.
Sonya Daily skincare system includes:
Sonya Refreshing Gel Cleanser.
Sonya Illuminating Gel.
Sonya Refining Gel Mask.
Sonya Soothing Gel Moisturizer.
Dermatologist suggests that…
Always start your skincare routine with a cleanser and finish with moisturizer. And we have both in this kit.
Sonya Daily Skincare Review and Uses
Let's introduce your skin with a shine and nutrients by using these four magical products.
This kit is created to give you a reflection of the glow.
1) Sonya Refreshing Gel Cleanser
A cleanser is the first and the foremost part of a skincare routine.
Sonya Refreshing Gel cleanser cleanses your facial skin pores without stripping natural oils. To ensure the absorption of further skincare products.
The rich ingredients remove the toxins from the skin and leave the skin highly-hydrated.
Removal of dead skin cells and addition of moisture gives a healthy look to the skin.
The foamy texture of the cleanser avoids harsh cleansing and promotes a soothing effect.
It is formulated with a combination of advanced ingredients like Aloe, Apple amino acids, Baobab Oil, and Acacia concinna fruit extract.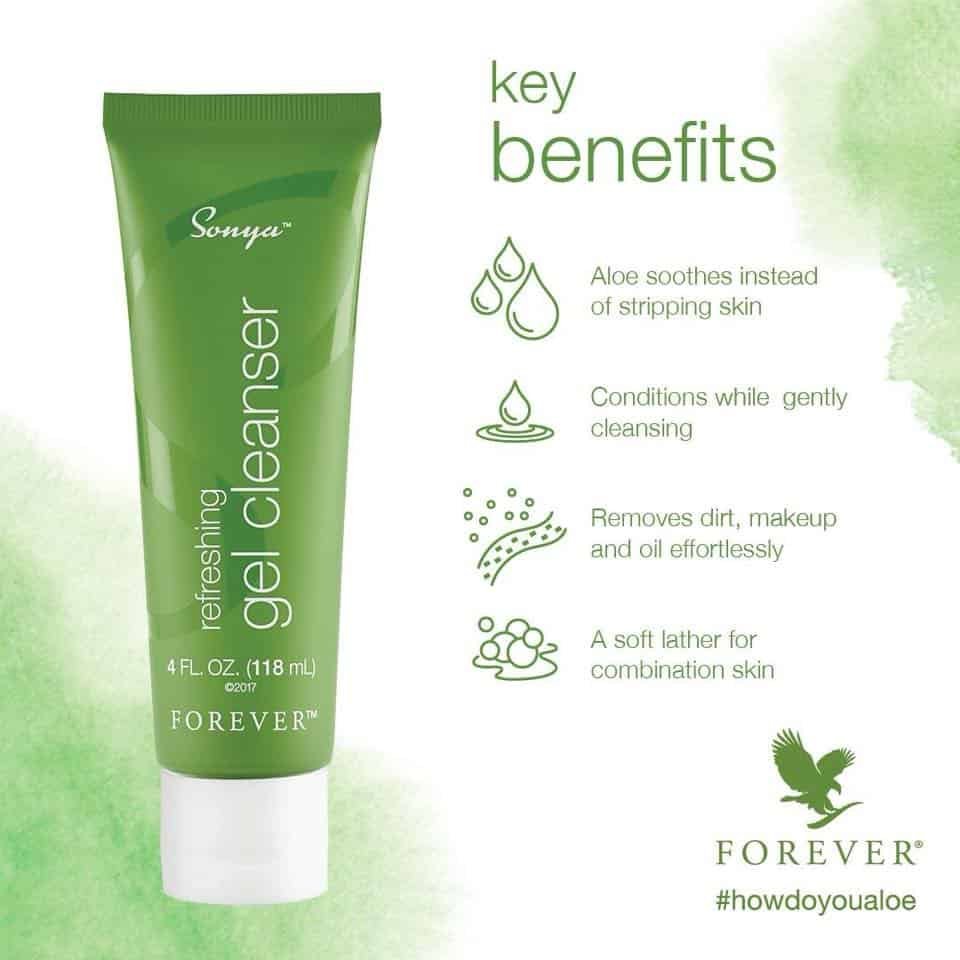 Sonya Refreshing Gel Cleanser has a lightweight and powerful yet gentle formula for sensitive skin.
Aloe Moisturizes the skin and treats acne. Also removes blemishes.
Apple Amino Acids: Maintains skin health by hydrating it and protecting it from free-radicals and leaves a natural glow to your skin. It also slows down the aging process.
Baobab Oil Treats acne, inflammation, and irritation. Provides refreshing and soothing effect to our skin.
Acacia Concinna fruit extract: has Anti-fungal and Anti-bacterial properties to protect your skin from any infection or inflammation.
USAGE: You can use this non-comedogenic mild cleanser daily in the morning and evening before starting your skincare routine to prepare your skin for more products.
2) Sonya Illuminating Gel
Dress your skin with the glow by using this Sonya Illuminating Gel which brightens up the skin complexion and gives a sparkling glow to it.
The jelly texture of illuminating gel gives a calming effect and pleasure to the facial skin.
The cocktail of five Asian botanicals and two kinds of Algae make this gel unique from other brands because it gives healthy skin from the inside and a refreshing look from the outside.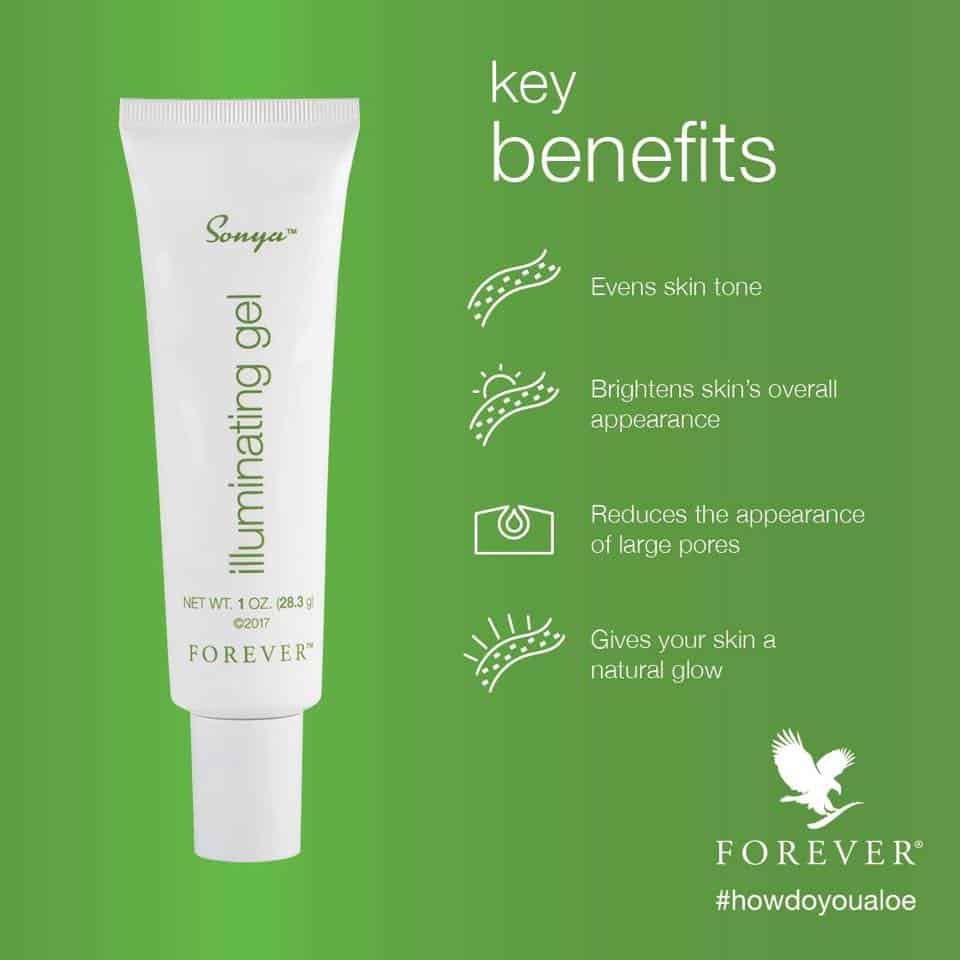 The five botanicals Scutellaria baicalensis root, glycyrrhiza glabra root, Morus alba root, Artemisia capillaris flower, and Ziziphus jujube fruit remove the dead skin cells and helps in brightening the skin complexion.
Brown and green algae are rich in vitamin C and magnesium which performs the function of skin tightening.
Green Algae is best for moisturizing your skin without causing acne.
Lico rice root is known for enhancing the skin complexion and texture. It tightens the skin by closing open pores.
Liposomes are the best hydrating agent used in skincare cosmetics because they prepare the skin to absorb more skincare products. Red clover flower extract removes lines and wrinkles and gives a youthful skin texture.
USAGE: This light and soothing illuminating gel can be used at any time of the day.
3) Sonya Refining Gel Mask
Sonya Refining Gel mask does wonders for your skin all night long by infusing a feast of botanicals and moisturizing agents into your skin and gives you a night of better peaceful sleep with its sweet fruity smell.
The cocktail of different essential oils like basil oil, carrot seed oil, artemesia pallens flower oil, and soybean oil deeplynourishes your skin and ensures healthy glowing skin.
This non-greasy and light-textures Gel Mask also fights with the free radicals and deals with hyperpigmentation, blemishes, and acne scars due to the rich addition of anti-oxidants like licorice and Korean bamboo extract.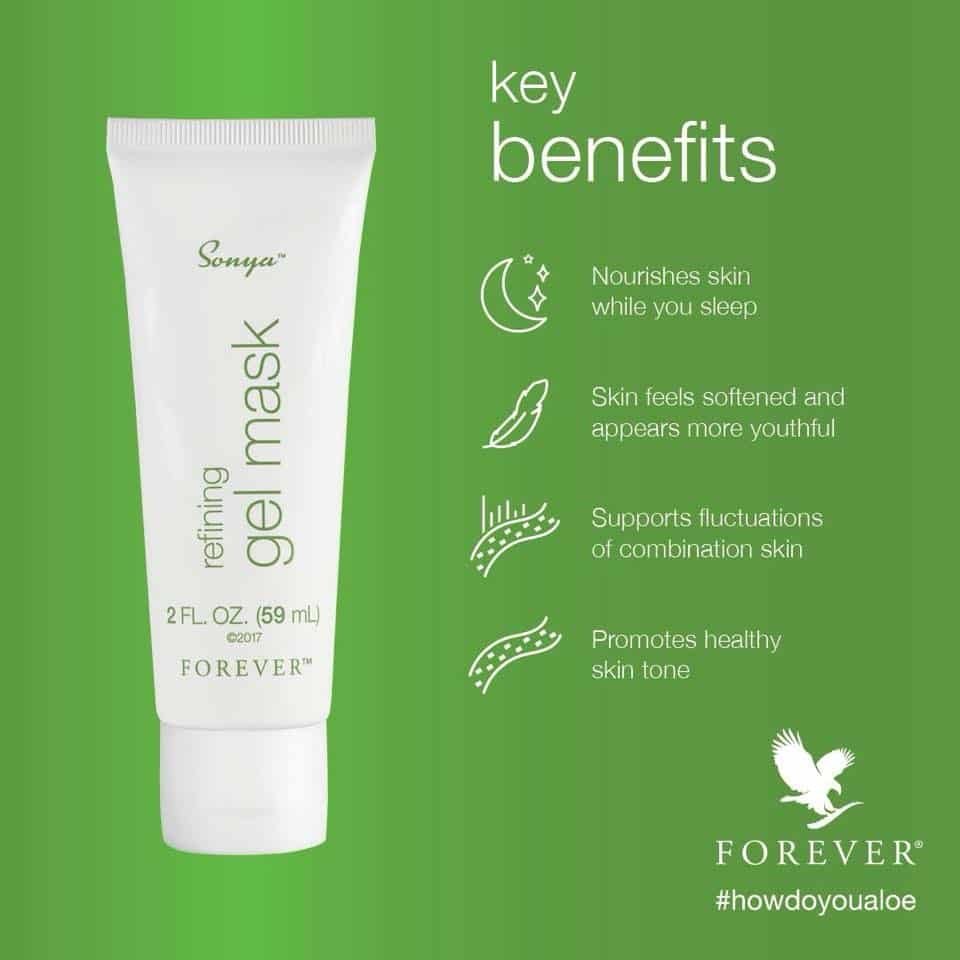 USAGE: A soothing, moisturizing gel formula glides smoothly on your face and tightens up your skin.
It takes some time to get deeply absorbed into your skin and forms a layer of moisture to keep your skin hydrated.
There is no need of rinsing it off. Enjoy your sleep with this gel mask and see magical skin in the morning.
4) Sonya Soothing Gel Moisturizer
This oil-free Gel moisturizer is lightweight, breathable, and smooth enough for daily use.
It is formulated with ten natural plant extracts and oils that maintain the smooth texture of your skin and replenish draining collagen.
Its rich gel formula hydrates your skin and leaves your face feeling refreshed with a pleasing scent of fruit extract and penetrates easily the surface of the skin to transform your skin into a magical thing.
The key ingredients Apple extract and Aloe extract performs the highlighted functions of this moisturizer by improving the skin complexion along with reducing scars, blemishes, etc.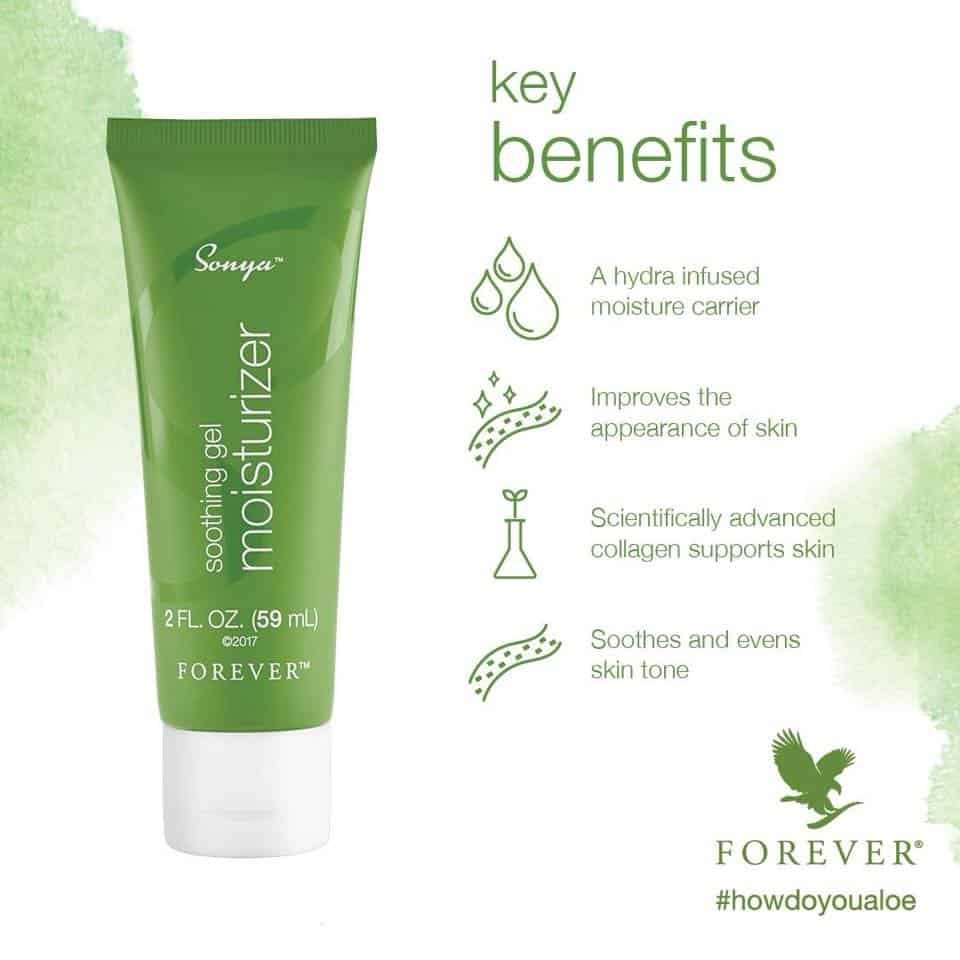 The other magical ingredient Beta-glucan extract plays a key role in keeping your skin tone even and radiant.
You will enjoy silky and supple skin after one application of this moisturizer because jojoba oil and olive oil are pro gamers in designing your skin with ultra-smoothness.
USAGE: Massage this gel moisturizer all over your face and neck in a circular and upward motion.
Sonya Daily Skincare System Benefits:
Advanced aloe vera gel formulas
High concentration of aloe vera combined with other hydrating active ingredients of plant origin
For combination skin
Gel texture
Soothing and gentle
Suitable for all ages
How Do I Use Forever Sonya Skin Care Collection?
Step 1: Sonya Refreshing Gel Cleanser
Apply a generous amount on wet fingers and massage the skin. Rinse thoroughly for fresh Skin
Step 2: Sonya Illuminating Gel
Gently Massage a small amount on the face to get a radiant glow
Step 3: Sonya Refining Gel Mask
Apply a generous amount to your face at night. Let it work during the night, Rinse Thoroughly in the morning for balanced skin. Use 2 – 3 times a week instead of moisturizing Gel
Step 4: Sonya Soothing Gel Moisturizer
Gently Massage a moderate amount of the face and next to soothe and nourish.
We hope that this review helps you to decide on having this amazing aloe product a try.
According to the study, healthy skin does only rely on external skincare products only.
Having good internal health makes a huge difference in our skin too. Such as healthy guts and healthy lifestyle,
Combine both Sonya Skincare products & Aloe Vera Juice daily, You will see a huge improvement that you ever think of it. Looks Better & Feel Better is the Key!
Check out also Infinite By Forever Skin Care designed for an Anti-aging focus.
Bottom Line
Sonya Daily Skincare system as it mention. It is a "system" rather than just skincare products.
It covers your skin from cleansing, glowing, moisturizing, and hydrates, provide enough nutrients to your skin. From day to night!
Aloe vera ingredients help to penetrate into every single layer of your skin to keep your skin healthy, look younger and improve its appearance.
This Sonya Daily Skincare system especially against combination type of skin.
Combine both Internal (Sonya Skin Care)  and external (Forever Aloe Vera Gel). You will definitely see a huge difference of improvement in your skin condition.
Overall I love it so much and I always share with my friends and most of my friend love it as I do.
Have you tried this "Sonya Daily Skincare system" that you can benefit from its Infinite aloe ingredients?
What are you waiting for? Simply click Order Now >> and start your transformation today!
Now, is your turn, let us know your thought about " Sonya Daily Skincare Review".
and don't forget, Sharing is Caring!