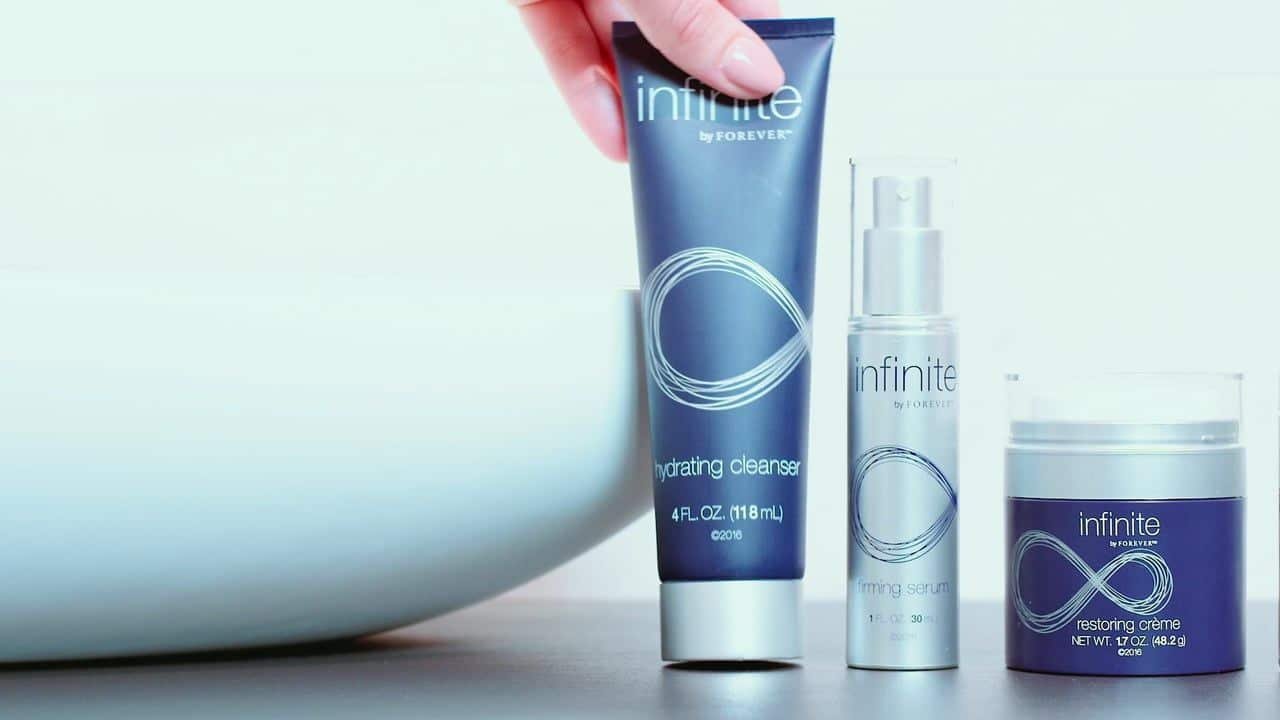 Cleansing should be the first step in any skin care regime as its purpose is to remove dirt oil and other unwanted debris.
During the course the day, You skin is continually covered with bacteria, pollutants and other dead skin cells. Cleansing removes these impurities to give your skin a fresh and revitalized look 
In today article, We will going to explore this amazing aloe vera face cleansing product that could make your face cleansing fast and efficient. How it could benefit to your skin and what make it so special that you couldn't resist.
Just keep reading this Infinite By Forever Hydrating Cleanser Review and you will definitely change your view on the entire product innovation.
Product Specification
Product Name
Infinite By Forever Hydrating Cleanser

Brand

Forever Living Products

UPC

#554

Items Weight

4 fl. oz.

Key Ingredients

Aloe Vera
Apple Amino Acid
Phytic Acid

Availability

In Stock

Rating

⭐⭐⭐⭐⭐ 

5

/5
Infinite By Forever Hydrating Cleanser Review
This super amazing hydrating cleanser with its extraordinary hydrating and cleansing properties gives you super-moisturizing and clear skin. 
A sparkling glow that you've never experienced before is waiting for your skin. Its mild formula smoothly wipes away all the dirt, oil, and makeup from your skin and leaves behind nourished and moisturized skin.
Hydrating cleanser is a mild and milky, fragrance free cleanser. The product contains naturally derived ingredients like apple extract and apple amino acids.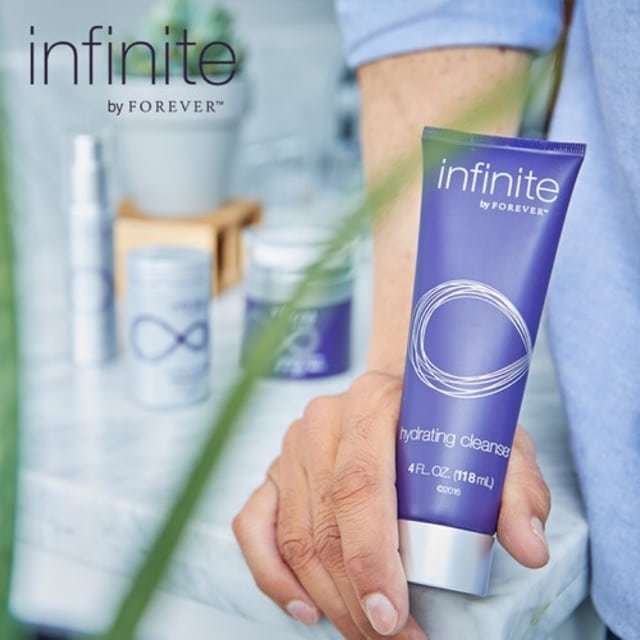 These ingredients increase skin hydration and make it easy to wash away dirt and oil. It contains Sunflower oil, rich in linoleic acid and Vitamin E, and Sodium cocoyl glycinate, a mild surfactant that is both hypoallergenic and non-irritating, leaving skin feeling soft without drying.

Don't you get worried about your sensitive skin as this amazing formula is sulfate-free and doesn't cause any allergic reaction to your dry, sensitive or oily skin? All it does to your skin is magic. The magic of amino acids and vitamins makes your skin bright, clean, moisturized, and youthful.
You can prevent sun damage by doing cleansing with this cleanser after having long exposure to the Sun, as it fights all the environmental pollutants stuck on your skin. Make your life and skin more beautiful with this pleasing and soothing hydrating cleanser.
Infinite By Forever Hydrating Cleanser Ingredients
1) Aloe Vera
Aloe Vera is one of the important elements for skincare because aloe vera is well known for its skin healing properties.
Aloe Vera has variety of benefits toward to our skin, it has the ability to penetrates to the second layer of skin and bringing nutrients to your skin. This will help to moisturize your skin better and more efficient.
Other important benefits such as speed up wound healing time, anti inflammatory, antioxidant, treating infecting, anti aging and many more. 
Therefore, Using Aloe Vera for Face is the best choice as it contain 98% water which helps moisturize, soothe, and hydrate the skin.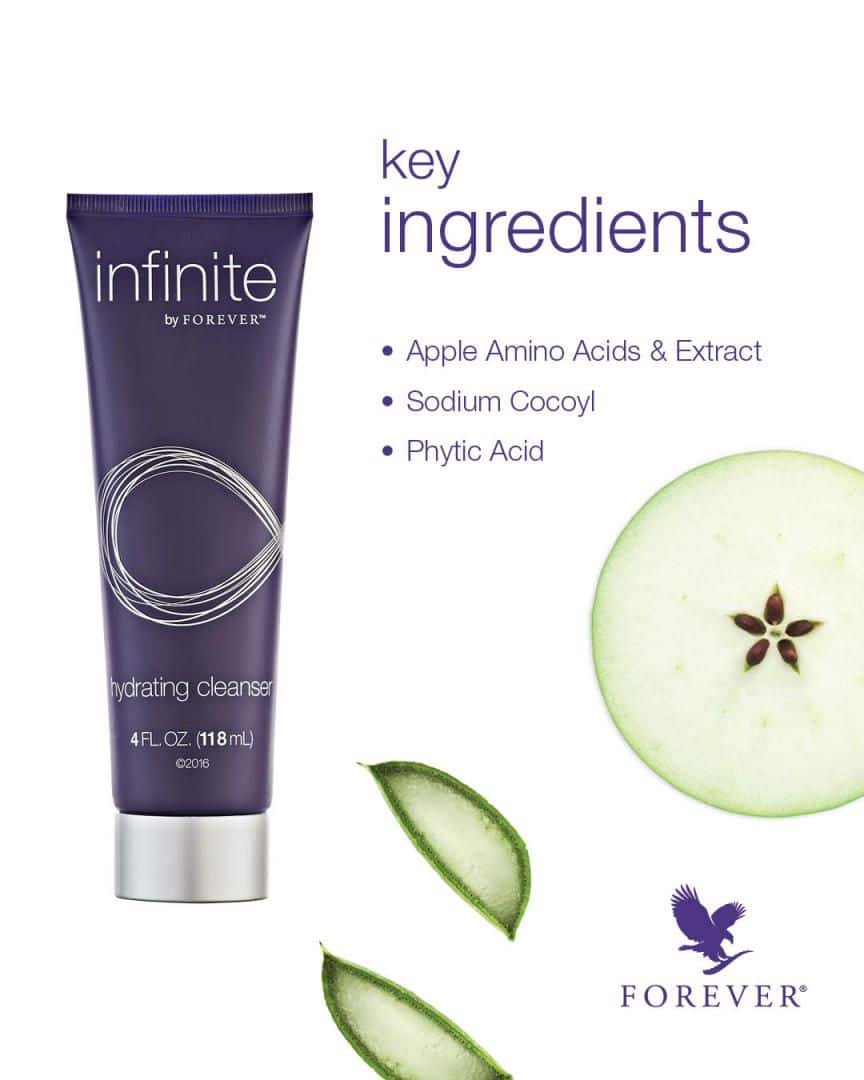 2) Apple Amino Acids
Apples are the feast of amino acids as they contain 90% of all the essential amino acids. A large amount of lysine, histidine, valine, methionine, and many others is present which makes the apple extract a golden extract due to its infinite benefits for your skin.
Apple amino acids and extracts make your skin super hydrated and soft by strengthening the skin surface. These amino acids restore skin damage and protect your skin from aging, free radicals, etc due to a high concentration of antioxidants.
Wrinkle-free skin with a supple soft texture is a primary function of apple amino acids.
3)

Phytic Acid
Phytic acid is an Alpha Hydroxy Acid that is popular due to its exfoliating and skin lightening properties. It exfoliates your skin and performs the function of cleansing by giving moisture to your skin in return.
Phytic acid increases the skin rejuvenating cycle that results in the exfoliation of damaged and dead skin cells and the production of new skin cells. This fast rejuvenation gives you clean and clear skin with a smooth, velvety texture.
The skin lightening property of phytic acid is also loved by people as it helps in brightening your skin color along with moisturizing your skin. Phytic acid is also anti-aging.
4)

Sodium Cocoyl Glycinate
Sodium cocoyl glycinate is widely used in skincare and haircare products due to its amazing benefits for both skin and hair. Sodium Cocoyl Glycinate is an amino acid derivative ingredient that helps in the deep cleansing of your skin.
Sodium cocoyl glycinate is formed by combining coconut oil fatty acids and monosodium glutamate. That's the reason for its high moisturizing and skin softening properties.
It does magic to your skin with its mild cleansing property, it removes dirt and excess oil from your pores and makes your skin super-hydrated.
Infinite By Forever Hydrating Cleanser Benefits
The amazing benefits of this hydrating cleanser will make you fall in love with it. Let's discuss the amazing benefits of this hydrating cleanser:
1) Deep Cleansing :
This mild, milky cleanser is good for all skin types and doesn't show any allergic reaction to your sensitive skin. All the natural ingredients show their brilliant cleansing properties and wipe away all the dirt, sebum, and dead skin cells from your skin.
Its mild formula does wonders on your dry or oily skin by cleaning away all the waste and reducing the chances of any infection and inflammation. Forever Hydrating cleanser is made with pure love to protect your skin from all kinds of environmental damage.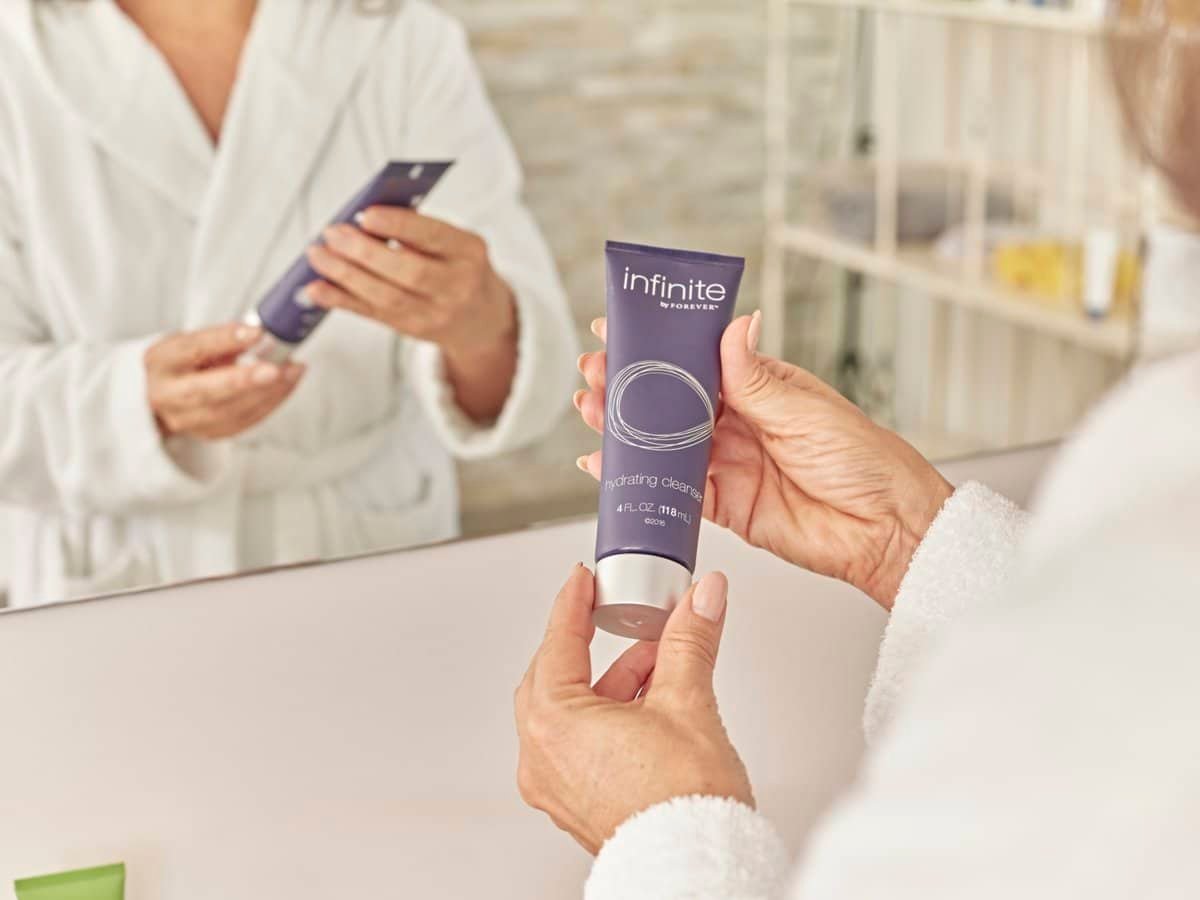 2) Hydrating And Moisturizing
The rich concentration of different kinds of amino acids and Phytic acid makes your skin hydrated and moisturized.
All the natural ingredients add life to your dry skin cells and make your skin silky, smooth.
When your skin cells lack water and moisture, they start to shrink and make your skin rough. Your skin isn't healthy if it has no moisture packed in it.
This cleanser not only cleanses your dirt but also makes your skin moisturized and nourished due to the fatty acids involved.
3) Anti-Aging
Hydrating cleanser is packed with all the natural ingredients that help in fighting free radicals and environmental pollutants. It prevents your skin from sun damage and skin cancer by providing a high amount of antioxidants to your skin.
Free radicals damage the collagen protein that keeps your skin firm and tight, This cleanser promotes collagen production and keeps your skin wrinkle-free. Enjoy the ever-lasting young skin by using this amazing cleanser.
Add this mild cleanser to your routine and you will experience no lines, no wrinkles, and clear youthful skin with brilliant firmness in it.
4) Long Lasting Glow
Glowing skin is a sign of healthy skin. You can say that glow is a result of all the efforts you put into your skin to make it healthy. This mild cleanser smooths your skin texture by giving all the nourishment it needs.
Silky texture, hydrated skin cells, and enhanced collagen production all results in glowing and bright skin. Amino acids and vitamins add extra shine to your dry skin and make it look like sparkling lights.
Infinite By Forever Hydrating Cleanser Usage
You can use this mild hydrating cleanser daily. 
Add it to your night skincare routine to remove all the dirt and makeup from your skin before going to bed.
You can also use it twice a day as it doesn't cause any dryness or allergic reactions.
Infinite By Forever Hydrating Cleanser Testimonial
Check how our customer comment on Infinite By Forever Pack
Bottom Line
Forever hydrating cleanser works on both men's and women's skin. If is one of the important product in the entire Infinite By Forever Pack.
It adds life to your dull and dry skin. Try this amazing pack, full of amino acids and vitamins, and make your skin happy with a perfect diet of this cleanser.
Its vegan-friendly and gluten-free formula doesn't cause any harm to anyone and works quietly and simply on your skin. This should be your top priority product on your grocery list.
So If you want to improve your personality, start with your skin, and the you should not miss out this amazing Infinite Hydrating Cleanser.
So what are you waiting for? Click the Order button to check out this amazing Aloe product today!
Now, It's your turn, let us know your opinion about Infinite By Forever Hydrating Cleanser and your experience using it. 
Leave your comments and questions about "Infinite By Forever Hydrating Cleanser Review" in the contact us section. And we promise to answer your questions quickly because we know that time is of the essence!
And don't forget to share the article, because sharing is caring