Have you ever use aloe vera for hair?
Loaded with more than 70 nutrients, including 18 minerals, 16 amino acids, and 10 vitamins-aloe vera gel is perfect for hair growth.
Aloe vera has many beauty-enhancing properties when utilized as a topical agent.
The gel obtained from this beautiful plant is high in antioxidants that provide anti-inflammatory, moisturizing, soothing, and protective advantages for your hair.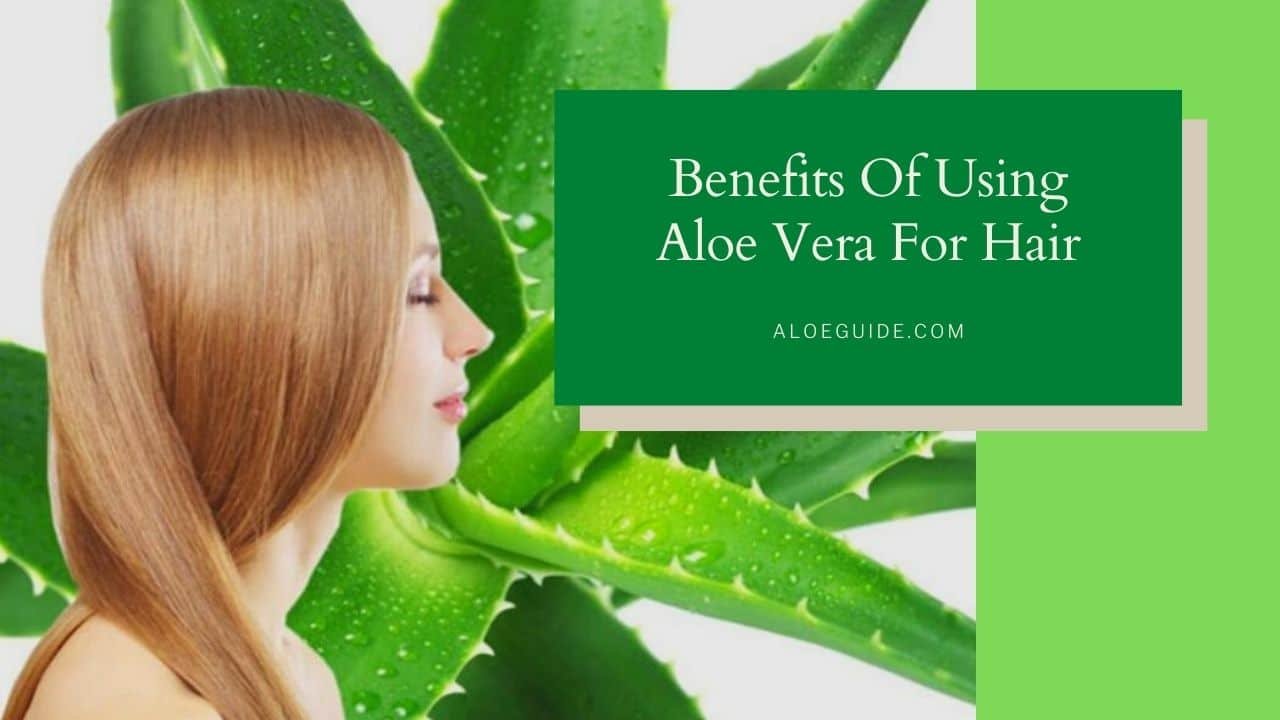 Consuming aloe vera gel inadequate amount also provides lots of health benefits because of its nutritional content. While aloe vera is available in several hair products, you can simply utilize the harvested gel of this wonder plant combined with other natural ingredients for your hair.
Here in this article, we will discuss how aloe vera is beneficial for average hair growth and how you can use it.
Table of content 
Aloe Vera For Hair
The Main Reasons for Hair Problems 
There are different causes of hair loss or any other hair issue. Some of them are given below;
1) Nutritional deficiencies
Maintaining healthy hair depends on getting essential nutrition. Specifically, deficiencies in zinc, iron, vitamin B3 (niacin), or protein have all been associated with different kinds of hair loss.
2) Medications
Some drugs can lead to chronic hair loss. Those utilized to manage high blood pressure, certain cancers, arthritis, and stress are renowned for causing hair loss problems. If you think your drugs may be leading to hair loss, talk to your doctor or medical health care providers. In different situations, this kind of hair loss is temporary.
3) Dandruff or scalp psoriasis
When your skin on the scalp is damaged or irritated, it is indeed prone to scratch it. But that may lead the hair to shed more than normal shedding.
4) Intense emotional or physical stress
When you are feeling something stressful or depressive—not your average daily routine thing, but something big and life-changing like a death of your closed- family member, an impressive job change, or a big move—you may feel temporary prevention in hair development because your body places its resources toward facing this big event that makes your unhappy.
5) Autoimmune diseases
The autoimmune conditions make your body take its hair follicles as foreign and attack them, leading to hair loss. It might be a condition such as alopecia areata, in which your natural defense system may attack the hair follicles. Sometimes individuals suffering from alopecia areata do see their hair grow back (though it may fall out again).
Benefits of Aloe Vera For Hair
1) Hair loss or Hair Growth
Hair loss is a common problem faced by several people, and all need a healthy solution for this hair loss. Aloe vera has a pH level the same as that of your scalp and hair, making it safer to utilize than most commercially available hair care items. Aloe gel is loaded with active ingredients such as essential amino acids and minerals like copper and zinc; all of that is laboratory tested to help hair develop healthy, shiny, and strong.
2) Scalp
Aloe vera gel contains anti-inflammatory properties that soothe your scalp and eliminate irritation and aggravation of skin issues. Aloe vera gel is loaded with proteolytic enzymes that heal or repair damaged cells in your scalp. In this turn, it maintains your health of hair follicles and maximizes hair development. Proteolytic enzymes also boost the dormant hair follicles, improving the regrowth of hair.
3) Hair Dandruff
Aloe vera contains rich water content that helps in different hair problems. The gel also packs with nutrients and hydration, treating issues such as dandruff. Dandruff can also be due to a fungus, and it has antifungal and antiviral features; it is efficient in treating dandruff or flaking.
Keratin is the main protein of your hair, and aloe vera has a chemical makeup similar to keratin. As such, aloe gel utilizes growing hair, giving elasticity and minimizing breakage. Aloe gel can be used as a multi-purpose styling hair item, mainly as conditioners or detangling agents, keeping hair frizz-free, smooths, or shiny.
4) Dry hair or oily hair
Aloe gel is loaded with protein, vitamins, or essential minerals that provide foods to hair follicles, preventing hair fall, and get rid of shedding of hair, making hair oil-free and voluminous. Oil or debris build-up block pores and to avoid hair development. Aloe vera gel is a natural cleanser and minimizes sebum or oil accumulation on the scalp.
Aloe vera gel produces a protective layer around hair strands keeping hair consistently hydrated or protective from the sun's damaging influences, pollution, and other environmental factors.
How do I use aloe vera on my hair?
Mix 2 tbsp of aloe vera gel and honey and a tbsp of yogurt to make a hair mask. Apply it to the hair roots and massage gently after 12 to 15 minutes. Allow it to rest for 20 minutes and wash off with water or shampoo as usual for soft, shiny hair.
To remove dandruff:
Utilize an aloe vera or apple cider vinegar remedy about once a week.
Take a cup of aloe vera gel and one tablespoon of apple cider vinegar; mix well.
Use this paste on the scalp and allow it to sit for 20 minutes.
Wash with water or shampoo!
For hair growth, utilize aloe vera and castor oil that is good for hair development and offering volume. Add a cup of aloe vera gel and one tablespoon of castor oil. Use evenly to the scalp or hair strands, and let sit for 2 to 3 hours. Watch with water or mild shampoo.
Risk and Consideration
Aloe vera is suitable for different skin and hair-related issues. But you need to know about your hair tone if it sits well with aloe vera. You can also talk with your doctor if you see any issue.
Summary
Aloe vera is a perfect home remedy for different hair issues like hair loss, dandruff, oily or dry hair, and many more. Due to its high nutrient content, it is used in other hair treatment products or used as raw in the form of a gel. You can also use aloe vera by following all these instructions.