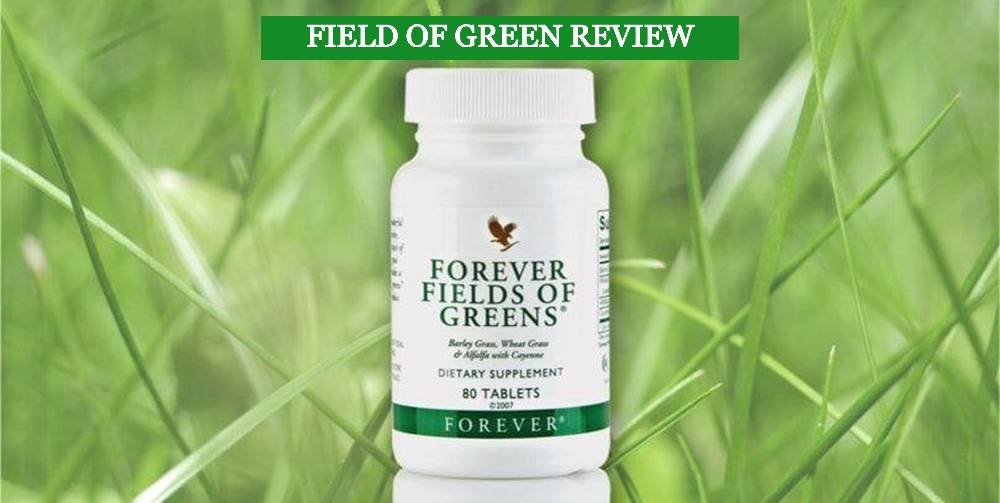 With today's busy lifestyle and convenience of fast food. We often neglect eating fresh green foods and this is absolutely wrong. Greens food is very important to our body because they are rich in antioxidant that help to protect our body from toxins. It also has alot of mineral that help to build up our body immune system and fight off viruses and bacteria. 
Therefore, In today articles, We are going to introduce you this amazing Forever Fields Of Greens, an excellent source of green food that you definitely need in your daily nutrition and will definitely reduce your hassle to have balanced diet that you need every day.
So, Just continue to read this Forever Fields Of Greens and you will how incredible amazing this natural green superfood can help to in your healthy lifestyles.
Product Specification
Product Name
Forever Living Fields Of Greens

Brand

Forever Living Products

UPC

#068

Items Weight

80 tablets

Key Ingredients

Alfafa Powder
Barley Grass
Wheat Grass Powder
Cayenne Pepper

Availability

In Stock

Rating

⭐⭐⭐⭐⭐ 

5

/5
Forever Fields Of Greens Review
We know that we need greens food for our body and we know that these greens food is very beneficial to our body to keep our body healthy.
Forever Living is very conscious about health of their customers. They know greens food is an important factor to keep our body healthy and provide sufficient vitamins and nutrients our body needs. and our fast-paced lifestyles always making it hard for us to absorb required vitamins and nutrients. And Forever Fields Of Greens is a solution to introduce greens to your body and it is an excellent green superfood. 
If you are looking for something that is a fast and easy way to cleanse and detoxify while providing sufficient nutrients to your body each day. Then no doubt Forever Fields of Greens is something that you need.
This amazing products combines wheat grass, barley grass, alfalfa and cayenne pepper to help maintain healthy digestion and circulation. and these ingredients has high and important phytonutrients, enzymes, amino acids and vitamins.
It will also help to improved your body immune system and keep your body at the best performance.
There are a lot more benefits having Forever Fields of Greens around with you daily. Keep reading this articles to explore more benefits for you and your family.
Forever Fields Of Greens Ingredients
Let's dive in to the key ingredients of Fields of Greens. And why it is good for our body.
1) Barley Grass
Barley Grass is very rich of important nutrients such as fiber, Vitamin A, Vitamin C, Vitamin K, Polyphenols and flavonoid.
Vitamins A helps to regulates cell growth, Immune function and vision.
Vitamin C which is an important vitamins that every one need that helps in everything from skin to wound healing to oral health.
Fiber helps regulate the body's use of sugars, helping to keep hunger and blood sugar in check.
Vitamin K are essential that helps in blood clotting, bone formation, and heart health.
Lastly, Polyphenols and flavonoids ac help to reduce oxidative stress and protect you against chronic diseases.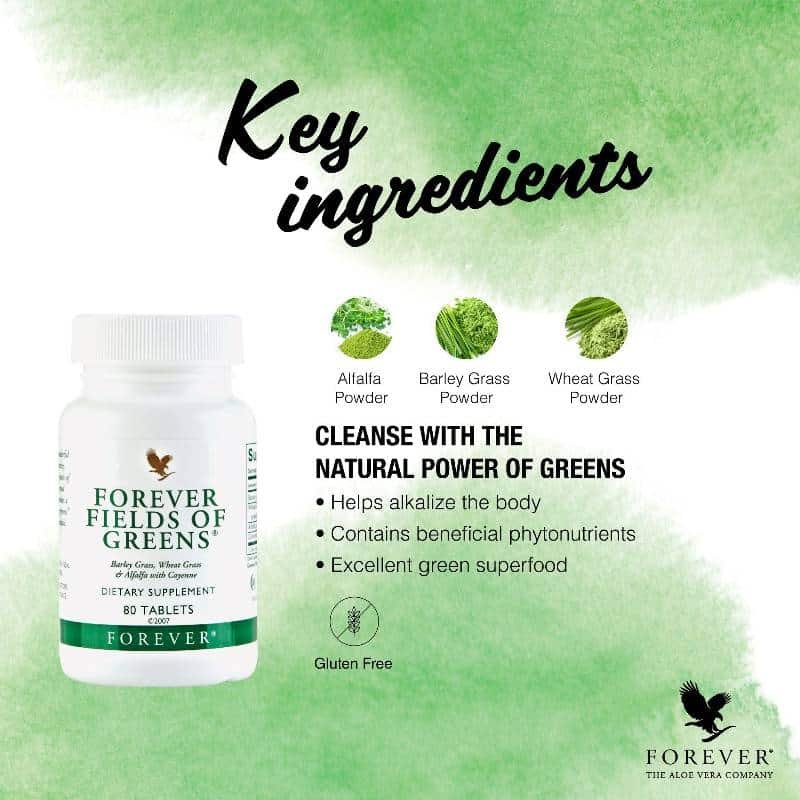 2) Wheat Grass
Wheat Grass is another greens food that contains high nutrients and antioxidants. From the study, Wheat grass help to reduce your cholesterol level, Reducing your "BAD" LDL Cholesterol and Triglycerides.
In addition, it also helps to aid in blood sugar regulation, if you have a high blood sugar level, consuming wheat grass helps to keep your blood sugar level under control.
In one study, giving wheatgrass to diabetic rats modified levels of certain enzymes that help lower blood sugar levels (11Trusted Source).
Lastly, Wheat grass also helps in alleviating inflammation. 
3) Alfalfa
Alfalfa is a perennial plant and it is loaded with nutrients, including 8 essential amino acid, calcium, magnesium, potassium, beta carotene. it is also highly effective natural laxative. Alfalfa is also green salad. All plants are rich with chlorophyll, but alfalfa has it in particular abundance and in a form that is readily accessible. Chlorophyll happen to be the active ingredients in many breath freshening products.
Alfalfa is very good to lower your cholesterol level, lower your sugar level, nourish your digestive system and many more benefits.
4) Cayenne Pepper
This spicy item is loaded with nutrients. it contains vitamins C, iron, calcium, Phosphorus, B complex vitamins
Cayenne is excellent for a cold or chili because it heat your body up and make you sweat so that it discharge toxins from your body. It also helps to cleanse your digestive tract, further helping to rid your system germs.
Cayenne Pepper is know that have functionality to cleanse your blood as well as your cardiovascular system, boost metabolism
help in relieve constipation, reduce risk of heart attack, boost immune system and many more.
Forever Fields Of Greens Benefits
There are tons of benefits that you can expect from Forever Fields Of Greens. Let's take a look on the top 12 benefits of Forever Fields of Greens :
Relieves Constipation and indigestion
Controls blood sugar level
Support Liver Functions
Help to relieve heart burns
Help to maintain good circulation
Good for bones
Help to improve Immune System
Increase energy level
Helps to lower cholesterol Level
Help alkalize the body
Anti Oxidant
Good for weight loss

Excellent green superfood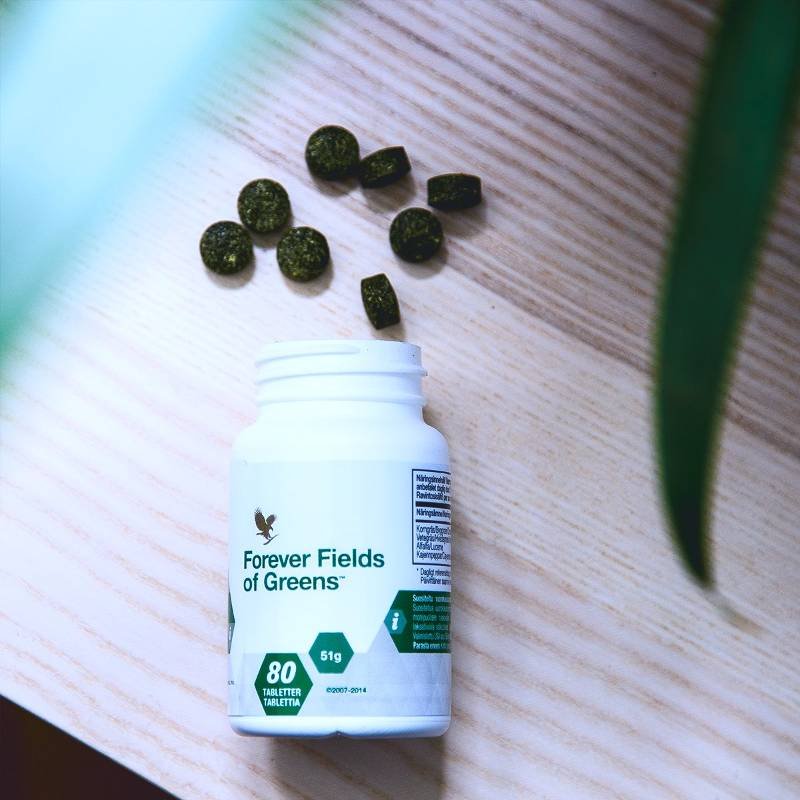 If you don't really like tablet forms of greens supplement food. You can check out our Forever Supergreens here. A Green superfood nutritious pack that you can easily blend with your favorite fruits.
How to Use Forever Fields Of Greens?
Recommended dosage:
Take 1 tablets twice daily. Do not exceed the recommended dosage.
Who Should Avoid Taking Forever Fields Of Greens?
Before using Forever Fields Of Green Tablet, inform your doctor about your current list of medications, over-the-counter products (e.g. vitamins, herbal supplements, etc.), allergies, pre-existing diseases, and current health conditions (e.g. pregnancy, upcoming surgery, etc.).
Some health conditions may make you more susceptible to the side effects of the drug. Take as directed by your doctor or follow the direction printed on the product insert. Dosage is based on your condition. Tell your doctor if your condition persists or worsens. Important counseling points are listed below.
Long-term use of this drug could trigger photosensitivity
Planning to get pregnant
keep out of reach of children
Summary
When you don't have enough time to eat a balanced diet. Forever Fields Of Greens will be something that you need everyday.
This supplement will provide all the greens vitamins, minerals and nutrients that our body need daily without any hassle.
By having Forever Fields of Greens in your pocket or your handbag. You are rest assure to gain completed nutrients every day anywhere you are. and get the best protection for your body ever you had.
So, what are you waiting for? Click order now today to get our Forever Fields Of Greens Today!