If you are looking for ways how to get rid of sunburn, then try aloe vera. It is known as the "burn plant," the ideal natural remedy for bad sunburn. It helps your skin in healing from sunburns and mild burns.
Additionally, Its gel can moisturize your skin, hydrating your skin tissues, helping you avoid the peeling generally linked to sun damage.
There are various ways to apply aloe vera gel. You can use the whole aloe vera plant and split the leaves to use the sap to their skin. Or you can straight get a quality Aloe Vera Cooling gel for sunburn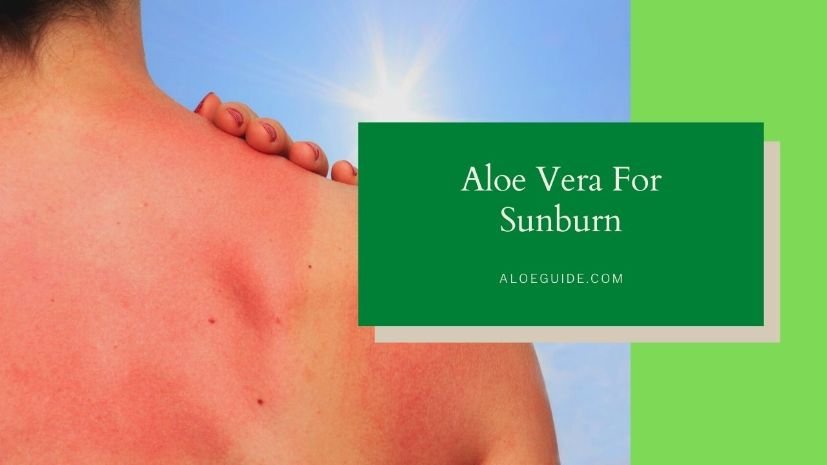 In this article, we will talk about How to treat sunburn by using aloe vera in detail! Using Aloe Vera is not only limited to sunburn, but it also helps to heal burns and scalp. Just keep reading "Aloe vera for sunburn" and you will definitely find something useful. 
Table of content 
Using Aloe Vera For Sunburn
Why Does Skin Get Sunburned? 
So, how does sunburn work?
Sunburns are caused by melanin and Ultraviolet(UV) rays. The UV rays are emitted from sunlight, and tanning beds disturb the skin by destroying your DNA inside of cells. 
After the DNA damage, the cell typically dies. Melanin is the skin's defense against this damage. 
When your skin is exposed to the sun, it forms more melanin to save your skin's lower layers from damage.
As your skin becomes disturbed, it creates even more melanin.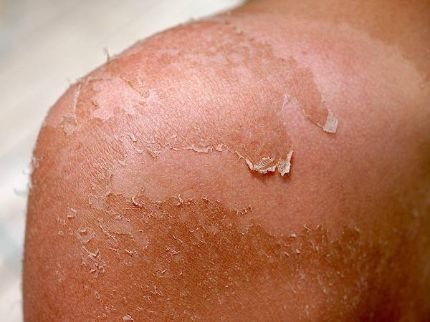 The additional melanin leads to some individuals to become a darker color or tan. Other individuals turn red, which is a symptom of sunburn.
The redness of sunburn blisters drives from your body, flooding the area with blood for the treatment of the damage and from swelling of your skin.
Melanin is your natural sunscreen. When your body feels sun damage, what it does is, it begins sending out melanin into the cells and makes an effort to save them and protect them from getting more harm.
To save your skin, the melanin absorbs the ultraviolet light. Then, it may disperse it as heat. Melanin is also what makes individuals contain light or dark skin. People having light skin contain minute melanin, while individuals with dark skin have lots of melanin.
How long an individual spends in the sun, combined with his skin form, determines if and when an individual burns. A darker-skinned person does not sunburn as he has more natural sunscreen than those with less melanin.
So, how to cool sunbun! That is the question that most people need to be asked by the expert.
Besides, they also ask what the best home remedy for sunburn is & How do you get rid of sunburn overnight. All of these questions have only one single and useful answer, and that is Aloe Vera!
Will Aloe Vera Help SunBurn?
You might have heard how good is aloe vera toward your skin. but is it really aloe vera good for sunburn skin? 
The straight answer is YES! 
People use pure aloe vera gel for sunburn skin and face for many years. Utilizing aloe vera for skin damage is a natural treatment for a wide range of skin kinds.
Aloe vera is a long-lasting evergreen perennial plant species that contains intense green leaves. It comprises various uses, involving boosting digestive health, aiding clear acne, and cooking oil.
You can grow this plant at your place or purchase it as a whole plant. A wide variety of skin lotion products, ointments, drinks, and cosmetics consist of aloe vera.
Professionals suggest utilizing a gel that has at least 80% aloe vera. It would be best if you stored it in the fridge. But, if pure aloe vera is not available, search for products that comprise the highest percentage. Check out Forever Aloe Vera Gelly.
Over-the-counter aloe vera items often have other sunburn-soothing ingredients, as well!
Aloe vera alone will not offer appropriate sun protection by itself. One recent study recommends that herbal formulations that comprise aloe vera and an SPF 13–16 are efficient in sunscreen creams.
But, professionals suggest that people utilize an aloe vera product with an SPF 20 or higher.
Overall, if you are suffering from sunburn, using aloe vera is a beneficial technique to stimulate healing and obtain relief from the pain and swelling.
What Does Aloe Vera Do for SunBurn?
So, How does Aloe Vera work on sunburn treatment?
Aloe vera is a typical home remedy that can aid in easing sunburn symptoms and minimize inflammation.
Aloe vera comprises of 19 out of 20 necessary amino acids essential for your body. Amino acids soften the damaged skin cells.
Aloe vera also boosts collagen formation to improve elasticity and dryness within the skin.
As you know very well, the best aloe vera for sunburn is by using at least 80% pure aloe vera gel, so try to use a natural product.
Its gel or juice is antibacterial and aids in stopping peeling skin following over-exposure to the UV rays.
It even contains anti-inflammatory properties and rich in water content that hydrates your skin.
How Do You Use Aloe Vera for Sunburn?
Here you can get the answer on how to use aloe vera for sunburn. In order to treat sunburn, spread a layer of pure gel gets from the inside of an aloe vera leaf over the damaged skin.
The best product for sunburn is in at least 80% aloe vera gel form and remained chilled.
If you are suffering from sunburn, use aloe vera a few times a day on the damaged part. If you have a severe issue, also called sun poisoning, speak to your doctor or medical health provider before applying it.
1) Raw From Aloe Vera Plant
If you can get an aloe vera plant, obtain a chunk of it. You will observe a gel coming from the inside. apply this gel directly to the skin for relief from sunburn blisters.
2) Aloe Vera Gel
If you cannot access the aloe vera, search for at least 80% aloe vera gel products vailable online or in a local store. Use a layer of the gel directly to the damaged area.
One of the best aloe vera gel for sunburn is forever aloe vera gelly. as it is have 85% pure stabilize aloe vera gel and it has cooling effect to sunburn blister, less hassle compare to you have to find an aloe plant and cut it.
3) Aloe Vera As Lotion 
Lotions comprising of aloe vera are found in pharmacies and online markets. Avoid products that include additives such as colors and perfumes. Select a lotion with the highest % of aloe vera possible.
According to one study, there is no benefit to using a 60 percent or below aloe vera lotion on sunburn. Therefore, you should try pure aloe vera.
4) Ingesting Raw Aloe Vera
You can even consume raw aloe vera gel direct from the plant. The gel may provide plenty of health benefits, involving minimizing inflammation in your body; it may also soothe the pain and skin irritation from skin damaged.
If you will ingest aloe vera, ensure to wash the gel or skin thoroughly to eliminate all traces of latex. The latex has an irritating bitter flavor and may lead to dangerous side effects.
Are there any Side Effects of Using Aloe Vera?
According to National Institute of environmental health science, Applying Aloe Vera Gel on the skin will not cause any harmful side effect.
BUT if you are getting aloe vera product from the store, you need to know how to read the ingredients.
If is pure and natural aloe vera products, You will not have any side effect but it is not pure aloe vera ingredients. It might have.
We always choose aloe vera as our concern about what the best home remedy for sunburn is. But People don't bother to read the instructions and ingredients before applying the aloe vera product that they recently purchased from the store.
Many products stated 99.9% but if you look at the ingredient, You might see their product composition, Aloe is the lesser ingredient in the products.
Check out our tips on how to choose the best aloe vera products
Many people with some skin allergies don't speak to their doctor and medical health provider to better understand the concept is it right to use aloe for sunburn that leads to severe issues.
Below are some of the precautionary measures before using aloe vera gel for sunburn;
Always consult your doctor before you using an aloe vera product.
Only apply aloe gel on your skin. Do not ingest the product. Aloe vera can lead to loose stools and other issues if you ingest it.
Avoid consume aloe vera products if you are pregnant or plan to become pregnant soon.
Be careful if you are allergic to pollens or plants such as ragweed, marigolds, and chrysanthemums.
Does Aloe Vera Reduce Redness From Sunburn?
Yes, Aloe vera is great for sunburn because it helps relieve pain and redness by reducing inflammation
How long does it take for aloe vera to work on sunburn?
Its really depends on individual and also depends on how worst your sunburn is. But averagely if you apply it daily, You will see tremendous improvement in few days to a week.
How much aloe vera gel should I put on sunburn?
To treat a sunburn, spread a layer of pure aloe vera gel extracted from the inside of an aloe vera leaf over the burnt skin.
Can we apply aloe vera on face daily?
If your aloe vera gel product is without any alcohol ingredients, Yes, you can apply it daily on your face to keep your skin moisturize and hydrating.
Which aloe vera gel is best for sunburn?
I had been using Forever Aloe Vera Gelly, A ready 85% Aloe Vera Ingredient tube, I keep it in the fridge as first aid kit at home. When you suffering sunburn, just apply it and you will feel the cooling effect immediately.
Bottom Line
Aloe Vera is a amazing plant that has been using in many area from internal consumption to topical application. In fact, for topical application, it is suitable for all type of skin condition. Therefore, You are worry free using aloe vera for sunburn problem. 
But to me, I always believe prevention better than cure. Therefore a sunscreen is required whenever you are expose directly under the sun for long hours during summer time.
If you don't like the chemical ingredient of sunscreen, i recommend you to take a look on Forever sunscreen. 
For normal scenario, use little of aloe vera gel apply to face everyday as it will help to moisturize and protect your skin under sunlight UV to prevent dark spot on your face.
In fact, i highly recommend you to check this little tube forever aloe vera gelly, as it is a multipurpose gel that can be use in many area other than only protect you from sunlight UV and healing sunburn.
Check out more about the benefits of aloe vera.
Now, Its your turn, Share with us your experience on using aloe vera for sunburn?  Drop your valuable comment in the comment box, and don't forget to share the article because sharing is carrying.
Other Related Articles That you might interest:
Do you know that aloe vera is a perfect natural remedy for heartburn? If no then this article will give you all the important details related to this property of aloe vera. Aloe vera is a succulent plant frequently available in a tropical climate. Its utilization has...