Every parent would want the best for their kids. and making sure your kids getting the complete vitamins and mineral daily is important.
In today's article, let us go through a special multivitamin supplement that is designed especially for our kids. A supplement that contains all the vitamins and mineral that helps in growing their bodies with great tasting grape chewable tablets. Parents can rest assured with this multivitamins table as it is without artificial flavors, colors, or preservatives.
So, Just continue to read out Forever Kids Multivitamin Review and you will discover how this amazing supplement provides the completed vitamins and nutrients that our kid's young body needs daily.

Product Specification
Product Name
Forever Living Kids Vitamins

Brand

Forever Living

UPC

#354

Items Weight

120 Tablets

Key Ingredients

Iron
Vitamins
Phytonutrients

Availability

In Stock

Rating

⭐⭐⭐⭐⭐ 

5

/5
Forever Kids Review
Giving your kids all the vitamins and minerals is important when they are young to help their growing bodies and keep them healthy always. Forever Living Products understand the needs of our kids, therefore this great tasting grape chewable support contains complete nutritional needs with blend of vitamins, mineral and phytonutrients.
With the complex blend of phytonutrients in forever kids. with only 2 tablets, our kids will absorb all required phytonutrients taken from broccoli, carrots, beets, and 16 other vegetables and fruits. It is not easy for kids to eat more than 16 fruits and vegetables to absorb these nutrients every day but forever kids vitamins do what is impossible.
We can expect our kids to be able to absorb all kinds of vitamins such as vitamin C that could help to maintain the normal function of the immune system of our kids. At the same time, vitamin D(3) also contributes to the growth and development of our kids.
Also, Iron and vitamin B12 from forever kids vitamins will help to contribute to healthy cognitive function to our kids as well.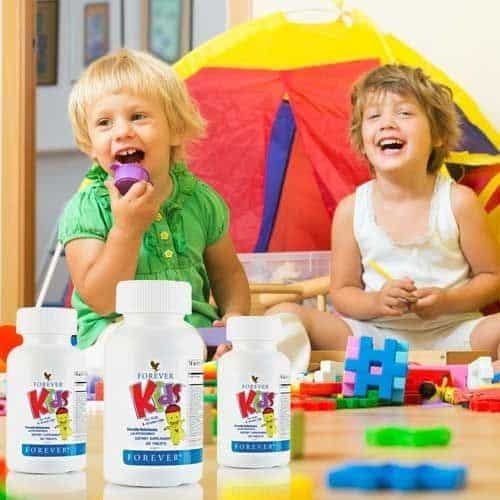 You won't worry again about the nutrition for your kids anymore as you will get everything your kids need every day. And the best part is you, your kids will beg you for more once they taste it. Saving all the hassle reminding your kids to take all their vitamins daily.
Forever Kids Key Ingredients
Let's us go through the all key ingredients that you can expect for your kids to help to nourish their growing bodies and minds. 
1) Iron
Iron is an important mineral that our body needs for many functions. The main features is to helps to maintain healthy blood, our body need healthy blood to carries oxygen from our lungs throughout our body. 
Iron, a commonly deficient nutrients, what support overall health and assist to stronger the immune system.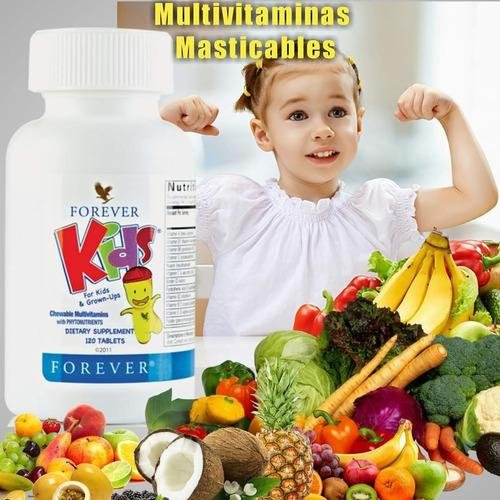 2) Phytonutrients
Forever kids contain high value of phytonutrients that you can find in vegetables and fruits. Each and every single tablet contains a complex blend of phytonutrients from nutritious food such as broccoli, spinach, apples, cranberry, tomatoes, kale, beets, and many more. Complete phytonutrients that kids need every day.
4) Other Ingredients
Other Sorbitol, xylitol, natural flavors, citric acid, grape skin extract, stearic acid, sucralose, silicon dioxide, magnesium stearate, guar gum, and maltodextrin 
Forever Kids Benefits
Lets check out the following key benefits of forever vitolize women's that help to balanced support for a women's body.
Improve bodies immune system.
Promote cognitive developments.
Help fill the gaps of vitamins and minerals essential to our kid's health.
Helps fight infection and fatigue.
No preservative, No artificial colors.
Increase metabolism of cells.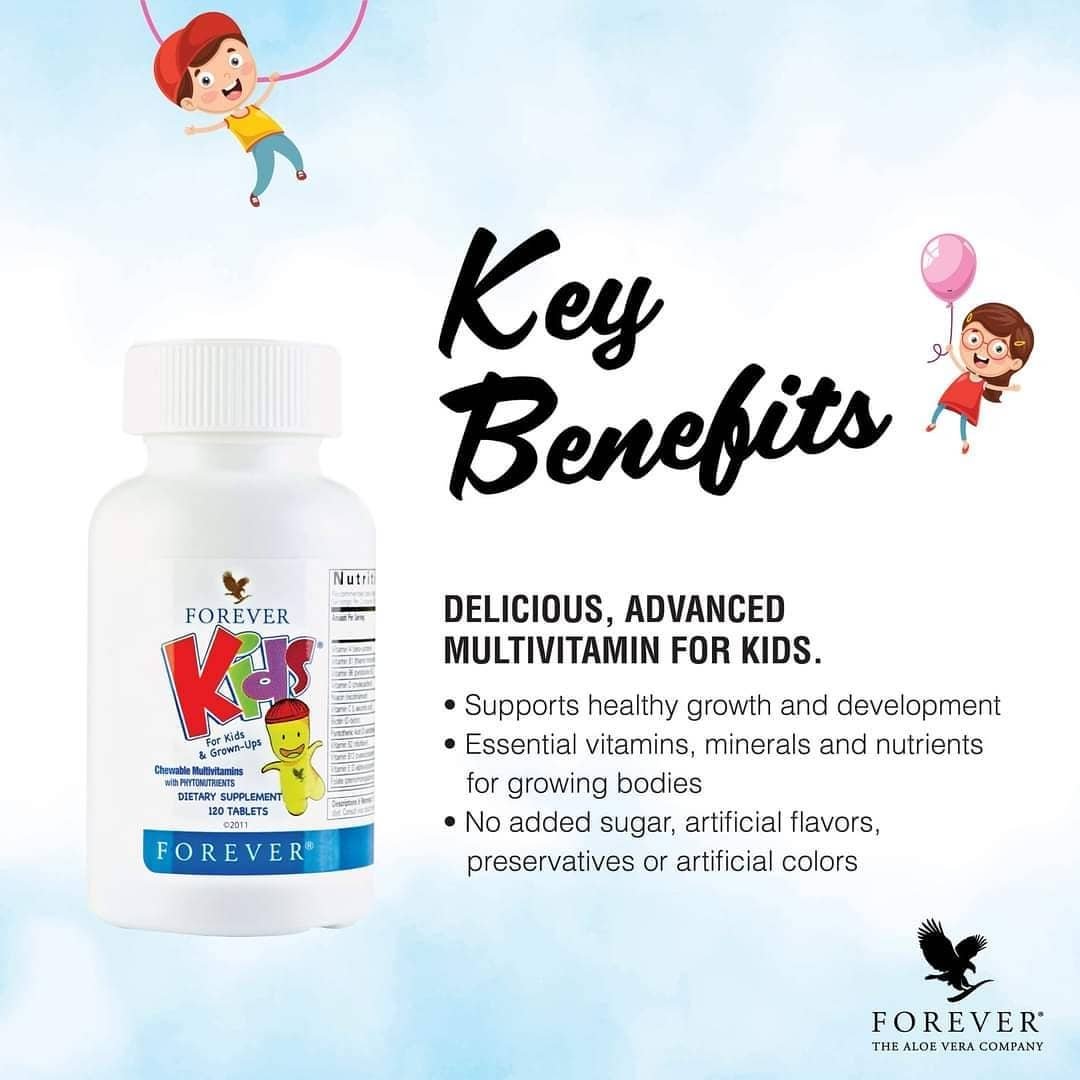 Forever Kids Vitamins is full of essential vitamins that helps our kids growth. It supports our kids from all angle protecting them to build up stronger and healthier body condition. With natural grape and strawberries flavors, your kids will definitely love it and crave for it!
How to Use Forever Kids?
Recommended dosage:
You can chew up to 4 tablets daily for your children and adults from 4 years and above.
For children that are 2-4 years old, take 2 tablets a day under adult supervision.
Summary
Preparing a well-balance mean plan through daily food to our child is always a big challenge to all parents. Moreover, If your kids are fussy eater, We always struggling how to make sure they eat the required amount of fresh fruits and vegetables every day. 
Forever kids supplement will help ease in your stress away these fun and delicious multivitamins provide the
vital vitamins, minerals,  iron and phytonutrients.
These multivitamins are delicious and are fun to eat and are formulated without any artificial colors or preservatives. Your kids will love the tape and you will
love the peace of mind that comes with it. 
So, what are you waiting for? Click order now today to get our Forever Kids Multivitamins Today!