When it comes to your skincare routine, Don't forget about your lips. Are you experiencing dry and chapped lips that causing you headache? Trying many of the products but still unable to resolve it?
If you are in the same situation as me, then you should not miss out this amazing aloe lip balm that will bring back your beautiful lips. A healthy lips makes your more confident and therefore it should not exclude it from your skincare routine.
In today's Forever Aloe Lips Review,  i will show you why this amazing Aloe Lip Balm is your true friend all year round that provide solution to your dry, chapped lips especially in extreme weather.
Continue to read the entire article and i am sure you will fall in love with this Forever Aloe lips with Jojoba Oil.
Product Specification
Product Name
Forever Aloe Lips

Brand

Forever Living Products

UPC

#

022

Items Weight

0.15 oz

Key Ingredients

Stabilized Aloe Vera
Jojoba Oil
Beewax

Availability

In Stock

Rating

⭐⭐⭐⭐⭐ 

5

/5
Forever Aloe Lips Review
Aloe Lips is really an incredible lip balm and in my opinion, everyone should carry on with them everywhere they go in their coat pocket or handbag.
Don't be deceived by the humble size of this powerful lip balm because it is loaded with Aloe Vera, 3 types of wax and also jojoba oil as well to soothe and smooth dry chapped lips.
Don't forget your lips are sealed skin and should be cared for as part of your daily skin care regime. Thankfully skin loves aloe vera as the gel containment of mighty plant is renowned for its soothing properties. This lip balm goes one step further with added jojoba oil derive from the seeds of jojoba plant. This oil has its own natural moisturizing which means beautifully soft lips everywhere you go.
Protect your lips only around with a beautiful aloe lips. Each stick hold 4.29 g which can be applied as regularly as moisturizer. You may want to increase the use when it's expose to harsh or extreme weather condition but rightfully forever aloe lips smells delicious and makes the lips look glossy, kissable and nourish.
Aloe lips has been approved as kosher suitable for vegetarian, gluten free and it also hold the international aloe science council seal of approval.
Continue to discover the follow amazing aloe lips ingredients and the benefit that you will definitely love it.
Forever Aloe Lips Ingredients
1) Stabilized Aloe Vera
There is no doubt that aloe vera is one of the most powerful and beneficial to our skin because of the vitamins and the healing properties.
With our lips is having the thinners skin in our entire body. It need extra care to keep it moisture to prevent chapped lips especially in special weather condition like winter time.
Chapped lips are often caused by dryness and inflammation. and aloe contains moisturizing and anti-inflammatory properties that is really helpful for chapped lips.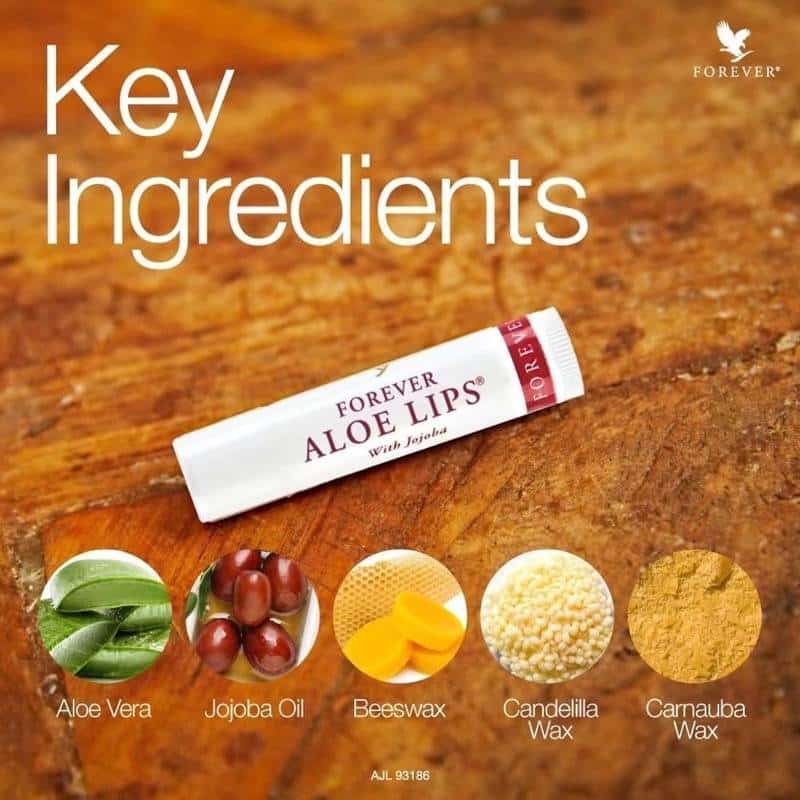 2) Jojoba Seed Oil 
Do you know that from the research showing that using jojoba oil on skin can reduce the formation of fine line as much as 26%, 18% and 11% after 1, 4 and 8 hours?
Jojoba oil is stuffed with vitamins and minerals including Vitamin B, Vitamin C, Vitamin E, copper, and Zinc. and Our lips skin are much more thinner than our body skin therefore you can see the effect much more faster.
3) Beewax
There are 3 types of wax has been included in the forever aloe lips.
Wax are popular use in many beauty products. Forever aloe lips balms is using all natural wax to retain the moisture and holding the shape of the lip balm. and because it is natural and and plant based waxes. it is suitable for vegan to use.
Forever Aloe Lips Benefits
If you are having a chapped lips, you are sure to be benefit from this amazing forever aloe lips. Because of it's natural ingredients, it is multipurpose lip balm that you can use for other area as well.
Let's take the top 8 benefits this amazing small size Aloe Lips can do for you
Provide soothes, smoothers and moisturizes dry and chapped lips, even in most extreme weather condition
Lips look glossy, smooth, and healthy
Quick and easy application for burns, scald
Relief from Insect Bites
Soothes minor sunburn
Soften dry cuticles
First aids for minor cuts, grazes and bruises
Prickly heat and itchy rashes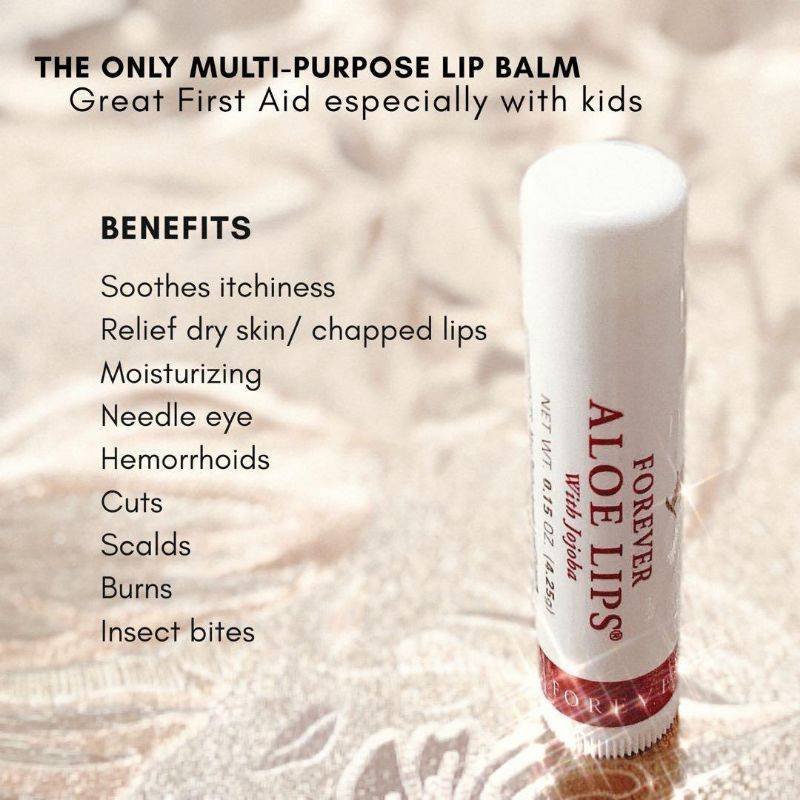 You might be surprised that this small magic stick can do so many things. Basically, because it has the ingredient of aloe vera, you can check out of benefits of aloe vera to learn more about how amazing the aloe plant is.
But of cause this is a small stick with the ingredient of aloe vera, therefore we suggest only for emergency cases. also if you experiencing a minor injury and you do not have first aid kits with you. For any major injury, you will still need to go to the nearest clinic or hospital.
Forever Aloe Lips Usage
Use regularly as a lip balm, especially in extreme weather conditions. You can see a big improvement usually within a week.
Can also be used for insect bites.
Bottom Line
Give your lips the ultimate care of aloe, jojoba and three types of wax. Forever Aloe Lips® is designed to soothe and smooth dry, chapped lips while conditioning and protecting to ensure your lips look and feel Forever kissable.
Forever Aloe Lips with jojoba is a well combination of aloe vera, jojoba oil and natural beewax that makes your lips glossy, healthy, soft. It protect you lips regardless what kind of weather and keep your lips always moisture and soothes.
If you are experience chapped and dry lips that you feel ugly and self abasement. I would highly recommend you try this amazing Forever Aloe Lips.
Get one and keep it in your handbag or coat and use it daily. You will see a huge different on your lips after 1 week.
Want your lips look and feel Forever kissable? Click and grab this amazing Forever Aloe Lips today!
Now, It's your turn, let us know your opinion about Forever Aloe Lips and your experience using it.
Leave your comments and questions about "Forever Aloe Lips Reviews" in the contact us section. And we promise to answer your questions quickly because we know that time is of the essence!
And don't forget to share the article, because sharing is caring