Acne is commonly known as pimples; a skin condition that is characterized by inflammation, swelling, and redness. It is commonly found on the face, neck, chest, and back. 
Acne is common among teenagers when sebum is being produced excessively due to hormonal changes.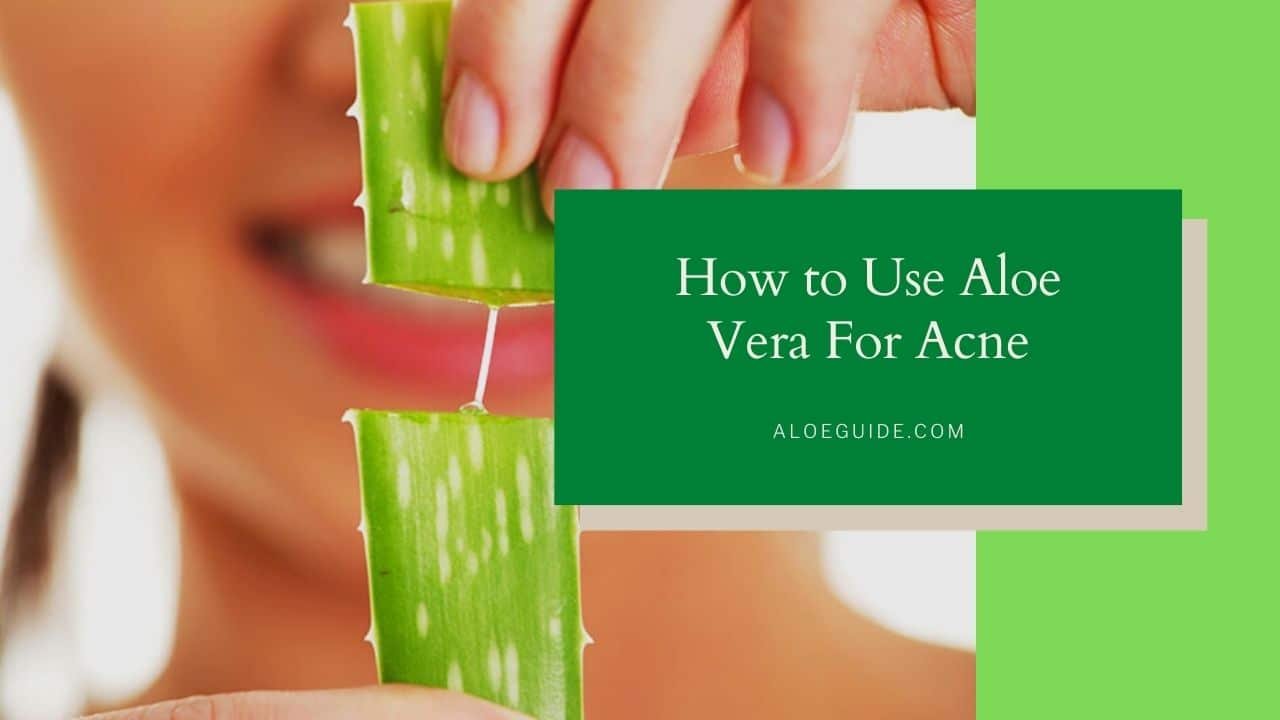 However, acne may also occur in young adults because of
stressful lifestyles
hormonal imbalance
poor personal hygiene
environmental toxin
poor nutrition and etc.
Young women may also experience acne before or during menstruation.
So, Is Aloe Vera good for acne? As per research, if you use aloe vera with traditional way anti-acne medication, the results is promising.
In today's article, You will be discovering Using Aloe Vera for acne scars problems that you have been suffering from all this while. Just read till the end and you will get your solution.
Aloe vera and Acne
An Acne blemish begins approximately 2 to 3 weeks before it appears on the skin's surface. Attached deep within each hair follicle is a sebaceous gland that generates sebum (oily substance) to keep skin soft and moist.
Typically the sebum has to excrete through the skin pores. Acne happens when dried sebum and dead skin cells block the pores, promoting the growth of bacteria, leading to inflammation of the skin.
Aloe vera contains antioxidants, enzymes, and vitamins that improve your skin health and protect it from bacterial and fungal infection. It also treats inflammation and hyperpigmentation.
Aloe vera is helpful in treating acne, soothing acne, lightening acne scars, hyperpigmentation, and infection. It can be used as fresh aloe vera or in the form of creams, ointments, and gels mixed with other beneficial compounds.
Aloe Vera Benefits For Acne Scars
There are proven research that aloe vera is very beneficial to our skin. Below are the list of the benefits :
1). Reduce inflammation:
Aloe vera has been used for acne for many years due to its anti-bacterial and anti-inflammatory properties. It reduces acne by fighting acne-causing bacteria.
Some pimples are filled with pus and some are dry. So aloe vera is best in treating pus-filled pimples.
Infection at the site of pimples causes severe pain and irritation and aloe vera does its magic by reducing pain and irritation.
2). Collagen and elastin production:
The topical application of aloe vera boosts the production of collagen and elastin. Collagen and elastin are the fibers that make up the supporting structure of the skin.
Elastin performs the function of skin tightness and collagen performs the function of skin firmness. So when the acne pimples get damaged, the fibers of elastin and collagen break and damage.
So by applying Aloe vera on inflamed site the production of elastic and collagen increases which fasten up the wound healing and scar formation. Aloe vera tries to bring the normal skin back by healing scars.
3). Boosts immune system:
Not only topically apply, You need to take care of you body condition as well. Aloe vera boosts up the immune system response to inflammation, which helps in healing the acne pimples faster.
Aloe vera stimulates the action of antibodies and lymphocytes to increase their activity. It results in the fast healing of burst pimples. 
4). Lightens acne scars:
Acne scars are the marks left by acne pimples. Scars are the hyperpigmentation of melanin pigment which results in the dark brown appearance of scars. 
The compound present in aloe vera called 'Aloesin' helps in reducing hyperpigmentation and lightening acne scars.
Regular application of aloe vera gel on acne scars disappears the scars in two to three weeks.
How to use Aloe Vera for Acne Scars:
Always cleanse your face before applying aloe vera on it.
Apply aloe vera gel on the pimple and scarred area gently.
Application of aloe vera should be continued for at least two weeks.
1). Aloe Vera and Lemon juice:
Lemon juice is full of citric acid and helps in treating acne. Lemon juice alone can cause irritation to acne, but mixing with aloe vera can make the best combination for acne treatment.
Make a mask of aloe vera and lemon juice and apply it on pimples or all over your face for bright, spotless, and acne-free skin.
2). Aloe Vera and Honey:
Honey has anti-bacterial and anti-inflammatory properties which help in treating and soothing acne. Add 1 tablespoon of honey to 2 tablespoons of aloe vera and apply it all over your face.
3). Aloe vera and Cinnamon:
Cinnamon is a brightening agent and anti-bacterial too in nature. Using cinnamon alone can be irritating to your skin but mixing it with aloe vera is a perfect combination to get radiant, glowing, and smooth skin without any spot or scar.
4). Aloe Vera Spray:
It is an easy application of aloe vera. Grind aloe vera gel in the grinder, then pour it into any spray bottle.
Spray the aloe vera juice all over your face before going to bed or spray it at any time on the face. It not only treats acne but also gives a refreshing look to your face. 
5). Fresh Aloe Vera:
The easiest way of using aloe vera is fresh aloe vera. Just peel off its leaves and apply its inner gel on pimples and scars and get magical results after a week.
6). Sugar and Aloe vera Scrub:
Sugar is a very good home-based cleanser that is used in scrubs to cleanse your skin deeply. It removes dead skin cells and gives a refined look to your skin.
Add one tablespoon of grind sugar in aloe vera and apply this mask to your face. Leave it for 20 minutes and see the results.
Avoid usage of sugar cubes because it may cause rashes on your skin.
7). Aloe Vera and Coffee Scrub:
Coffee is a natural exfoliant and skin brightener. It removes dead skin cells and prevents hyperpigmentation. A scrub of coffee and aloe vera is best for removing acne marks, scars, and hyperpigmentation.
8) Aloe Vera and Bee Propolis
Propolis is another important element in fighting acne. As per research, Propolis is an antimicrobial, which very effective in fighting acne. And because of its anti-inflammatory properties, It prevent degeneration of the acne.
Risk and Considerations:
1). Infection:
Aloe vera can cause infection at the site of acne as an allergic reaction because some people have sensitive skin and their skin does not bear aloe vera.
It results in any side effect in the form of allergy or infection. Do a patch test on your skin before using aloe vera.
2). Irritation:
Irritation and itching are the most common side effect of aloe vera on sensitive skin.
Try to do a patch test before using it otherwise itching can cause severe damage to acne.
3). Redness:
Aloe vera can cause itching on some skin types itching causes redness, rashes, and swelling.
4). Burning sensation:
Always clean your face before applying aloe vera because when you apply aloe vera on dirty skin it causes burning sensation and irritation.
Bottom Line
Therefore many remedies help with acne problems. But mostly is a topical application formula.
In fact, Acne Problem is not only from external factor but also due to internal factor. Healthy body and guts helps a lot on condition skin issue. If you have tried many remedies to resolve your acne or skin problem but failed. 
I would recommend you to do a body detoxification with Aloe Vera. In fact, There are many other benefits of using aloe vera. such as :
Don't hesitate to read the above article to understand how this amazing aloe vera can do wonders.
Last but not least, have you tried using aloe vera for acne scars problems?
Leave your comments and questions about your experience using "Aloe vera for acne scars" in the comment section. And we promise to answer your questions quickly!
And don't forget to share the article, because sharing is caring