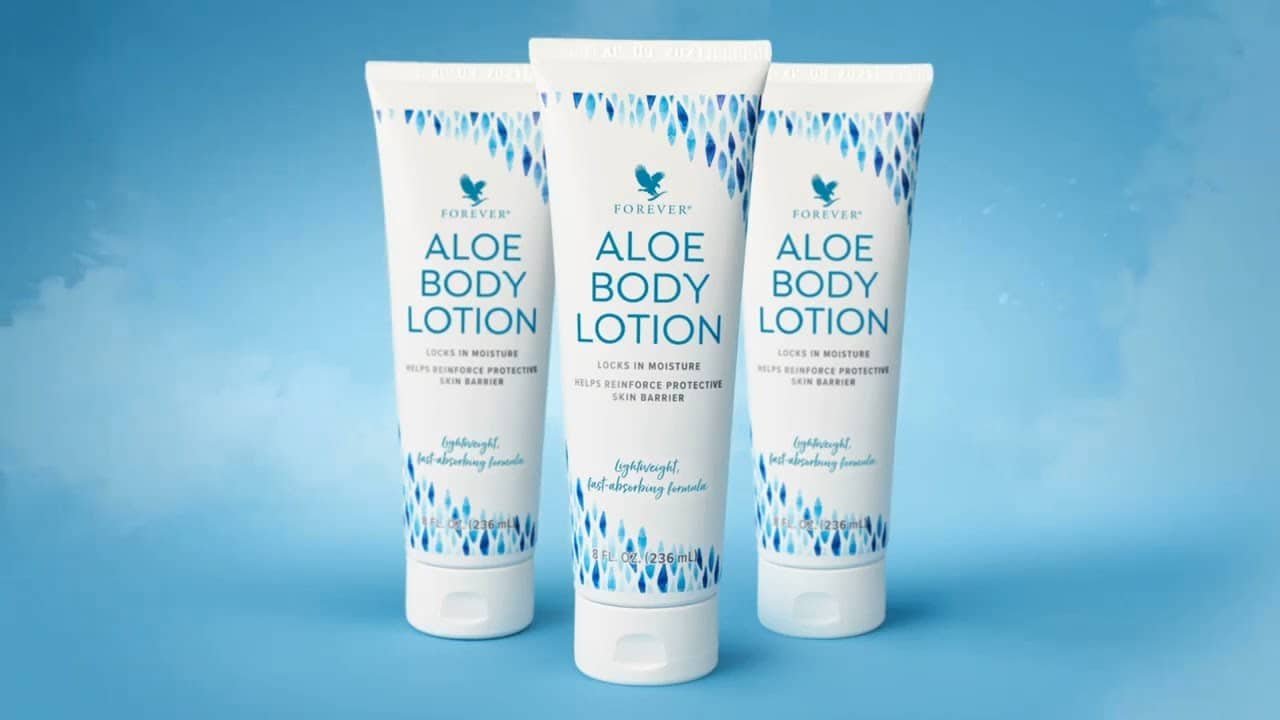 Pamper your skin with this Forever Aloe Body Lotion that contains the perfect moisturizing formula.
Its non-sticky and non-greasy texture absorbs quickly in your skin and can be your best buddy in winter and summer as well.
Table of content
Forever Aloe Body Lotion Review
Forever Aloe Body Lotion Ingredients
Forever Aloe Body Lotion Benefits
Forever Aloe Body Lotion Uses
Product Specification
Product Name
Forever Aloe Body Lotion

Brand

Forever Living Products

UPC

#647

Items Weight

8 fl. oz.

Key Ingredients

Stabilized Aloe Vera
Jojoba Seed Oil

Availability

In Stock

Rating

⭐⭐⭐⭐⭐ 

5

/5
Forever Aloe Body Lotion Review
Forever Aloe Body lotion is packed with natural oils, vitamins, and Aloe extract to give your skin a long-lasting glow and youthful texture. 
You will experience the joy of silky, soft, and hydrated skin. The rich content of minerals and vitamins makes your skin bright and beautiful from the outside and healthy inside. 
You can also use it on hot summer days as it contains a rich quantity of antioxidants to keep your skin protected from sun damage and free radicals. 
Boost your skin moisture barrier and elasticity with one regular drop of this magical lotion, because your skin deserves this. 
What else do you want, having the young skin forever? Its moisturizing and anti-aging properties are the main reasons why we love it. A non-toxic, non-allergic, mild formula that can be suitable for all skin types.
Forever Aloe Body Lotion Ingredients
Once you'll read the benefits and magic of the ingredients, you will fall in love with this product:
1) Stabilized Aloe Vera Gel
The rich content of vitamins, minerals, enzymes, and antioxidants in Aloe Vera makes it the best buddy for your skin.
Aloe Vera has been used for different skin conditions for many years. It is a natural moisturizer and healing ingredient for your skin.
This rich content of vitamins, minerals, and antioxidants prevents your skin from aging and treats sunburns.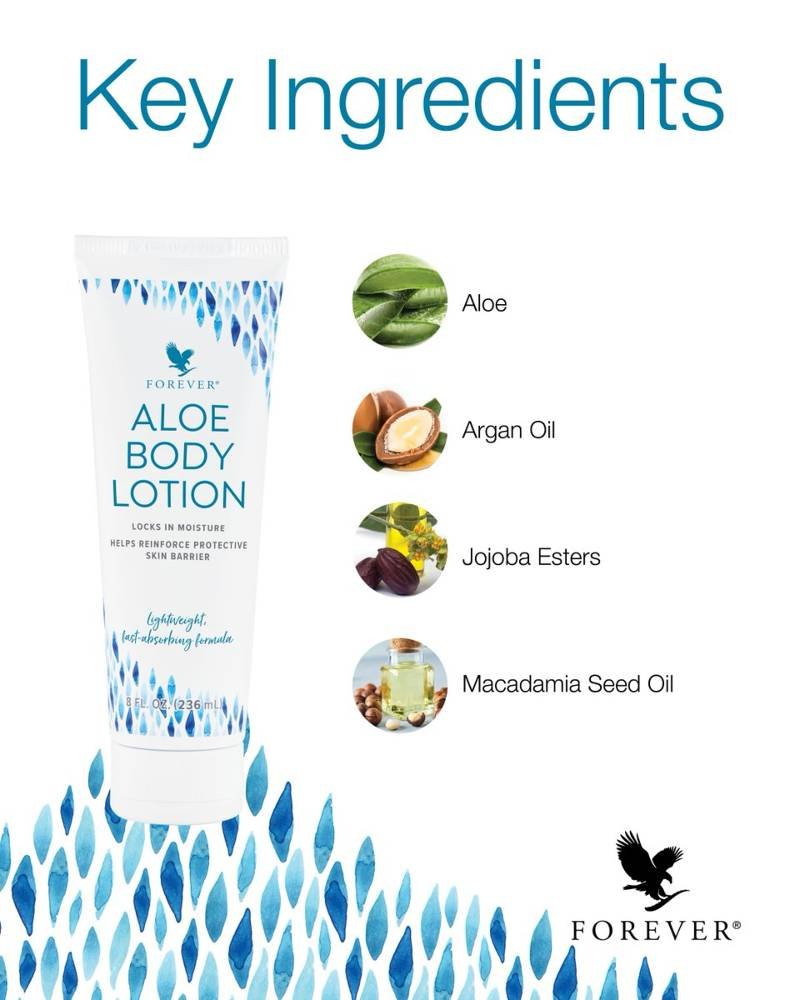 Aloe Vera is also used for healing and anti-acne purposes due to its anti-microbial and anti-inflammatory properties.
Aloe vera does wonders for both dry and oily skin. Fulfill the hunger of your skin with aloe vera, it will result in glowing, smooth, and young skin.
2) Jojoba Seed Oil
Jojoba oil is full of benefits for your skin and that's the reason for its popularity in skincare products.
You can get tired of reading its benefits but it cannot get tired of giving your skin an ultimate glow and health.
From providing moisture, glow, and brightness to protecting it from free radicals, wrinkles, and sunburns, it causes extreme wonders to your skin.
Jojoba oil is a happy pill for your skin as it contains antioxidants that prevent your skin from aging and cancer.
One of the best things is that it moisturizes your skin without clogging your skin pores. The antibacterial property also fights acne and skin.
3) Vitamin E
Vitamin E is well known for its rich moisturizing property. It's the most popular ingredient in moisturizing lotions and creams to make your winter smooth. 
Vitamin E is rich in antioxidants that means it can fight free radicals and prevent your skin from sunburns, DNA damage, and skin cancers. 
Vitamin E does wonders for dry skin as well as oily skin. Its antioxidant property keeps your skin young forever. It prevents the breakdown of collagen and elastin. 
Collagen and elastin provide firmness and elasticity to your skin to make it look tight and young. So Vitamin E has these amazing benefits for your skin that make you fall in love with it.
Forever Aloe Body Lotion Benefits
All the natural ingredients used in this moisturizing lotion have wonderful benefits for your skin and make your skin healthy and glowing.
1. Treat Dryness
A perfect concentration of Vitamin E and Jojoba oil along with other oils make this lotion treatment for dryness and eczema.
It gives life to your dry and damaged skin cells by adding moisture and minerals to them. Dry skin is more prone to aging and diseases.
To prevent your skin from different skin conditions by keeping it moisturized. This lotion is perfect for both dry and oily skin as it does not cause any problem for oily skin as well.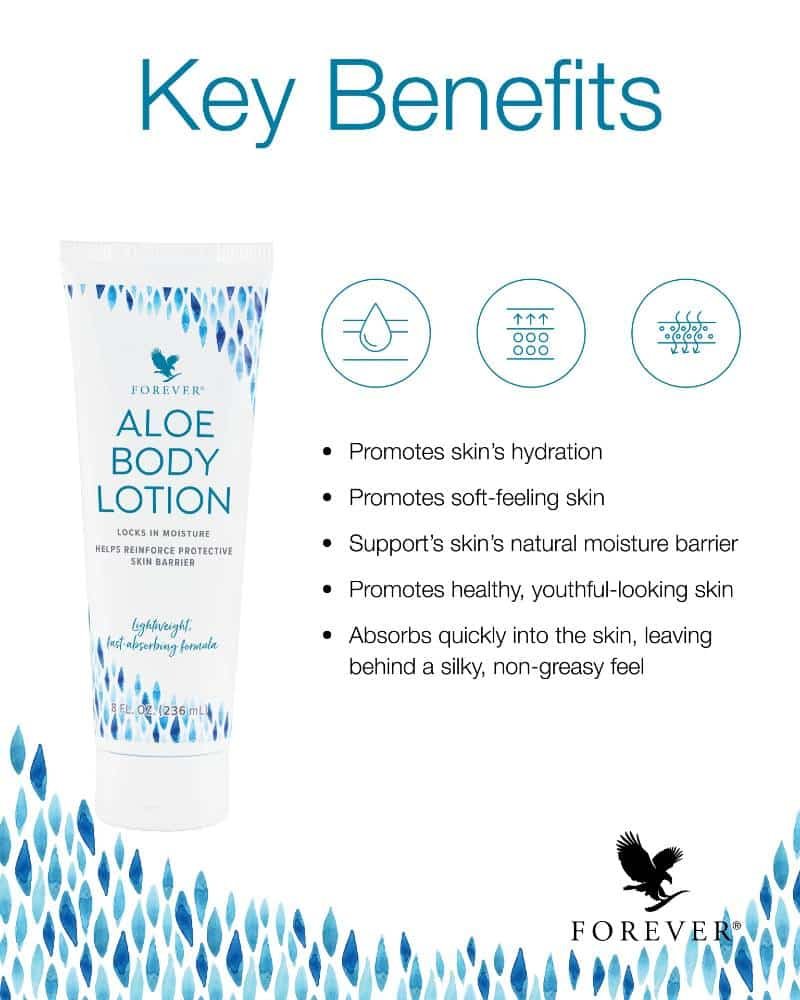 2. Hydrated Skin
Aloe vera is a perfect ingredient for filling up your skin cells with water and making them healthy and lively. 
Aloe vera is a humectant itself and 99% of aloe vera is filled with water. It has the same function it performs in your skin. 
Aloe body lotion keeps your skin hydrated by adding vitamins, minerals, and aloe in it. Jojoba oil also has excellent hydrating properties that also help in making this lotion super-hydrating.
3. Soft And Silky Skin
The perfect addition of jojoba oil and argan oil makes this lotion super moisturizing due to its fatty acids content. 
Argan oil contains fatty acids and vitamin E that performs the function of keeping your skin baby soft and silky smooth. 
Jojoba oil helps in maintaining the elasticity and firmness of the skin by accelerating collagen production. An ideal mixture of oils and vitamins to keep your skin healthy and beautiful. 
Its non-sticky formula absorbs quickly into your skin and makes your skin moisturized instantly without forming any greasy layer.
4. Treat Aging
A rich amount of oils and vitamins contains antioxidants that help in keeping your skin young forever. 
Environmental pollutants like free radicals and sun rays penetrate into your skin and break the collagen and elastin protein. 
Deep penetration can also cause the breakdown of the DNA structure of skin cells. This results in sagging skin, wrinkles, and skin cancer. Antioxidants fight free radicals and other pollutants to protect your skin from aging and cancer. 
Antioxidants promote collagen and elastin production to keep your skin elasticity and firmness intact.
Forever Aloe Body Lotion Uses
Add this magical lotion to your am and pm skincare routine to get amazingly moisturized skin.
Massage it well for better absorption.
Bottom Line
An ideal mixture of oils and vitamins with no toxic ingredients is a blessing in this century where everything comes with chemicals. 
Aloe Moisturizing lotion should be your everyday partner no matter if it is summer or winter. It works great in both seasons. 
It is gluten-free and suitable for both vegan and vegetarian. These extra qualities of this product increase the demand for this product. 
We love this product and surely you'll also be in love with it after using it for a while.
Now, It's your turn, let us know your opinion about Forever Aloe Body Lotion and your experience using it. 
Leave your comments and questions about "Forever Aloe Body Lotion Review" in the comment section. And we promise to answer your questions quickly because we know that time is of the essence.
And don't forget to share the article, because sharing is caring