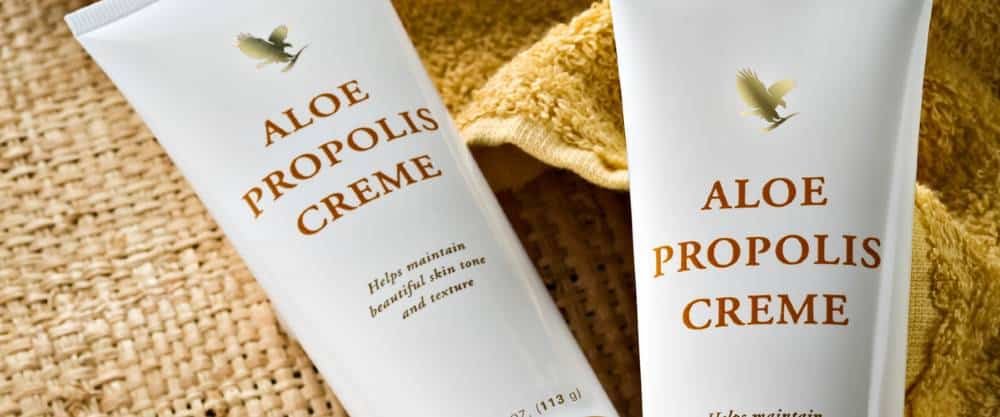 Do you have a special skin condition that borders you all this while?
Then these amazing Forever Aloe Propolis Creme reviews will be your life savior.
Propolis Cream very useful and underrated skincare product for normal and special condition skin. The combination of medicinal plant "aloe vera" and high anti-bacterial Bee Propolis help to boost all the benefits and nutrients towards our skin condition.
Sounds Interesting?
In today's article, We are going to review forever living aloe propolis cream which I found very beneficial and creates wonders for our skin. Keep reading this Forever aloe propolis creme reviews
Product Specification
Product Name
Forever Aloe Propolis Creme

Brand

Forever Living Products

UPC

#051

Items Weight

4 OZ

Key Ingredients

Aloe Barbadensis Leaf Juice
Bee Propolis
Chamomile

Availability

In Stock

Rating

⭐⭐⭐⭐⭐ 

5

/5
Forever Aloe Propolis Creme Reviews
Forever Living Propolis creme is a gelatinous type of lotion. This is the only product with the combination of aloe vera stabilized gel with Bee Propolis and Chamomile. Which makes the combination of anti-bacterial and moisturizing effects all in one.
What makes so special on this Forever aloe propolis crème composition are:
1) Antibacterial & Anti Inflammatory
Bee propolis is a resinous substance that bees create to fortify their hives. Turns out it also has properties that create a natural barrier on your skin, locking in the natural skincare benefits of aloe.
Propolis has several therapeutic properties, such as antibacterial, anti-inflammatory, healing. Turns out I had great effect help on soothing special skin condition.
You can learn more about the benefits of using propolis here.
2) Rich In Vitamins A, C, and E
Forever Propolis Cream is rich in vitamins A, C, and E. All these vitamins are essential to improve our skin condition.
Forever Aloe Propolis Crème Ingredients
When you are looking for skincare products, You must look into their key ingredients, as this makes a big difference. 
1) Aloe Vera Inner Gel
Aloe Vera is well known worldwide that is very good for our skin. It has super-rich vitamins and minerals that need by our skins.
Aloe vera work to nourish and moisturize the skin while bee propolis helps rejuvenate skin for a smooth, supple look and feel. You can imagine what kind of improvement you can expect before and after using it.
2) Bee Propolis
Bee glue, or commonly called bee propolis, is a natural mixture produced by honey bees using substances they have collected from plants and trees.
Bee propolis guards beehives against intruders in nature but has been medicinally used by humans for thousands of years. Benefits include antimicrobial, antioxidative, and anti-ulcer properties. It is for these impressive qualities that Bee Propolis features in this product.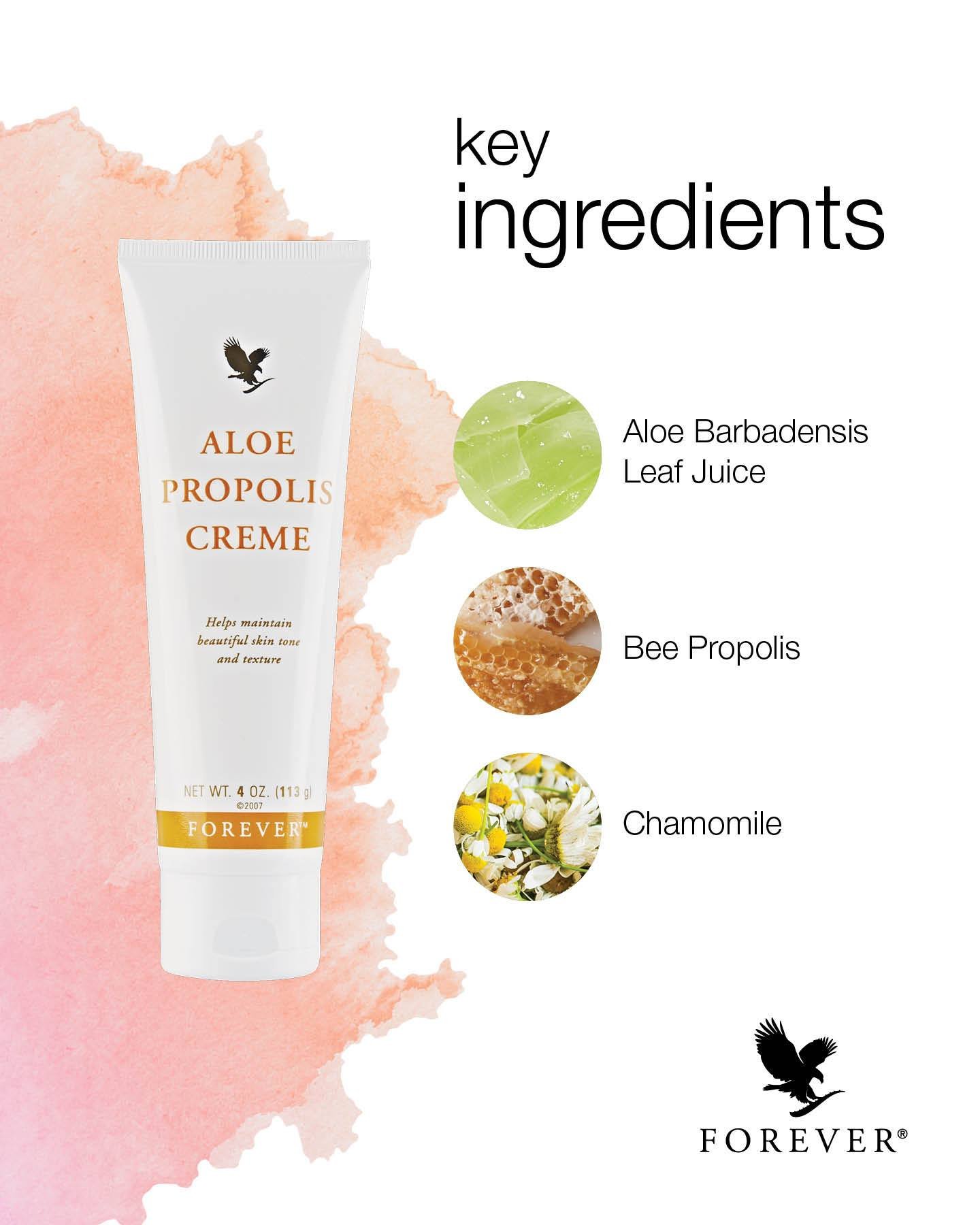 3) Chamomile
Chamomile helps calm the mind and body, it has similar effects on the skin. Chamomile boasts anti-inflammatory and antioxidant properties that can help soothe the skin, reducing redness and blemishes.
It can even relieve skin irritations like eczema, psoriasis, and rosacea. The antioxidants also help boost skin health to bring out an inner glow and even fade dark spots and under-eye circles.
You can learn more about chamomile here.
Forever Living Aloe Propolis Creme Benefits
Many have wondered what is forever living propolis cream is used for? There are tons of benefits to using Forever Living Aloe Propolis Cream that you might never think of.
Now, Let's explore the uses and the benefits of Forever Aloe Propolis Crème today!
1) Fade Scars
Propolis has antiseptic, antifungal, antiviral, and antibacterial properties. All these properties are well known for wounds and cut healing.
Therefore, applying Forever Aloe propolis creme on the scar areas will help to regenerate skin and make the scar less visible over time.
2). For Acne
Is Aloe Propolis Crème Good For Acne? The answer is Yes!
Because of its 
antibacterial and anti-inflammatory nature
, it can help aid acne in two ways:
by targeting the bacteria-causing acne;

by easing the inflammation in the skin that leads to acne in the first place. Inflammation also does this by drying out your skin, which can lead to flakes, scabs, and even scars.
3). For Eczema
Forever Propolis Crème has a powerful soothing effect. It contains properties such as antiseptic, antifungal, antiviral, and antibacterial. That helps to soothe and moisturize your skin condition.
4). For Psoriasis
Like Eczema, Antiseptic, antifungal, antiviral and antibacterial properties help to keep your skin moist and to reduce itchiness on your skin.
5). Whitening Effect
With the combined effect of aloe vera, propolis, and chamomile. Antioxidant properties have been boast and this will have a whitening effect on our skin.
6). Dry Skin
Aloe vera helped to moisturize and soothe dry skin that you had. If you mix with forever aloe vera gelly and forever aloe moisturizing lotion, you will have even better results.
How Do You Use Forever Aloe Propolis Creme?
How to Use Aloe Propolis Crème?
Simple and easy. Apply pure and generously area infected 2-3 times a day, make sure it is clean before you apply it.
If you have special skin conditions such as eczema, psoriasis. Experts believe that this is due to the immune system overreact causing inflammation and flaking of skin.
In this situation, Apply Aloe Vera Gelly and Aloe propolis creme to keep your skin moist and to reduce itchiness.
Besides that, consider taking Pure aloe vera gel and bee propolis as a health supplement. This helps you relieve inflammation on the skin, also improved and strengthens the body's immune system.
Bottom Line
No matter what gender you are, what age you are in. Forever Aloe Propolis Creme is always something you might consider to have one at home or at your bags.
This magical skincare product is not limited to only special skin conditions like eczema and acne. It is also very good for normal wound healing, it does help and had obvious results.
Because of its composition and vitamins, You can expect to have a great whitening effect using forever aloe propolis crème before and after.
Treat your skin to the soothing, nourishing, and protecting power packed inside every tube.
I hope that this Forever Aloe Propolis Creme review does help you in understanding the uniqueness of the cream. This unique Aloe Vera Propolis Cream is useful to help keep your skin in great condition and glowing.
Now, It's your turn, let us know your opinion about Forever Living Aloe Propolis Creme and your experience using it.
Leave your comments and questions about "Forever Aloe Propolis Creme Reviews" in the comment section. And we promise to answer your questions quickly.
And don't forget to share the article, because sharing is caring