Every morning when we wake up, first thing we do is to brush our teeth. And you definitely need a good aloe vera toothgel to keep  your teeth white and healthy makes you feel confident. You smile makes every melt.
Therefore, You have to make sure your teeth and gums is healthy. Which leads to using a correct toothpaste makes the difference.
In this article, we are going to share about this amazing Forever Bright ToothGel that use one of the best ingredient – Aloe Vera that is well known in protecting your gums and teeth.
If you are experience gums problem, you are in the the right place.
Just keep reading this Forever Bright ToothGel Review to find out how it can help you.
Product Specification
Product Name
Forever Bright Toothgel

Brand

Forever Living Products

Code

028

Items Weight

130g

Key Ingredients 

Stabilized Aloe Vera
Bee Propolis,
Natural SpearMint & Pepper Mint

Availability

In Stock

Rating

⭐⭐⭐⭐⭐ 

5

/5
Forever Bright ToothGel Review
What is so special about this Forever Bright Aloe Vera ToothGel?
There are many aloe vera toothgel on the market. But Forever Living toothpaste is the only 1 that combines stabilized aloe vera and bee propolis.
For clean teeth, fresh breath, and refreshing flavor. A gentle yet effective formulation.
1) Fluoride-free formula.
Forever living toothpaste formula is Flouride-free.  Therefore, your whole family can enjoy the combination of natural peppermint and spearmint with a frothy texture that will leave your mouth feeling fresh and clean.
2) Formulated with 100% Stabilized Aloe Vera and Bee Propolis
Aloe Vera is well known that is beneficial to our body. By using aloe vera toothpaste, it can help you to fight plaque as part of a regular brushing routine while the other ingredients bee propolis that has anti-inflammatory features help to promote gum health and prevent bad breath.
3) Gluten-free & Vegetarian Friendly
Forever Bright Aloe Vera Toothpaste is gluten-free  & With no animal by-products, is an absolutely great option for vegans and vegetarians. You won't need to worry about the ingredient at all. 
If you still doubt it, take a look at how this aloe vera toothpaste is produced and comment on by the professional.
Forever Bright Aloe Vera Toothgel Benefits
Is Aloe Vera Toothpaste good for teeth? The answer is definitely Yes. There are many benefits to using Forever Bright Toothgel. Some are the major one that everyone cares is :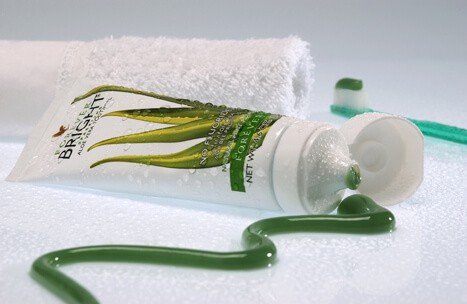 1) Teeth Whitening & Gleaming
Does Forever Bright Toothgel Whiten Teeth?
With Aloe Vera and Bee propolis natural cleansing component. It help to clean and protect your teeth enamel. Healthy Enamel makes your teeth white and gleaming.  
2) Help to Remove Plaque
Aloe vera has a natural vesicant that helps to clean your teeth thoroughly. That will prevent or help to remove plaque after sometimes of using this aloe vera toothpaste
If you experiencing gum bleeding, periodontal problem, or even oral cavity problem. Forever Bright toothpaste is amazing as aloe vera not only able to relieve pain, but it also helps faster recovery.
3)Help Soothing Mouth and Gums
Propolis is a natural bacterial killer, and with propolis in this forever toothpaste, it helps to soothe and protect your gums from infection.
4) Powerful Breath Refresher with Refreshing Taste
You will notice that Forever toothpaste is green in color when you squeeze it. This is because of the Chlorophyllin added to it. It helps to provide a refresher to prevent bad breath.
5) Low Abrasion
Gypsum is commonly use in tooth paste, although it is not harmful to human body. But it reduce the strength of your gums overtime, and it has higher abrasion towards your teeth.
Forever Living Toothpaste contains No harsh abrasive that can wear away your enamel.
Forever Living Bright ToothGel Other Uses
Is toothpaste only use to brush your teeth? No Way! 
With forever living toothpaste. There are more other usages you can expect with this aloe vera toothpaste. 
You can also use it in other areas for emergency purposes.
Cuts and Scratches
Burns
Sore throat and tonsils
Swollen gums and etc
Because of its has high % of Aloe Vera Ingredients & Bee Propolis. You can apply it temporary for emergency purpose to help to relieve pain and stop bleeding while waiting to consult with doctor.
How to use Forever Bright Toothgel?
For complete care, brush your teeth after each meal.
Normally when you brushing your teeth, you will squeeze the length that enough cover your brush. 
But with Forever toothpaste, You only need small hazelnut(half bean, no more) on toothbrush and repeat brushing each meal and in the evening before bed time.
Summary
Forever Bright ToothGel is one of the most popular products made by Forever Living company. and is the only 1 that combines aloe vera & bee propolis.
With the benefits of aloe vera & bee propolis. it certainly helps many of your oral problems while having clean and healthy teeth and gum.
This is a toothpaste for the whole family and is developed in collaboration with a dental expert.
So, Is Forever Bright Toothgel Safe? Definitely Yes!
You will love it after you use it. You don't even need to worry if your kids accidently swallow it. 
You can also check out more aloe vera related household and personal care products by forever living
Now, is your turn. Have you tried this amazing Forever Bright ToothGel?

Leave your comments and questions about the "Forever Bright ToothGel Review" in the comment section. And we promise to answer your questions quickly because we know that time is of the essence, with your little one on the way! 
And don't forget to share the article, because sharing is caring.