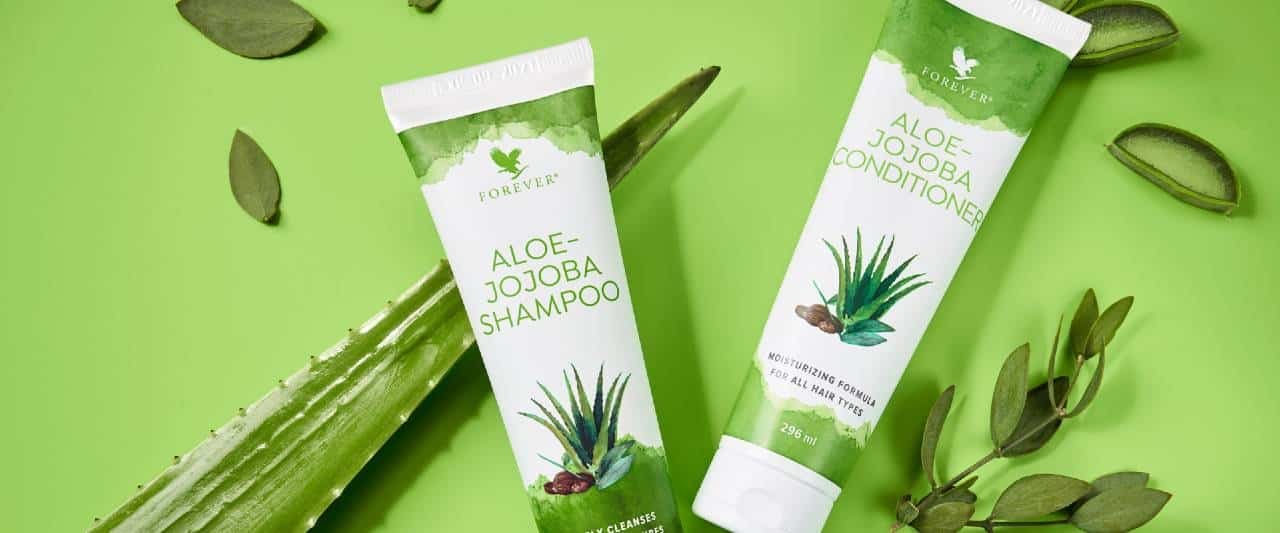 Have you ever heard about using aloe vera remedy  that would could help your hair condition?
Many of us heard about aloe vera, but didn't really deep dive into it how aloe vera could help our hair. In fact, Aloe vera is pretty useful and could help your hair if your hair is in bad condition. 
Today, You will find out how special is it in this aloe jojoba conditioner review. The benefits and how it helps your hair. If you match with the Aloe Jojoba Shampoo. The results is absolutely amazing.
if you are looking for something to treat your hair loss and bring it back to life and shiny, you will find this aloe jojoba conditioner review is something that you are looking for for a long time.
Product Specification
Product Name
Forever Aloe Jojoba Conditioner

Brand

Forever Living Products

UPC

#641

Items Weight

296ML

Key Ingredients

Stabilized Aloe Vera
Jojoba Oil
Argan Oil

Availability

In Stock

Rating

⭐⭐⭐⭐⭐ 

5

/5
Forever Aloe Jojoba Conditioner Review
Fulfill your dream of getting Rapunzel hair with our Aloe-Jojoba Conditioner which is packed with amazing oils, vitamins, minerals, and Aloe vera extract.
It packs your hair strands with a glossy, moisturizing layer that gives an ultimate, adorable shine to your hair all day. Enjoy frizz-free and tangle-free hair and try your favorite hairstyles without getting worried about hair damage.
The perfect mixture of three versatile oils like jojoba, Rosehip, and Argan with Aloe vera gel extract makes this conditioner a healthy diet for your hair.
Aloe jojoba conditioner is perfect for your dry and damaged hair as it works to repair damage and strengthens your weak locks. Its buttery texture surrounds your hair with a moisture layer and prevents it from heat styling damage.
Feed your hair with all the essential minerals, like copper and zinc, and vitamin B, C, and E, to promote hair growth and hair thickness. This soothing conditioner features the same invigorating fragrance as our Aloe-Jojoba Shampoo: tropical fruit, sugared sweet cream, and melon.
Our formula is gender and age-neutral, making it perfect for the entire family. Give your hair the very best of what nature has to offer with Forever Aloe-Jojoba Conditioner.
Forever Aloe Jojoba Conditioner Ingredients
1) Stabilize Aloe Vera
Aloe Vera is full of vitamins, minerals, not only it is good for health as a supplement, it is good for skin and your hair.
Aloe vera is well known for promoting hair growth by accelerating the hair growth cycle. At the same time, it will protect your hair by forming a protective layer on each hair strand so that it will not easily damage by different environments.
Also, With the vitamins and mineral it has, it will provide nutrients to your scalp, clean and moisturize your help so that it always shine and silky.
So enjoy sleek, frizz-free, and shiny hair with this natural ingredient. It is very useful for dull, dry, and damaged hair.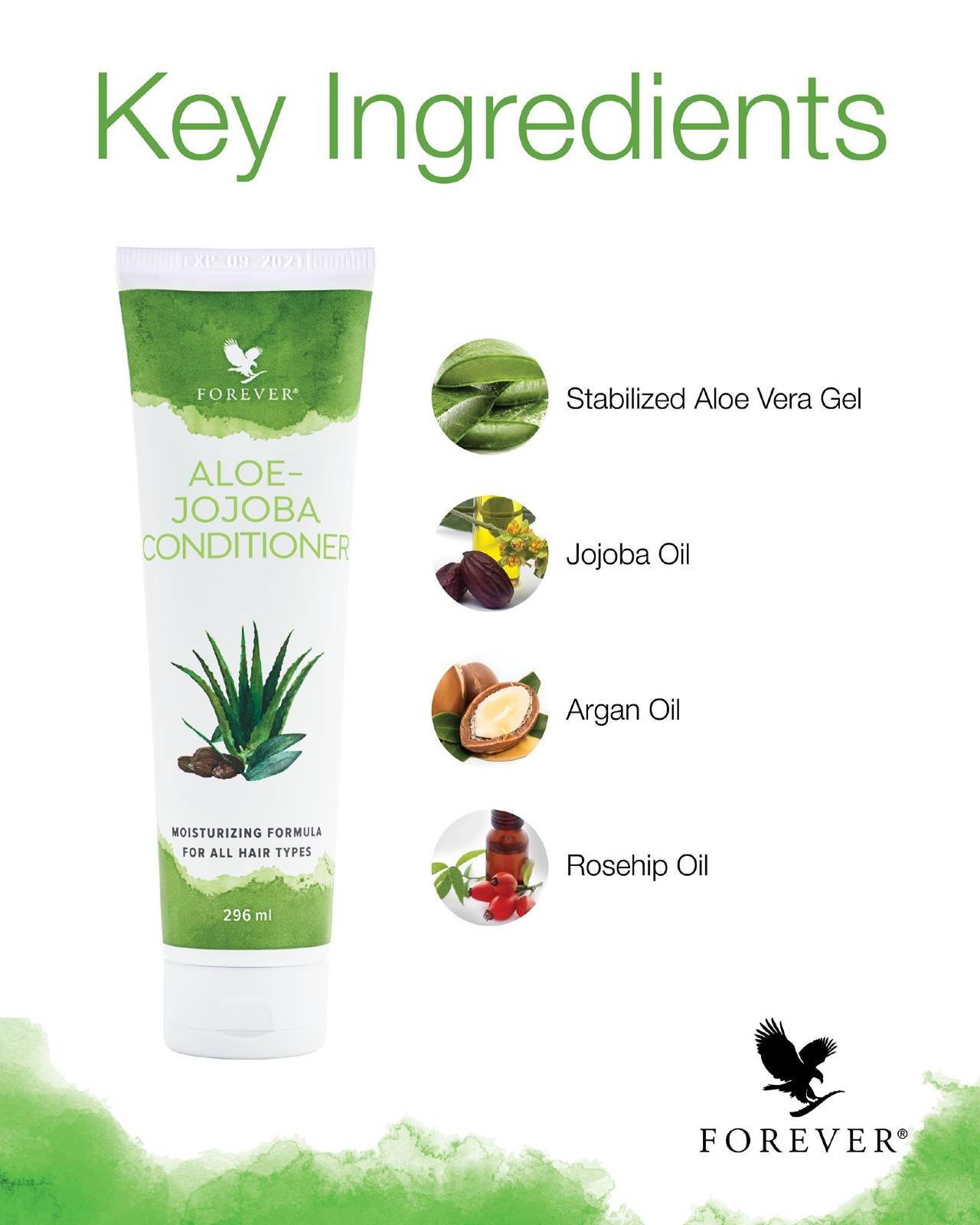 2) Jojoba Seed Oil 
The chemistry of jojoba oil and your hair is awesome because of the lovely treatment provided by jojoba oil to your hair. Jojoba oil is stuffed with vitamins and minerals including Vitamin B, Vitamin C, Vitamin E, copper, and Zinc.
It's a true feast for your dull and damaged hair. Jojoba oil promotes thick, shiny hair by promoting hair growth and smooth hair texture. It gives a sleek look to your frizzy hair by making your hair strands and scalp moisturized.
It is perfect for preventing dandruff and any other pollutants on your scalp because jojoba oil absorbs dirt and sebum from your hair follicles.
Forever Aloe Jojoba Conditioner Benefits
These amazing benefits of aloe jojoba Conditioner will make you fall in love with it.
1) Silky, smooth hair:
The smoothness and silkiness you get after just one application of this product will make you obsessed with this product. The addition of jojoba oil and argan oil along with many vitamins and minerals make your hair super soft and smooth.
You can do a finger comb without getting the hair entangled. These oils make a protective layer around your hair shaft and give a sparkling shine and smoothness to your hair. This smoothness is due to the rich concentration of fatty acids in this product.
Due to the antifungal and antibacterial of jojoba oil, the chances of dandruff are very less. This versatile oil also maintains pH balance in  your scalp and keeps them healthy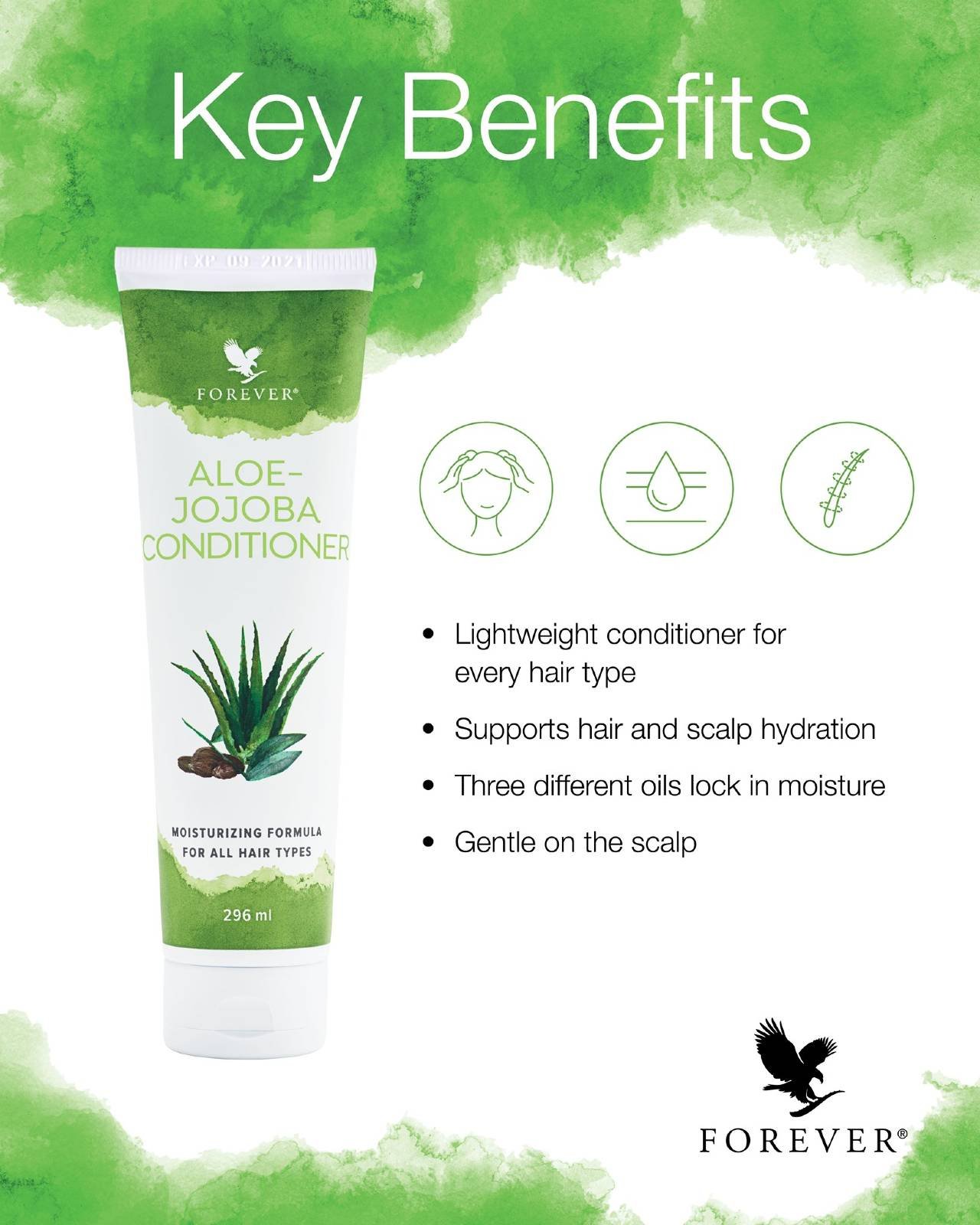 2) Moisturized hair and scalp:
Aloe conditioner is stuffed with three different magical oils including Jojoba oil, Rosehip oil, and argan oil which is also known as the liquid gold of morocco due to its unbelievable benefits.
These oils are enriched with vitamins and fatty acids to make your hair strands and scalp fully moisturized. Dandruff happens when dryness occurs on your scalp. So these hydrating oils prevent your scalp from drying and reduce the chances of dandruff.
Get hydrated scalp, moisturized, and glossy hair without getting greasy or oily texture.
3) Frizz-Free Hair
Are you tired of your dry and frizzy hair? Because Aloe Jojoba conditioner is ready to give this smooth comfort to your hair. An ideal mixture of oils, vitamins, and Aloe gel makes a perfect shiny layer on your hair that lubricates your hair strand and makes them frizz-free and tangled-free.
Frizzy hair is mostly experienced by people having dry hair. Dryness promotes frizziness and makes your hair look dry, wavy, and frizzy.
When your hair is getting enough nutrients on a regular basis, its functions will run on a smooth level and the texture of hair automatically improves.
4) Promote Hair Growth:
Aloe jojoba conditioner promotes hair growth by accelerating the growth cycle of your hair strands.
Jojoba oil is very good at absorbing excess sebum and dirt on your scalp and hair follicles. This absorption makes the hair follicle free from any extra waste which interrupts the hair growth cycle.
The cleansing property of jojoba and argan oil cleanse your hair scalp and promotes better absorption of nutrients. Zinc and copper perform the function of strengthening our locks, preventing hair loss, and promoting hair thickness.
Forever Aloe Jojoba Conditioner Usage
Cleanse your hair properly with our jojoba shampoo before applying this conditioner.
Take a good amount of conditioner and apply it all over your hair.
Leave it for 5 to 10 minutes and wash away.
Bottom Line
A mild, gentle, formula with a beautiful fragrance that suits all types of hair.
Aloe Jojoba conditioner is gluten free and guarantees that no allergic reaction will be experienced by the customers due to its light composition and natural ingredients.
You should buy this amazing conditioner for your damaged hair as it is a perfect healthy diet for your hair. It's a damage repair formula that locks moisture in your dry hair and gives them a long-lasting shine.
Feed your hair with three magical oils, minerals, and vitamins that will add life to your hair by increasing the hair volume, thickness and hair growth.
Look great all year around with sparkling shine and glossy smoothness of your hair.
Say no to bad hair days as we have the best solution for your damaged hair, that is this Aloe Jojoba conditioner. Go and grab your happiness by buying this conditioner.
Now, It's your turn, let us know your opinion about Forever Aloe Jojoba Conditioner and your experience using it. 
Leave your comments and questions about "Forever Aloe Jojoba Conditioner Review" in the contact us section. And we promise to answer your questions quickly because we know that time is of the essence!
And don't forget to share the article, because sharing is caring