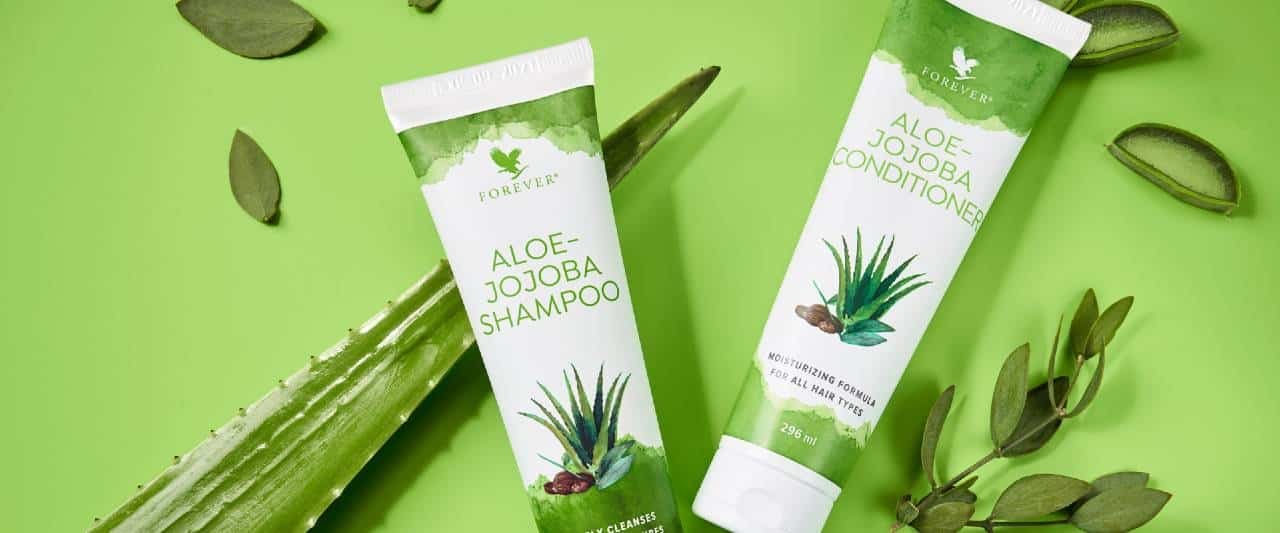 Life is too short to have bad hair. So say no to damaged hair with this Aloe jojoba shampoo and enjoy your life to the fullest. 
Are you suffering from hair loss or need something for your hair growth? While it assist your hair problem and at the same time protecting your scalp with nutrients? You must not miss out using aloe shampoo.
If you never heard about how amazing aloe vera can assist you in this area, Then you are in the right place! 
Today, in this aloe jojoba shampoo review, I will disclose the special aloe shampoo that will help your scalp and moisturize your hair to the fullest.
Whether you are experiencing hair loss or looking for something for hair growth, you will find this aloe jojoba shampoo is something that you are looking for for a long time.
Product Specification
Product Name
Forever Aloe Jojoba Shampoo

Brand

Forever Living Products

UPC

#640

Items Weight

296ML

Key Ingredients

Stabilized Aloe Vera
Jojoba Oil
Argan Oil

Availability

In Stock

Rating

⭐⭐⭐⭐⭐ 

5

/5
Forever Aloe Jojoba Shampoo Review
What is Jojoba Shampoo?
Forever Aloe Jojoba shampoo is stuffed with all the natural ingredients including magical oils like jojoba oil, Argan Oil, and Rosehip oil.
These oils along with Vitamins and minerals are the perfect diet for all hair types. Feed your hair with essential minerals like zinc and copper to strengthen your hair follicles and hair strands.
Forever jojoba shampoo is a multitasking product that moisturizes your hair and scalp along with promoting hair growth and texture.
he oils used in this aloe shampoo also protect your hair from sun damage and pollutants. Jojoba oil prevents the damage of heat styling tools, by covering your hair strands with an oily layer.
Enjoy heat stylings and outdoor events but make sure you wash your hair with this amazing aloe shampoo that protects your hair just like your mother protects you from any kind of harm.
Enjoy the refreshing fragrance of a tropical fruit medley with hints of sweet cream as the rich natural lather helps easily rinse away dirt and oil.
Forever Aloe Jojoba Shampoo Ingredients
1) Stabilized Aloe Vera
Aloe Vera is a full package for your hair as it contains a high amount of vitamins, minerals. Aloe vera adds life to your hair by strengthening your hair strands and hair follicles.
Aloe vera promotes hair growth by accelerating the hair growth cycle and also protects your hair from environmental damage by forming a protective layer around each hair strand.
The glossy shine and silky texture it gives to your hair are one of the most liked characteristics of aloe vera.
With Forever Aloe shampoo, you can enjoy sleek, frizz-free, and shiny hair with this natural ingredient. It is very useful for dull, dry, and damaged hair.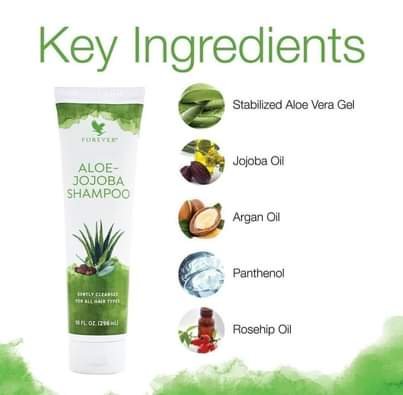 2) Jojoba Seed Oil 
The chemistry of jojoba oil and your hair is awesome because of the lovely treatment provided by jojoba oil to your hair. Jojoba oil is stuffed with vitamins and minerals including Vitamin B, Vitamin C, Vitamin E, copper, and Zinc.
It's a true feast for your dull and damaged hair. Jojoba oil promotes thick, shiny hair by promoting hair growth and smooth hair texture. It gives a sleek look to your frizzy hair by making your hair strands and scalp moisturized.
It is perfect for preventing dandruff and any other pollutants on your scalp because jojoba oil absorbs dirt and sebum from your hair follicles
3)

Argan Oil
Argan Oil
is full of fatty acids, mainly oleic acid, and linoleic acids, and is rich in vitamin E. It provides a fatty layer to your scalp and hair to prevent dryness and also helps to boost the shine of your hair.Aloe vera helps to bring or penetrates to the deeper skin layer on your scalp and allows your hair root to absorb extra nutrients.
Forever Aloe Jojoba Shampoo Benefits
What is jojoba shampoo good for?
These amazing benefits of jojoba shampoo will make you fall in love with it. Healthy hair requires extra care where forever aloe jojoba shampoo did almost all of it. Let's discover the aloe jojoba shampoo benefits one by one today:
1) Deep Cleansing Property:
A multi-tasking oil, known as jojoba oil, performs the function of deep cleansing very well.
It has the amazing property of absorbing excess sebum and dirt on the scalp and making it clean and fresh. When our hair follicles become clogged with excess sebum and dirt, it disturbs the hair growth cycle.
So to all the air pass into hair follicles and let your hair breathe, cleansing of the scalp is very important and this function of cleansing is performed very well by jojoba oil. Cleanliness is very important for a healthy life.
The same is the case with your hair, Using forever shampoo will make your scalp clean, and it will promote healthy growth of your hair.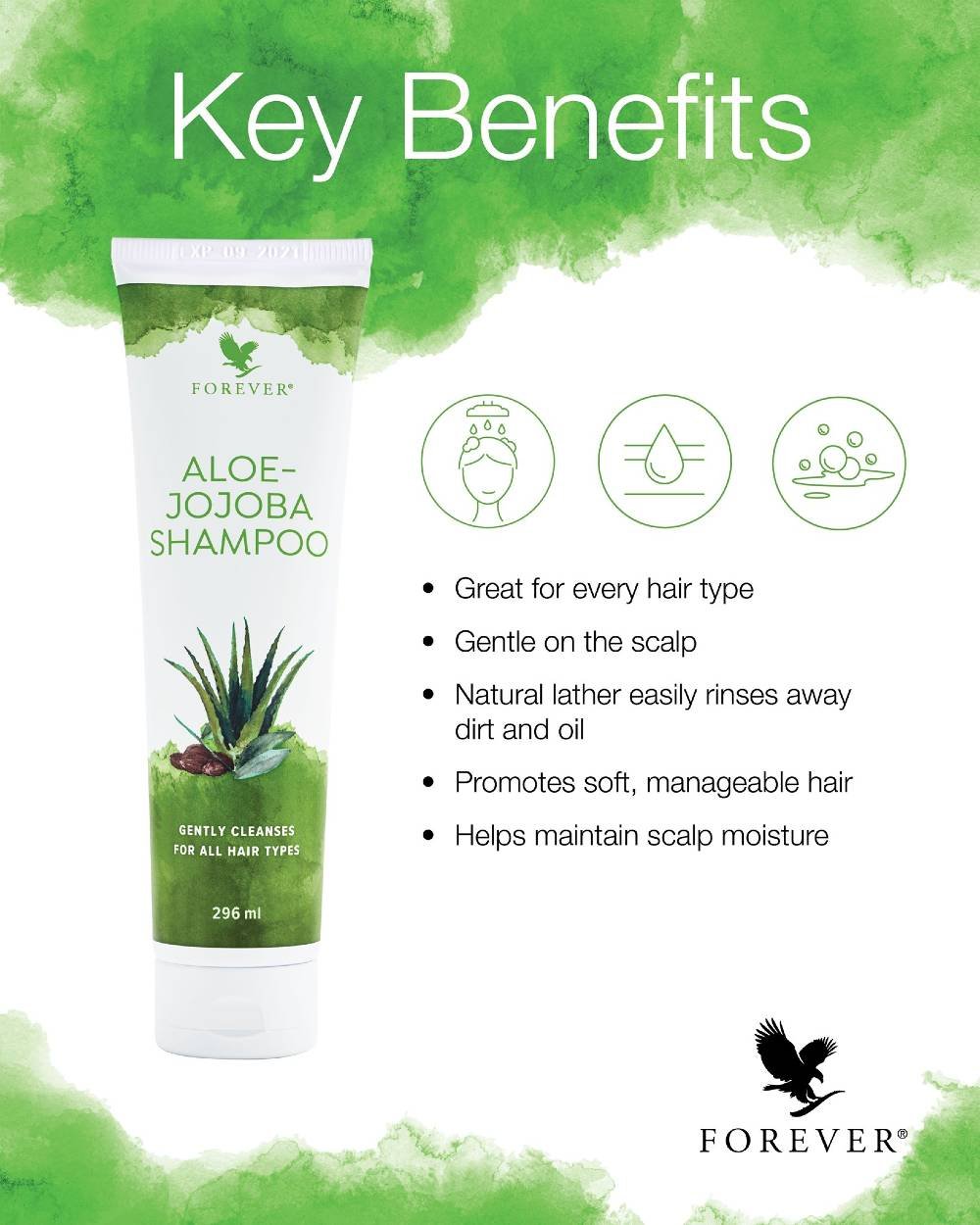 2) Promotes Hair Thickness and Growth:
Forever shampoo is stuffed with magical oil, vitamins, and minerals which promotes hair growth and makes them thick and healthy.
Zinc and copper, present in aloe vera extract that fastens the hair growth cycle of your hair and makes them super healthy and strong. Essential minerals and vitamins strengthen your hair follicles and hair strands to prevent hair loss and enhance hair thickness.
Forever shampoo makes your hair voluminous by enhancing the volume of hair strands. It's obvious when you will use this mild formula shampoo, enriched with oils on your hair regularly, it will result in Strong, thick, and long hair.
3) Soft, Shiny Hair
Forever Living Aloe Vera Shampoo is like a polisher for your dull and damaged hair. It polishes your hair with oils and gives them a sparkling, glossy layer.
This glossy and oily layer improves your hair texture and gives them a life full of nutrients. This magic layer adds smoothness and silkiness to your hair. This smoothness promotes tangle-free hair and reduces frizz and waves.
Get a long-lasting shine and smoothness with this shampoo, that is easy to wash away. A non-greasy, oily layer also protects your hair from sun damage and pollutants.
4) Moisturizing property:
Add joy to your hair by using the moisturizing and nourishing property of Forever jojoba shampoo that prevents hair dryness and dullness.
Forever Aloe Jojoba shampoo is best for dry hair people who have dry hair issues, dandruff issues, etc. Jojoba oil prevents dandruff and any fungal disease in your scalp and moisturizes your hair from inside and outside.
Regular use of aloe jojoba shampoo adds nourishment to your scalp, hair follicles, and hair strands and makes them all hydrated.
Forever Aloe Jojoba Shampoo Usage
How do you use Forever Aloe Vera Jojoba Shampoo? Simple as below:
Apply a good amount of Aloe Jojoba Shampoo on your wet hair and massage it well for two to three minutes to create a rich lather.
Leave it for 5 minutes and wash away.
For better results, Use both forever shampoo and conditioner, you will see amazing improvement after some time.
Bottom Line
This gluten-free and toxin-free, mild formula can be used for all hair types, ages, and genders. Enjoy the smooth and silky texture of your hair that you have never experienced before.
If you want to feed your hair a healthy diet, including magical oils, vitamins, and minerals, etc, then this Aloe Jojoba Shampoo is perfect for your hair type.
A formula made up of all the natural ingredients that one dreams of for his/her hair. Its smooth and natural lather is easy to build up and easy to rinse off.
One application of this Forever shampoo will show clear results and differences in your hair. Regular use can do magic which you are not even expecting for your hair. If you are experiencing a hair loss problem, You should be covered by this amazing Aloe vera jojoba Shampoo. 
So why not get the hair of your dreams? Go and Grab your dreams hair with this Aloe Jojoba Shampoo. Click the Order Now button to get this amazing forever shampoo price today!
Now, It's your turn, let us know your opinion about Forever Aloe Jojoba Shampoo and your experience using it.Leave your comments and questions about "Forever Aloe Jojoba Shampoo Reviews" in the contact us section. And we promise to answer your questions quickly because we know that time is of the essence!And don't forget to share the article, because sharing is caring