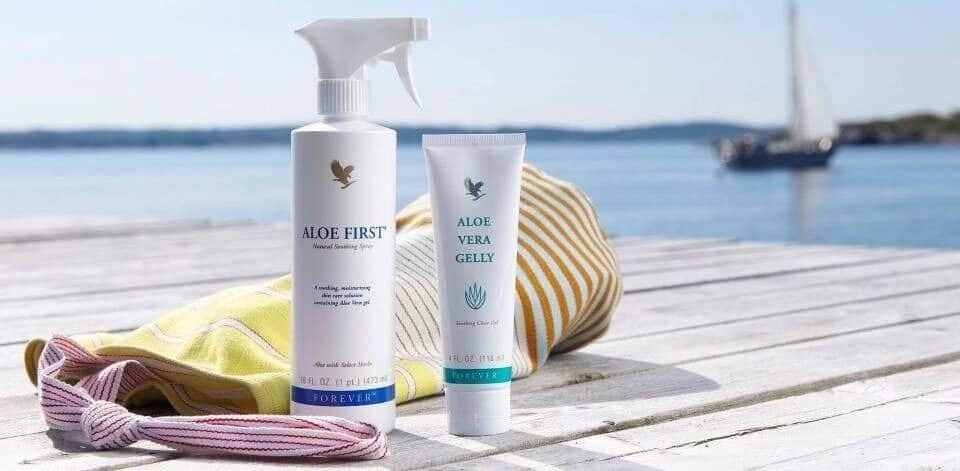 Are you looking for a formula to remove the irritation or burning sensation from your skin? Do you feel there is something missing in your skin?
Does aging is the main cause of your damaged skin. There are lots of such questions roaming in people's minds but they do not know the answer to any. But we are here for your help and will solve your skin problem. How???
Simple we have an outstanding, groundbreaking product that will return the glow of your skin. And that is Aloe First Spray.
Forever Living products have varieties of skincare products. These formulas are excellent skin soothers and healers, styled and packaged in comfortable ready to utilize packaging. Forever
Aloe First Spray is one of the unique additions to any first aid kit. This updated skin protection product offers instant defense against infections and skin inflammation. In a spray form, it is ready to use even when the skin is too painful or irritant to touch.
So, here is the complete Forever aloe first spray review, Avoid skipping any important detail as you will miss out the amazing uses of this aloe vera spray.

Product Specification
Product Name
Forever Aloe First Spray

Brand

Forever Living Products

UPC

#040

Items Weight

1.65 pounds

Key Ingredients

Stabilized Aloe Vera Gel
Bee Propolis

Availability

In Stock

Rating

⭐⭐⭐⭐⭐

5

/5
Aloe First Spray Review
Aloe First spray is an efficient addition to your medicine cabinets. This amazing skin-soothing clinically tested product is prepared utilizing stabilized aloe Vera gel from their aloe fields. Aloe First spray also comprises bee propolis and a proprietary mix of eleven potential plant extracts.
Indeed, aloe vera is the main and most efficient ingredient for a reason. For decades, aloe vera has been utilized as a remedy to soothe skin burns due to its soothing nature. It also provides a sense of relief to irritated skin.
They included bee propolis in this perfect spray as it gives the natural soothing or cleansing properties of aloe vera.
Because Forever works its aloe vera field, they control each aspect of aloe vera formation. That means each leaf is hand-filleted to make sure only the highest quality or purest aloe vera makes its way into Forever Aloe First spray.
The combination of aloe vera and powerful plant extracts makes this an essential soothing mist to apply on scrapes, burns, minor cuts, and sunburn.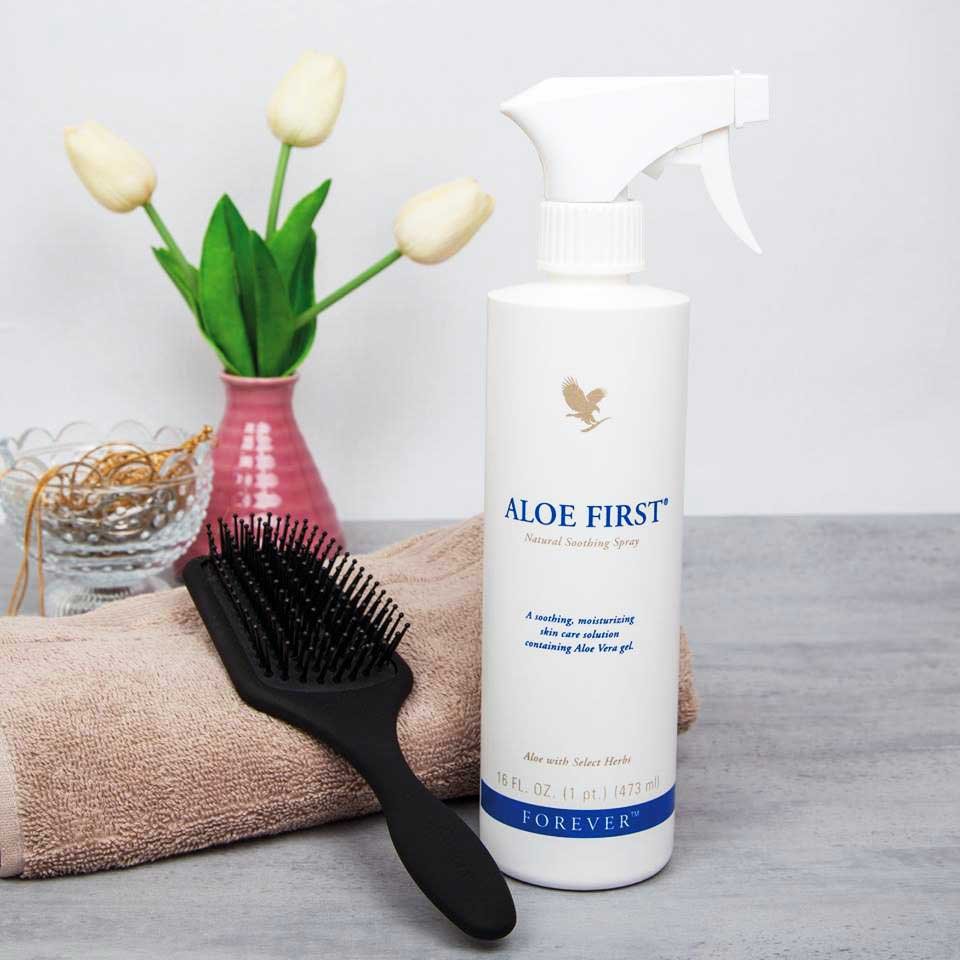 This Ph­ balanced spray is ready to use and gets to work immediately! Besides all these benefits, Aloe First spray is also efficient for apply to the hair. It offers a unique barrier between the hair and the elements.
You must make sure that you always have a bottle of this wonderful and efficient spray in your medicinal box to feel the fast-acting soothing power of aloe vera when you require it!
Forever Aloe First Spray Ingredients
Following are the main ingredients of this product,
1) Aloe Barbadensis Gel Stabilized Aloe Vera Gel
Aloe Vera is the primary and most powerful ingredient in this aloe first spray, Aloe Vera is proof to work very well on the skin. It helps to soothe minor burns and provide a sense of relief to irritating skin. In addition, it helps to heal the wound to allow your to recover faster.
2) Bee Propolis 
Bee Propolis is added to the aloe first spray because of its natural sterilization functionality, it helps to protect your injury wound from bacteria and gems.  In addition, It also elevates the natural soothing and cleansing properties of aloe vera. 
3. Allantoin
Allantoin has been around for some time, it is a compound found naturally in most organisms like plants, animals, and microbes. It has soothing benefits including anti-inflammation and hydration that make it a perfect ingredient needed for sensitive skin.
4. Soothing Plant Extracts
The following botanical extracts makes it a perfect combination with aloe vera that make it a wonderful soothing mist  for use on minor cuts, scrapes, burns and sunburns
Calendula Officinalis Flower Extract
Achillea Millefolium Extract
Thymus Vulgaris (Thyme) Flower/Leaf Extract
Anthemis Nobilis Flower Extract
Taraxacum Officinale (Dandelion) Rhizome/Root Extract
Eucalyptus Globulus Leaf Extract
Passiflora Edulis Flower Extract
Salvia Officinalis (Sage) Leaf Extract
Zingiber Officinale (Ginger) Root Extract
As you see that most of the ingredients come from plants as they are botanical extract. Aloe vera the main ingredient of this spray is full of health benefits, especially for skincare. This product is 100% original, natural, and clinically tested. FDA approved the formula because they checked this formula and inquired that there is no harmful ingredient in this product.
Forever Aloe First Spray Benefits
Sprayed on the hair, it is excellent protection against chlorine damage and also protects hair from the harmful UV rays produced by the sun. It helps combat hair fall and is also applied in beauty salons as a hair solution, helping to protect from the drying effects of perming solutions. It is prepared with a high percentage of stabilized Aloe Vera Gel.
This versatile spray comprises Bee Propolis and eleven natural plant extracts that make this amazing spray abundant in enzymes, amino acids, minerals, or essential vitamins. These ingredients offer toning, cleansing, or astringent properties.
The bacteriostatic properties aid in promoting healing of the skin. It is the synergistic mix of the potential herbs that make aloe first spray a remarkable product in self-care at home. It provides initial defense from potential infections and inflammations of the skin because of injuries in regular households.
Other benefits of this spray are,
It heals wounds, burns, infections, rashes, and insect stings
Its presence is important as a first aid
This formula helps in protecting the skin from chlorine damage before or after swimming
The spray can tighten the muscles of your vagina after birth and eliminate additional secretions
Forever Aloe First Spray Uses
The combination of aloe vera and herbs offers a naturally soothing, pH-balanced spray that is ready to use to even sensitive or aged skin. Aloe vera spray is manufactured to soothe the skin after minor cuts, burns, scrapes, and sunburn.
Other uses for this versatile spray involve spraying on hair to help remove the damaging elements. It is even utilized in some hair salons as a natural hair solution, as it helps fight off the drying impacts of perming solutions. This unique spray is particularly soothing after waxing.
Forever Aloe First Testimonial
Summary
Forever Aloe First spray is a unique and natural spray. It consists of bee propolis and aloe vera.Due to the presence of these ingredients, it refreshes your skin and offers protection to the hair and skin from the damaging effect of exposure to sunlight, UV rays, and chlorine.It also even protect against minor skin irritation. Aloe First spray is a perfect moisturizing spray.Hopefully, you are satisfied with this product review and look forward to buying this product.As usual, the buying guide is simple. You have to just click order now from the official website and a page will be opened. See the positive reviews of their clients and take a step to purchase this versatile spray!
Now, It's your turn, let us know your opinion about Forever Aloe First Spray and your experience using it.
Leave your comments and questions about the "Forever Aloe First Spray Review" in the comment section. And we promise to answer your questions quickly because we know that time is of the essence for you.
And don't forget to share the article, because sharing is caring