Aloe vera has been used for medicinal purposes for centuries, but it has also been in our beauty manuals for years as a symbol of hydration and repair.
Thus, it is a must in our toiletry bag to have a beauty product that contains aloe. So, do not stay out and check the benefits of this miraculous plant!
Is Aloe Vera good for the skin?
Research says that aloe vera properties are very good for skin especially the inner gel of aloe vera.
In this article, We will explore how to use aloe vera for skin & face, its benefits, and the potential risks.
8 Major Benefits of Aloe Vera For Skin & Face
There are many benefits to use aloe vera. Whether topically and orally.
Below are the 8 major benefits of aloe vera towards our skin & face :-
1) Wound healing:
Aloe Vera has been used in medicines and skincare remedies as a healing agent for years.
The presence of auxins and gibberellins play an important role in healing wounds like cuts, burns, sunburns, etc, and give a soothing effect to your skin.
Plus the perfect combination of different steroids also performs the function of healing and soothing. It is used to treat psoriasis and eczema too.
2) Moisturizing agent:
One of the best qualities of Aloe Vera is that it moisturizes your skin by the humectant process.
Aloe Vera is a well-known humectant which means it stores a lot of water in it and when you apply it to your skin, it hydrates your skin by filling water in cells and the space between skin cells. and removes the dry and scaly skin.
That is the reason it is used in the treatment of eczema. It also treats irritated skin.
3) Anti-aging property:
When our skin becomes dry, its texture starts t change into rough, patchy, and scaly skin.
The smoothness of skin fades away which leads to the reduction of elasticity of your skin.
Because when skin cells get dry, their elasticity is affected by dehydration and lack of elastin protein which maintains the elasticity of the skin.
When elasticity reduces, the skin loses its tightness and enhances the aging process. Wrinkles and lines start to appear on your skin due to less elasticity.
So in this position, Aloe Vera is the best treatment to slow down the aging processes because proteins and humectant processes will give a new life to your skin and helps in restoring the elastin protein by hydrating skin cells.
Check out the Infinite by forever advanced skin care system that special design for anti-aging.
4) Anti-inflammatory property:
Aloe Vera is also used for different skin conditions to stop or reduce the inflammation process by the high functioning of steroids and auxins and gibberellins.
It is applied topically at the site of inflammation, acne, pimple, burns, etc to treat it. The high content of polysaccharides in Aloe vera gel contains anti-inflammatory properties to treat inflammation.
5) Skin-protector:
A mixture of four types of vitamins ( A, B, C, E ) makes Aloe vera rich in anti-oxidants.
Anti-oxidants performs the function of prevention of skin from free radicals which are formed by the exposure of skin to UV rays and can leads to skin cancer in some cases.
So Vitamins in aloe vera protect your skin from UV rays and free radicals and reduces the chance of skin cancer.
6) Antiseptic property:
The yellowish sticky layer of aloe vera contains eight kinds of enzymes and the outermost layer contains carbohydrates. These both ingredients make it anti-viral, anti-bacterial, and anti-fungal.
So in short Aloe vera is the solution to almost every skin problem. Aloe Vera is always there for treating your bacterial, viral, and fungal infection and give you silky smooth skin.
7) Glowing agent:
Because aloe vera is a succulent plant and contains a high amount of water in its gel that gives a natural glow to your skin when you apply it on your skin on a daily basis.
You can also mix few drops of lemon or honey for a sparkling and healthy glow. It removes acne and acne scars and gives a new look to your skin with no scars and a high glow.
8) Collagen Production:
Aloe vera has been used for healing properties for years because it fastens the skin cells' growth and also the collagen production which makes our skin healthy and firm.
Collagen is an important part of our skin as it strengthens the skin and reduces the chances of wrinkles and fine lines. As we grow older, the level of collagen decreases, and the aging process occurs.
So aloe vera boosts collagen production and keeps your skin younger.
Is Aloe Vera Good For Skin?
According to research, Aloe Vera contains antioxidants, enzymes, Vitamins A and C, and it is highly anti-inflammatory. It can help treat a kind of skin condition :
1) Aloe Vera For Dry Skin :
Why your skin becomes dry?
The answer is when the skin cells become dehydrated and de-moisturized they start to lose their elasticity and water contains property due to which skin becomes dry and flaky.
Aloe Vera is a very fine plant for treating dry skin because it moisturizes the skin by its humectant process. The huge amount of water in aloe vera gel is a great source of hydrating your skin.
If your skin is properly hydrated and moisturized, it stays younger forever. But lack of water in the skin promotes aging. But ask your dermatologist first about the use of aloe Vera regularly because overuse of anything can damage your skin. 
Learn more about how to use Infinite By Forever Advanced SkinCare System For Dry Skin & Anti-Aging.
2) Aloe Vera For Oily Skin
What makes the skin oily?
The answer is the overproduction of sebum that is produced beneath the skin surface by sebaceous glands also known as oil-producing glands.
When sebum is produced, it makes the skin oily and when sebum clogs the pores, it gives rise to acne. So Aloe Vera is perfect for oily skin because it treats acne due to its anti-bacterial and anti-fungal properties.
Dermatologists say that Aloe vera helps in reducing the production of sebum and turns the oily skin into normal skin. Apply aloe vera gel on your face before going to bed to get normal oil-free skin. 
Learn more about how to use Sonya Daily Skincare System Can For Oily Skin.
3) Aloe Vera For Sensitive Skin
What happens when you have sensitive skin?
People with sensitive skin get skin inflammation and infections very easily due to the disturbance in nerve endings present beneath the skin surface.
It means that sensitive skin is more prone to allergic reactions. The causes of reactions can be different like environmental, physiological, psychological, etc.
So people having sensitive skin mostly complain about the side effects of aloe vera because sometimes it causes inflammatory reactions, redness, itchiness, etc.
Learn more about how to use Sonya Daily Skincare System Can For sensitive & Combination skin.
Side Effect of Aloe Vera for Skin:
Although Aloe vera is a wonder plant and do magic to your skin sometimes its wrong use can cause some side effects like:
Irritation
Clogged pores.
Itching
Inflammation
Acne
Burning of the skin
What Skin Conditions Can be Treated by Aloe Vera?
Frost bite.
1st and 2nd degree burns.
Psoriasis
Fungal, viral and bacterial infections.
Acne
How to Use Aloe Vera For Skin & Face?
Cut off the leaf from the plant with a knife.
Then cut a thin layer of spines present on both sides of the leaf.
Make sure remove the latex part if as it is toxin that make your skin itchy.
Remove the gel from the leaf with a knife.
Pour it in any container or a jar.
You can store the fresh aloe vera gel for only a week because it doesn't contains any preservative for longer shelf life.
Summary
Since ancient times, There are many nations started to use aloe vera for skin & face. The famous Egyptian Cleopatra and Nefertiti who are famous for their beauty, smooth skin, and good complexion, took the advance of this miracle plant, Aloe Vera.
It has been scientifically proven that Aloe rich in nutrients which is beneficial to many areas and definitely to our skin and face.
If you have not tried out using Aloe Vera for your skin and face. You definitely must try it.
Many tried and fall in love with it and thus you will notice more and more skincare related products with aloe vera.
Learn how to choose the best aloe vera products because not all products that stated aloe vera ingredients are equal.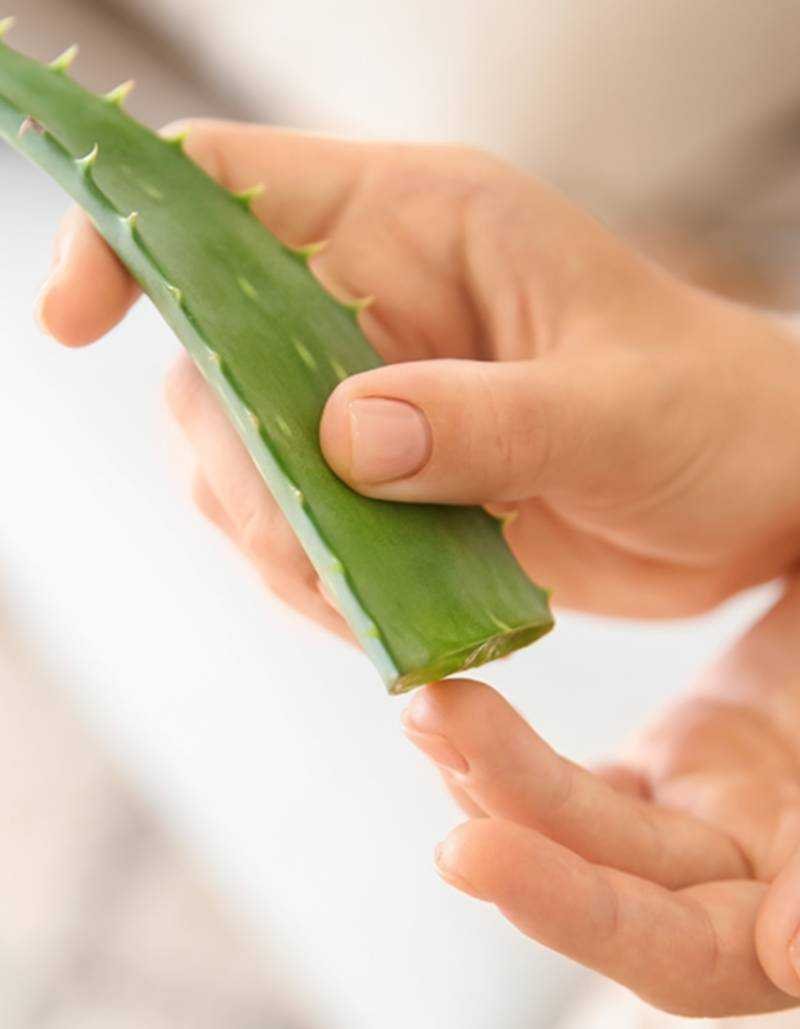 Now, is your turn.

Leave your comments and questions about the "Aloe Vera for Skin" in the comment section. And we promise to answer your questions quickly because we know that time is of the essence, with your little one on the way! 
And don't forget to share the article, because sharing is caring.