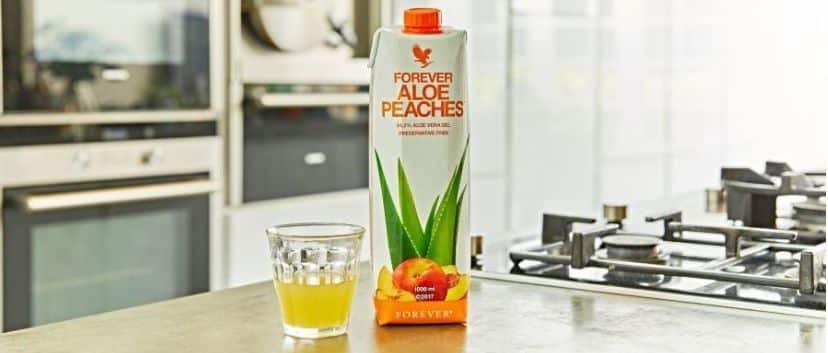 Do you love aloe Vera or peaches?
Now you can enjoy that peach taste any time with Forever Aloe Peaches, a smooth and fresh drink that's enhanced 84.5% pure aloe vera gel with natural peach purée and vitamin C.
Like all our aloe gels, this refreshing and fruity alternative is a brilliant digestive aid that helps support immune function and skin health.
Today,  We are going to learn about Forever Aloe Peaches and how this product will help you maintain a good and healthy lifestyle. What are the benefits and ingredients?
Just keep reading this "" to find out this amazing and the only 1 aloe vera drinks in the market
Product Specification
Product Name
Forever Aloe Bits N Peaches

Brand

Forever Living Products

UPC

#051

Items Weight

1 Liter

Key Ingredients

Stabilized Aloe Vera
Peaches Concentrates
White Grapes Concetrates

Availability

In Stock

Rating

⭐⭐⭐⭐⭐ 

5

/5
Forever Aloe Peaches Review
Forever Living has 4 different flavors of aloe vera gel
Forever Aloe Peaches
Forever Aloe Peaches is a combination of our fresh and natural aloe vera gel and infused it with the sweet bold flavor of sun ripened peaches. But it's not just about the wonderful fresh flavors.
People know about the benefits of drinking aloe vera juice. Especially fresh and natural aloe vera juice. But not everyone like the taste of fresh and natural aloe vera juice.
Therefore, Forever has paired the sweet, succulent taste of sun-ripened peaches with all the benefits of pure inner leaf aloe vera gel.
This drink contains 84.5% stabilized, inner leaf aloe vera gel paired with natural peach puree for sustaining your immune system and maintaining natural energy levels.
The result is a flavorful drink that not only aids in digestion but is packed with nutrients and antioxidants that provide you sufficient nutrients everyday!
Forever Aloe Peaches is a health drink that comes in 2 different packagings :
1 Liter packing
Mini packing (12 bottle x 330ml)
This allows you to choose the packing that you like that you think is more convenient to you.
Forever Aloe Peaches provide another great taste to enjoy its 100% stabilized aloe vera gel and just a touch of natural peach flavor and peach concentrate.
A taste sensation like no other, It contains pure chunks of aloe vera, bathed in the flavor of sun-ripened peaches.
Forever Aloe Peaches Key Ingredients
Forever Aloe peaches do not have any preservatives. The major ingredients of these drinks are organic and natural.
Each of these key ingredients contributes to your body's well-being.
1) Aloe Vera Inner Leaf Gel 
It uses stabilized aloe vera inner only gel that hand-harvested from forever's own aloe fields and is the first of its kind to receive certification by the International Aloe Science Council (IASC) for purity and potency. 
Therefore you can rest assured that the quality is tip-top.
2) Natural Peach Puree Flavor
It does not contain chemical flavoring. Forever aloe peaches use natural peach concentrate and peach puree as flavor. Which is why it is very organic and natural compared to other fruit juice in the market.
3)

Natural White Grape Juice Concentrate (Flavor)
Other than using natural peach as a flavoring. Forever also mix with natural white grapes juice concentrate to make it more delicious and tasty. 
Benefits of Forever Aloe Peaches
Forever Aloe Peaches is basically a healthy fruit juice that you can drink every day with extra benefits & more importantly there are no preservatives.  If you love peaches, you will definitely love this juice
Let's go and find out what are the key benefits :
84.5% pure aloe vera gel & Vegetarian Friendly
Sun-ripened peaches for added flavor and nutrition
Supports healthy digestion & No preservatives
Promotes healthy immune system & Vegan friendly
Helps maintain natural energy level
Pure stabilized inner-leaf aloe vera gel is paired with juicy peach puree with calcium for a robust drink with a sweet taste that's high in vitamins, antioxidants and boasts all the nutritional power of aloe.
Great for kids and adults, this fresh-tasting drink enhanced with natural peach puree means you'll not only taste the bright peach flavor, you'll feel peachy too!
Health Benefits Of Forever Aloe Peaches
There are many health benefits to drinking Aloe Peaches. You will realize after sometimes you consume it.
Helps in skin problem
Improve eye vision
Good for children's growth

Natural cleansing abilities that are g

ood for indigestion
Aloe Vera healing power that helps in Stomach ulcers
Prevent Colon Cancer

Packed with numerous health-promoting compounds, minerals, and vitamins. 

Delicious & Refreshing fruit taste
Combination of Stabilized Aloe Vera Gel and Peaches which reinforce its antioxidant action.
Help in Asthma
Forever Aloe Peaches Testimonial
How Do I Take Forever Aloe Peaches?
30 to 40 ml 3 times aday on empty stomach. If you are busy, 90 ro 120 ml every morning on empty stomach.
Shake gently and lightly before serving. and remember to refrigerate after opening.
Bottom Line
Humans start to notice a healthy lifestyle with healthy eating habits. But we can't control the food we eat are without preservatives.
While we can't control the food that we ate is free of preservative. We have to improve our health awareness by taking extra supplements drinks for prevention.
If you do drink fruit juice every day, you can consider getting this Forever Aloe Peaches as a fruit juice for you and your family.
Natural, Delicious, and rich in nutrients & vitamins that you and your family need to energize their body every single day.
Kids especially love it so much!
Now, It your turn, let us know your opinion about Forever Aloe Peaches and your experience using it. 
Leave your comments and questions about "Forever Aloe Peaches Review" in the comment section. And we promise to answer your questions quickly because we know that time is of the essence, with your little one on the way!
And don't forget to share the article, because sharing is caring