Do you know about cranberries?
If you are not, you are missing big time.
Cranberry is very famous around the world. It is considered to be a superfood due to its high nutrients and antioxidants properties.
What is Forever Aloe Berry Nectar?
Simple say, This is an Aloe Vera drink that combines with Cranberries.
You might have heard about the benefits of aloe vera and the benefits of cranberries. But have you ever know if you have both of them. What's gonna happen?
At the time of writing, Only Forever Living company has a supplement drink that combines "Aloe Vera" and the ultimate superfood "cranberry". And this is the famous "Forever Aloe Berry Nectar".
In this article, You are going to explore these amazing drinks that could improve your health. You might even able to lose some pounds drinking this Aloe Berry Nectar.
Just keep reading this Forever Aloe Berry Nectar Review.
Product Specification
Product Name
Forever Aloe Berry Nectar

Brand

Forever Living Products

UPC

#051

Items Weight

1 Liter

Key Ingredients

Stabilized Aloe Vera
Apple Juice Concentrated
Cranberries Concentrated

Availability

In Stock

Rating

⭐⭐⭐⭐⭐ 

5

/5
Forever Aloe Berry Nectar Review
Forever Aloe Berry Nectar is a favorite with the whole family at the breakfast table every morning. It is a great-tasting twist on the pure and natural aloe vera gel. It's got all the same benefits as pure aloe vera gel but with added cranberry and sweet apple flavor.
Aloe Berry Nectar has all the properties of the aloe vera gel. It is specifically used for maintaining the health of the urinary system. It contains 90.7% in a leaf gel, plus 4% natural apple juice concentrate and 2 % Cranberry Concentrate. And also, it actually contains 50% less sugar than the original cranberry juice you can get in the store.
This provides every 30 calories for every 120 mil drinks. The Vitamin C content still gives you 84% of your daily requirement of the antioxidant vitamins C. Vitamin C is essential for the maintenance of healthy skin, cartilage, blood vessels, bones, gums and teeth.
Like all our aloe-based products. The aloe leaves used are harvested by hand and treated with great care. The Leaves are hand filleted within hours so that the purest and freshest aloe can be obtained and added to every bottle
Forever Aloe Berry Nectar Key Ingredients
The key ingredient that makes Aloe Berry Nectar Forever tasty and delicious. 
Each of these key ingredients contributes to your body's well-being.
1) Stabilized Aloe Vera Inner Gel
This drink contains 90.7% of stabilized Aloe Vera Inner Gel. Where you can be guaranteed the benefits aloe vera absorb on your body. It provides you rich nutrients it has in these miracle plants.Aloe vera has natural cleansing abilities that help the digestive tract absorb nutrients from the foods we eat into the bloodstream while promoting friendly bacteria growth. The unique polysaccharide, acemannan, and other nutrients in aloe help to support the immune system.
2) Cranberries Concentrated
It has 2% cranberry concentrated in the Aloe Berry Nectar. Cranberry is perhaps a superfood because it is rich in nutrients and pack with antioxidant power. Research shows that it has 20 times higher than vitamins C.
3) Apple Juice Concentrated
Apple juice contains many flavonoids as well as pectin. Apple's special phytonutrient and quercetin is another powerful antioxidant that makes this drink special. and well Forever Aloe Berry Nectar has 4% Apple juice concentrated in it that helps.
By combining all these 3 amazing ingredients. The result a refreshing drink that not only aids in digestion but is packed with phytonutrients and vitamins.
Forever Aloe Berry Nectar Benefits
With the perfect match of Aloe Vera, Cranberry, and Apple. This makes Forever Aloe Berry Nectar pack with tons of benefits and so special.
Let's explore what are the top 12 wonderful benefits :
Rich In Vitamin C
Helps maintain natural energy levels
Support Healthy digestion
Promotes a healthy immune system
Support nutrients Absorption
Cranberries Support Urinary Health
Help to reduce cholesterol Level
Improve skin condition
Help in weight loss
Help in Period Pain
Help in Constipation
No Added Preservative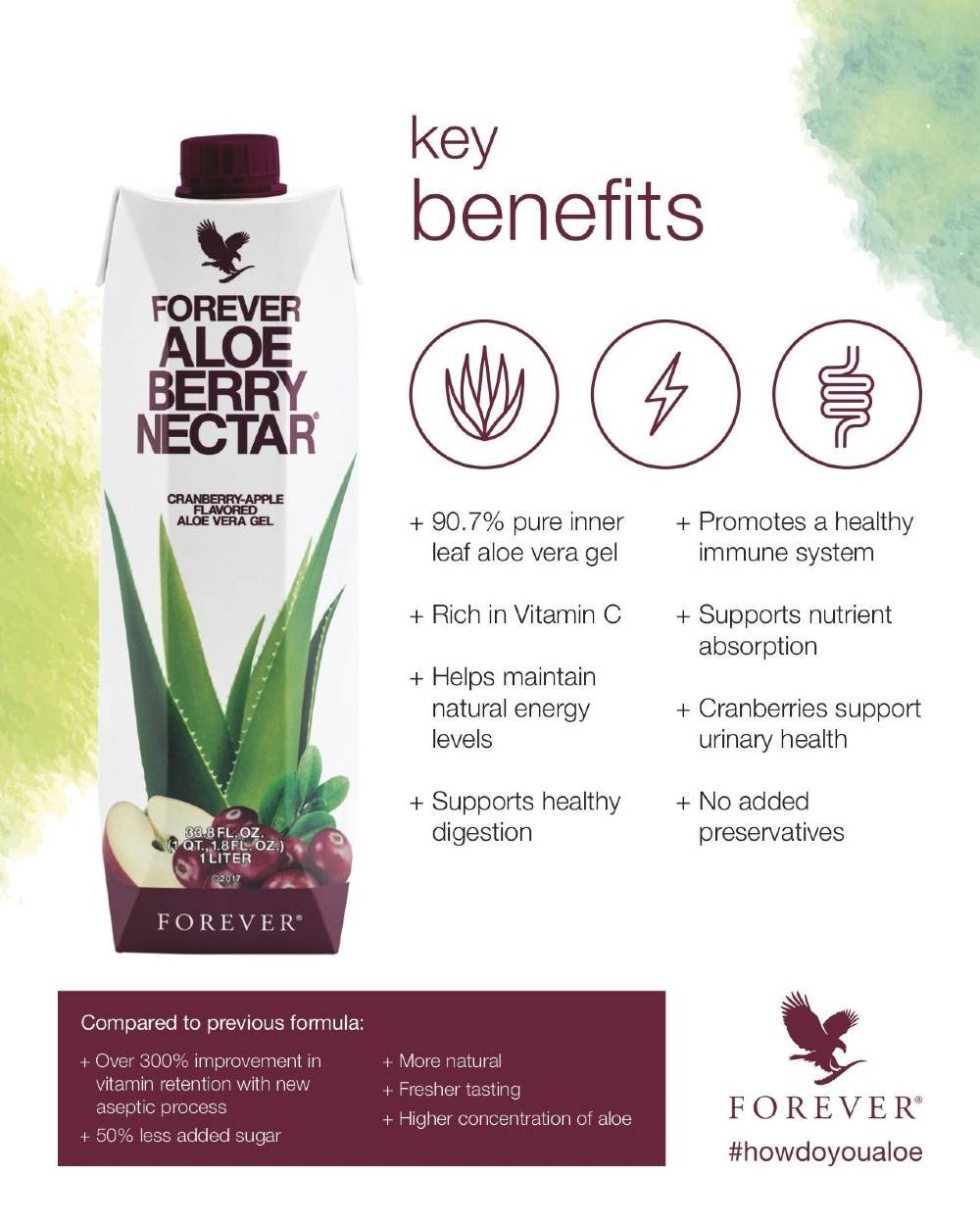 In addition, Forever Aloe Berry Nectar is suitable for vegetarians and vegans. It's gluten-free and its also been approved as kosher and halal by the relevant authorities.
Forever Aloe Berry Nectar Uses
Many ladies and women suffer from period pain or having urinary tract infections (UTI). I know that's tough. And Forever Aloe Berry Nectar is highly recommended to anyone who suffers from this.
This is because cranberry is best known for its role in preventing UTIs. The high level of proanthocyanidins in cranberries helps lower the adhesion of certain bacteria to the urinary tract walls, in turn fighting off infections.
Forever Berry Nectar Dosage
How Do I take Forever Living Aloe Berry Nectar?The best results you should take 60 to 120 ml daily. Be sure to shake the bottle before use. Have it first thing in the morning to complement your breakfast and kickstart your day.Keep it refrigerated out of reach of children and do not take it if you're pregnant, breastfeed, planning a pregnancy, or taking the medication without consulting with your GP first.
Bottom Line
Each of the aloe vera gel from forever is specially designed against a certain problem.
Explore more on the other Aloe Vera Gel
Forever Aloe Berry Nectar Contain 90.7% aloe which is very high compare to aloe products on the market. Which is why it continue to be one of the favorite top selling. 
Forever Aloe Berry Nectar contains all of the goodness found in aloe vera gel, plus the added benefit of cranberry and apple. Besides their reputation as a cleanser for the urinary tract, cranberries provide a high content of vitamin C. Apple juice contain many flavonoids as well as pectin. You can drink forever aloe berry nectar with meals or alone.
The delicious flavor is totally natural, It just enough to please both adults and children alike.
Now, It's your turn, let us know your opinion about Forever Aloe Berry Nectar and your experience using it. 
Leave your comments and questions about "Forever Aloe Berry Nectar Review" in the comment section. And we promise to answer your questions quickly because we know that time is of the essence.
And don't forget to share the article, because sharing is caring