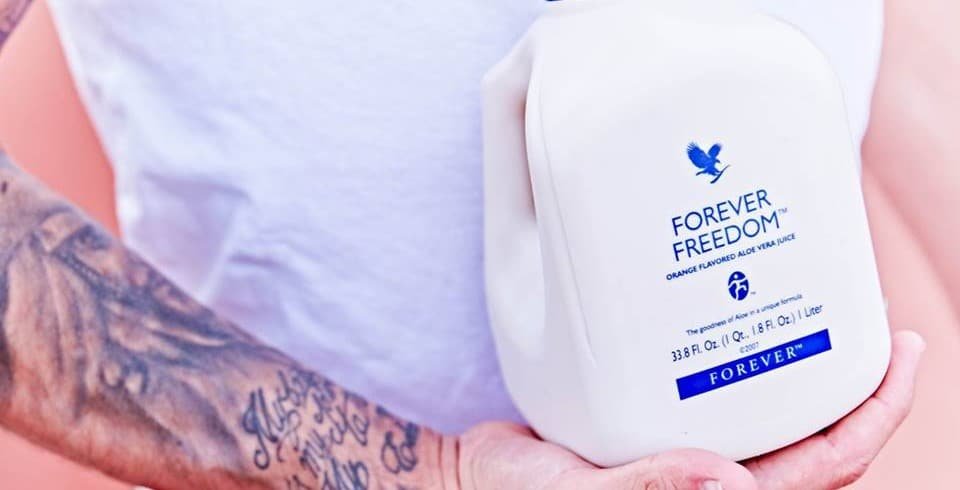 We walk, exercise and moving a lot everyday. This can toll on our cartilage. As we getting older, degenerate of cartilage may lead to arthritis and other joint problem.
If you did not really take care of it after 40. You might experience pain, stiffness and decrease range of mobility during your old age.
Today, I will share with you this amazing Forever Freedom drinks that helps a lot in protecting your joint and cartilage. Keeping your joint and cartilage strong, and healthy.
Just keep reading this Forever Freedom Review.
Product Specification
Product Name
Forever Freedom

Brand

Forever Living Products

UPC

#196

Items Weight

1 Liter

Key Ingredients

Stabilized Aloe Vera
Glucosamine & MSM
Chondroitin

Availability

In Stock

Rating

⭐⭐⭐⭐⭐ 

5

/5
Forever Freedom Review
Forever has 4 different flavors specifically designed against a different problem
Each of the flavor uses the most natural fruits and plants designed to against different problem that you might suffering.
So, What is Forever Freedom?
Forever Freedom is an Aloe Vera drink with light flavored of orange specially designed to help to protect your joint, cartilage and bones.
These amazing drinks combine the power aloe vera with the ingredients of Chondroitin, glucosamine, and MSM, as well as vitamins C. 
Chondroitin, glucosamine, and MSM are proved to beneficial to your joint, cartilage and bones, Keeping this natural "shock absorber" well hydrated. While Aloe Vera helps your body to absorb the nutrients it has to your body. Therefore It is very beneficial to the elderly, athletes and overweight people. 
So far in the market, Only this supplement drinks combines with the power of Aloe Vera. If you are looking for something to help to reduce your joint pain while benefits from its nutrient. Forever Freedom is something you are looking for.
Forever Freedom Key Ingredients
There are some main ingredients that makes this supplement so special. You can't really find this perfect match of these ingredients all in a bottle in the market.
Each of these key ingredients contributes the effect to our bones and body.
1) Stabilized Aloe Vera Inner Gel
Like other aloe vera gel we had, Forever Freedom uses natural and pure stabilized Aloe Vera Inner Gel as the main ingredient. Combine with the other ingredients used to promote healthy joints. Aloe vera in fact helps to boost the effectiveness of Forever Freedom toward your body.
2) Glucosamine Sulfate
As per research, Glucosamine helps to keep up the healthy of your cartilage – Rubbery tissues in between your joint and bones. it acts as a cushion to protect your bones intervals. The compound of cartilage drops when you get older that leads to the breakdown of the joint.Glucosamine helps to contract this.
3)MSM (Methyl Sulfonyl Methane)
MSM present in smaller quantities, which is a sulfur component, the latter is equally renowned for its effect of relieving joint pain. It also contributes to the proper functioning of joints and the maintenance of their health.
4)Chondroitin Sulfate
Chondroitin sulfate plays an important role in joint comfort. it is a component that retains the strength and flexibility of the join. Chondroitin is known to help slow the progression of osteoarthritis symptoms as well as early aging of the joint tissue.
With All the ingredient specifically for joints, bones and cartilage, Forever Freedom is the only drinks that boast the effectiveness to lubricate your joint and cartilage.
Forever Freedom Benefits
All The benefits of Aloe Vera Gel with added natural ingredients to target joint and muscle functions. As well as improve the cartilage level in between our joint.
Let's explore what are the top 8 wonderful benefits :
Support Joint Function and mobility
Helps maintain healthy cartilage
Helps maintain natural energy levels
Prevent Arthritis
Promotes a healthy immune system
Promote Ideal digestive aid.
Support nutrients Absorption
Supports Gastrointestinal Health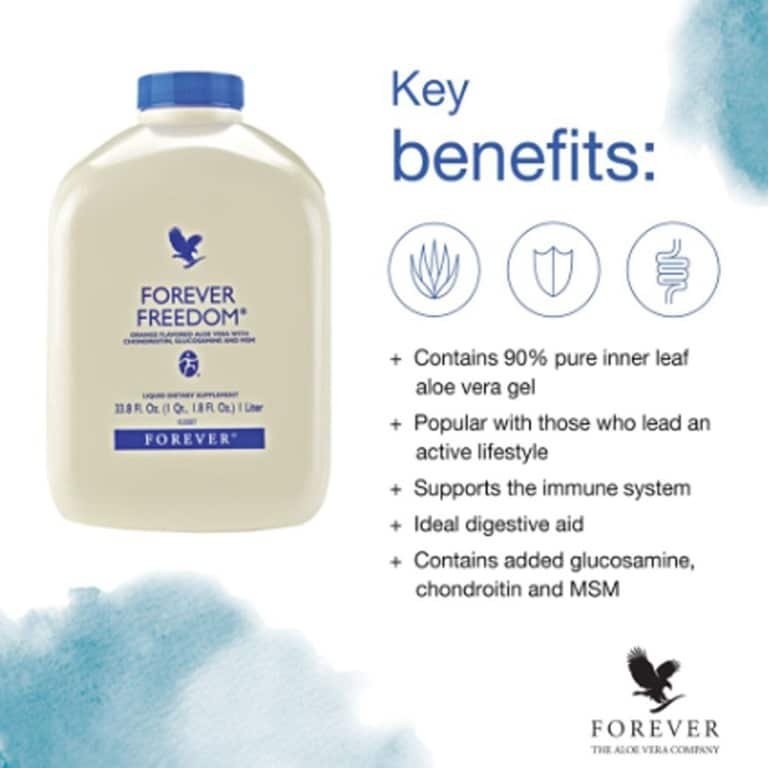 In addition, Forever Freedom is gluten-free, and it has also been approved as kosher and halal by the relevant authorities. You can also add Forever Move supplement to boost the effect for your joint issue.
According to the centers for disease control and prevention(CD), There are more than 32.5 million adults in the United States having joint problems. Which is something that we need to be aware of.
There are 3 categories of people which these supplement drinks are highly recommended to whoever is above 40 or anyone is overweight. Both of these categories people.
Age Over 40
Sportsman or sportswomen
Obesity
Obesity had a higher risk compare to others due to their weight. Their leg is suffering double or even more the amount of pressure supporting the body weight hence it damages the cartilage more compare to normal people. 
Forever Freedom Dosage
How do you take Forever Freedom?
The best results you should take 60 to 120 ml daily. Be sure to shake the bottle before use. You can mix with other fruit juice to match the taste you like.
Keep it refrigerated out of reach of children and do not take it.
Bottom Line
There are many supplements using these ingredients in the market. But so far there is none that had a perfect match with Aloe Vera Gel.
Why should I choose Forever Freedom?
The reason is, not only you can benefit to protect your joints, bones, and cartilage. You can also benefit and embrace the power of aloe as nature intended.
Your overall health condition is also important when you getting older. This makes Forever Freedom the best choice for you rather than having tons of bottles of supplement in your kitchen.
If you are suffering from joint pains, I would highly suggest you try these amazing drinks. You will definitely see some improvement over time.
The sooner you start your health care plan, The better you can enjoy! Click Order Now to kick start your health care plan today!
Now, It's your turn, let us know your opinion about Forever Freedom and your experience using it.
Leave your comments and questions about "Forever Freedom Review" in the comment section. And we promise to answer your questions quickly because we know that time is of the essence.
And don't forget to share the article, because sharing is caring