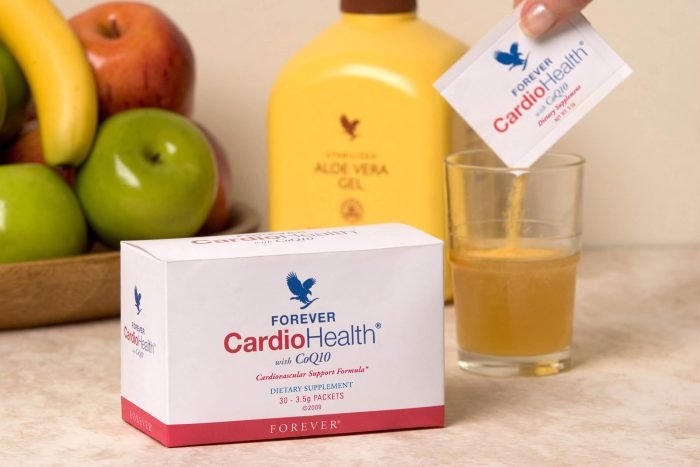 Cardiovascular fitness is the leading health issue of our time. Many of us ignore about this but it is undeniable that Cardio health issue it is No.1 killer in the world that claims over 17 millions live a year. 1/5 over man and women will die from it. Therefore, you should not underestimate this as you are getting older over the years.
In fact, maintaining a healthy hearth isn't complicated and difficult. As per medical expert advise, quit smoking, eat low fat high fiber diet and more exercises will help you achieve it. But unfortunately, with the busy schedule, how many of us do follow this advise?
Fortunately, We have a new tools that help support overall cardiovascular health with this Forever Cardio Health With CoQ10. An Amazing products that provide important nutritional support for Cardiovascular Health.
Just continue to read this amazing Forever Cardio Health With CoQ10 Review. And you will for sure benefit from it.
Product Specification
Product Name
Forever Cardio Health With CoQ10

Brand

Forever Living Products

UPC

#

312

Items Weight

30 packet in a box

Key Ingredients

CoQ10
Vitamin B
Herbal Extract

Availability

In Stock

Rating

⭐⭐⭐⭐⭐ 

5

/5
Forever Cardio Health Reviews
Forever Cardio Health With CoQ10 is an amazing formula designed to support our cardiovascular system. and it is also designed to mix with our forever Aloe Vera Gel to enhance and allow the absorption of the maximum nutrients into our body system.
It is packed with advanced heart-promoting ingredients such as COQ10, Vitamin B, Herbal extract like Boswellia, grape seed, olive leaf, and Tumeric. These are all great ingredients that have been shown to help to support a properly functioning and healthy cardiovascular system.
In addition, there are 3 major important nutritional supports for our cardiovascular health which is
It supoort healthy homocysteine level.
Provides CoQ10 to promote efficient metabolism
Provide heart-healthy Oxidants
Lastly, our formula also includes important minerals like magnesium and chromium to further help promote proper heart function.
It's amazing, right?
Now let's go through in detail each and every key ingredient and benefit and know how it helps our cardiovascular system.
Forever Cardio Health Key Ingredients
1) Coenzyme Q10 or CoQ10
Coenzyme Q10 or CoQ10 is an important vitamin substance that can be found throughout our body, especially in the heart, liver, kidney, and pancreas. It helps to provide energy to cells so that many of our organs can function properly. 
Coenzyme Q10 seems to have antioxidant activity and it is usually used for conditions that affected the heart such as heart failure and fluid build-up in the body (congestive heart failure or CHF), high blood pressure, and chest pain (angina). 
Forever Cardio Health With CoQ10 provides the extra CoQ10 supply that our body needs.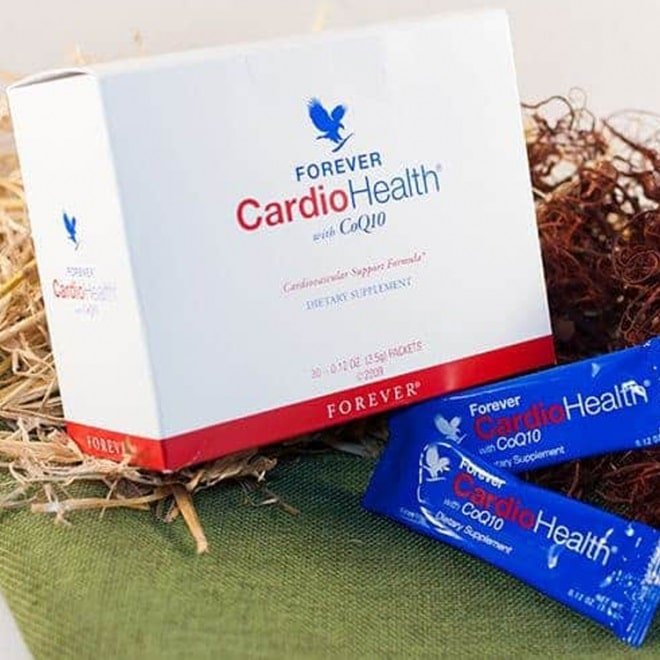 Herbal Extract
The special of Forever Cardio Health is not only with CoQ10, We had also include the following herbal extract that is beneficial to our cardiovascular system. This the combination of this herbal extract with CoQ10 help to enhanced the power of Cardio Health:
boswellia extract

grape seed extract

olive leaf extract

and turmeric
3) Vitamin B
In order to maintain a good and healthy cardiovascular system, it is important to maintain healthy homocysteine levels in the blood.
Studies show that Vitamin B (Vitamin B6, B9, B12, or Folic Acid) is important and help to keep healthy homocysteine level in your blood. And this will help to support our healthy heart and blood vessel functions.
Forever Cardio Health Benefits
CoQ10 is very important vitamin like substance that our body needs.  There are tons of benefits consuming Forever Cardio Health daily especially when you are over 40.
Now, Lets check out the top 9 major benefits of Forever Cardio Health with CoQ10:
 It helps biochemical reactions in our body and provides energy to our cells.
Improve and increase your body's metabolism of energy and fats.
Prevents the accumulation of fatty acids in your heart.
Protect against free radicals.
Supply CoQ10 to promote efficient metabolism
Provide hearth healthy Oxidant.
Provide extra and sufficient nutrients to our body cells.
Promote healthy homocysteine levels in a healthy lower range.
Provide benefits and support to overall cardio vascular system.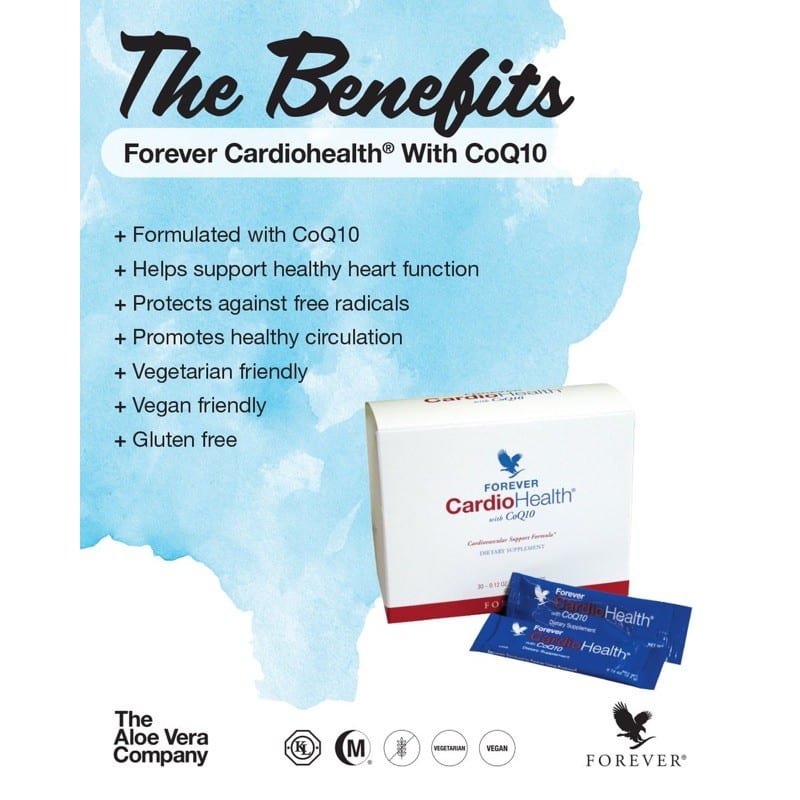 As i do highlighted in the above article. Forever Cardio Health with CoQ10 is a special formula designed to mix with Forever Aloe Vera Gel to help ensure that the bounty of nutrients contained in this innovative formula are more readily absorbed.
If you never heard of Forever Aloe Vera Gel, I highly recommend you to check it out.
Forever Cardio Health Usage
How Do you use Forever Cardio Health With CoQ10?
It is simple! Just pour into the water, aloe vera gel or other beverages, stir and drink it. Recommended 1 packet per day  in the morning before you go to work.
Bottom Line
Protecting our healthy heart from cardiovascular disease is important. The key fact is this trend is affected younger generation now a days.
In order to give the best to our family to protect from these diseases. Prevention is always better than cure.
If you are looking for a natural solution that support your cardiovascular system. With the assistance of forever cardio health with CoQ10, you are able to treat your heart right. 
Forever Cardio Health with CoQ10 is what you need. Combine with the aloe vera gel, you can ensure that you have a maximum absorption of nutrients for your cardiovascular today!
So, what are you waiting for? Click the button and treating your heart today! Just pour 1 package a day with our forever aloe vera gel, Stir and drinks.
Now, It's your turn, let us know your opinion about Forever Cardio Health With CoQ10 and your experience using it.
Leave your comments and questions about "Forever Cardio Health With CoQ10 Review" in the contact us section. And we promise to answer your questions quickly because we know that time is of the essence!
And don't forget to share the article, because sharing is caring