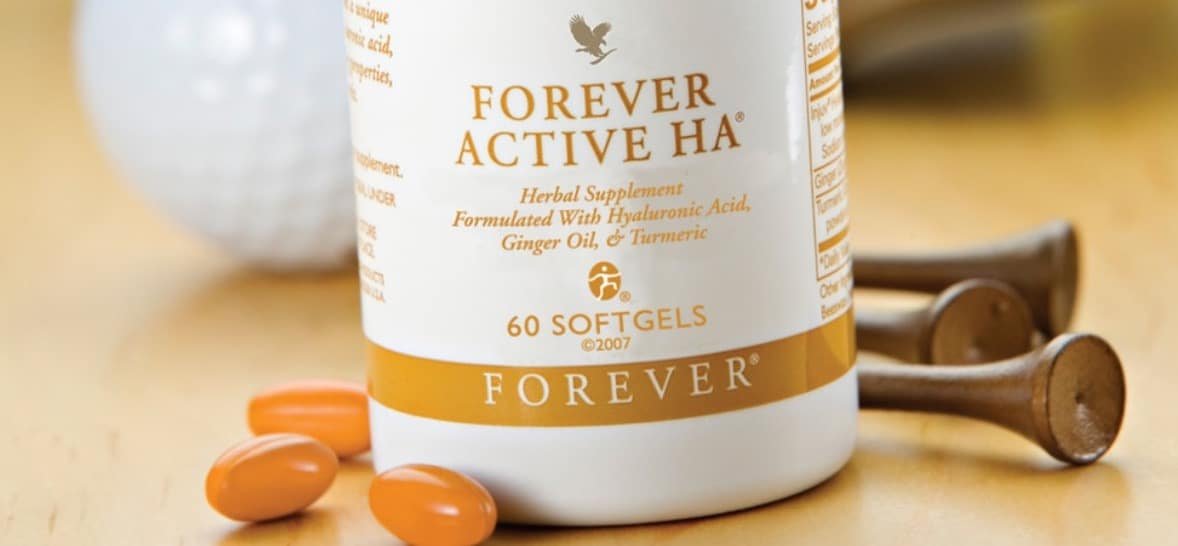 You know, your body is basically one big biomechanical machine, 230  separate moving joints to be exact. The part of our body that mainly have most abuse is our knees, hips and elbow. Like automobile, all these moving parts need to be well oil and maintain to keep it in the perfect condition.
As we aged, our joints can become under lubricated and our skin begins valuable moisture. Like a hinge that has been use for years and environmental wear and tear have taken their toll. How do we overcome this? simply by adding little lubricant in the case of your joints.
In today article, let's us walkthrough with you this amazing joint lubricant – Forever Active HA. What are the key ingredients and how can it help your joints as we aged. Continue with this Forever Active HA review and i guarantee you will love this amazing products.
Product Specification
Product Name
Forever Active HA

Brand

Forever Living Products

UPC

#264

Items Weight

60 Tablets

Key Ingredients

Ginger
Turmeric
Hyaluronic Acid

Availability

In Stock

Rating

⭐⭐⭐⭐⭐ 

5

/5
Forever Active HA Review
What is Active HA (Hyaluronic Acid)? 
Hyaluronic acid is a protein that our body produces to help lubricate joints, the muscle and to hydrates  your dry and aged skin. It can keep your skin glowing and and it can also benefit your joints without any chemical side effects of the products.
A blend of hyaluronic acid, turmeric and ginger oil make Forever Active HA is one of the best dietary supplements to give your joints and skin a second life.
As we aged, our body produced less and less hyaluronic acid, So Forever Active HA (Hyaluronic Acid) is here to help you. This outstanding nutritional supplement contains a special amount of hyaluronic acids as well as ginger oil and turmeric to help lubricate and promote healthy joints and skin.
Ginger and turmeric were used as a spice and medicine for over 200 years in traditional Chinese medicine. It has anti-inflammatory properties that helps our joints as well. it has been widely used for arthritis or anything related to joints.
With the combination of HA, Turmeric and Ginger Oil. It helps to strengthen our joints, cartilage, dermis(skin) as well as eye.
Now let's go through in detail each and every key ingredient and benefit and know how it helps our joints and skin.
Forever Active HA Ingredients
1) Hyaluronic Acids (HA)
Hyaluronic acid is an important substances in our body that found in fluids in the eyes and joints. It help to cushion and lubricates our joints and other tissues.
It is a naturally occurring substances in connective tissue which help to fill up the spaces between cell to keep our joints healthy. It guarantees the synovial fluid, elasticity and viscosity and allows the joints to better withstand shocks
Basically the main features of HA is to lubricates, growth of cartilage and bon, and reducing joint inflammation and pain.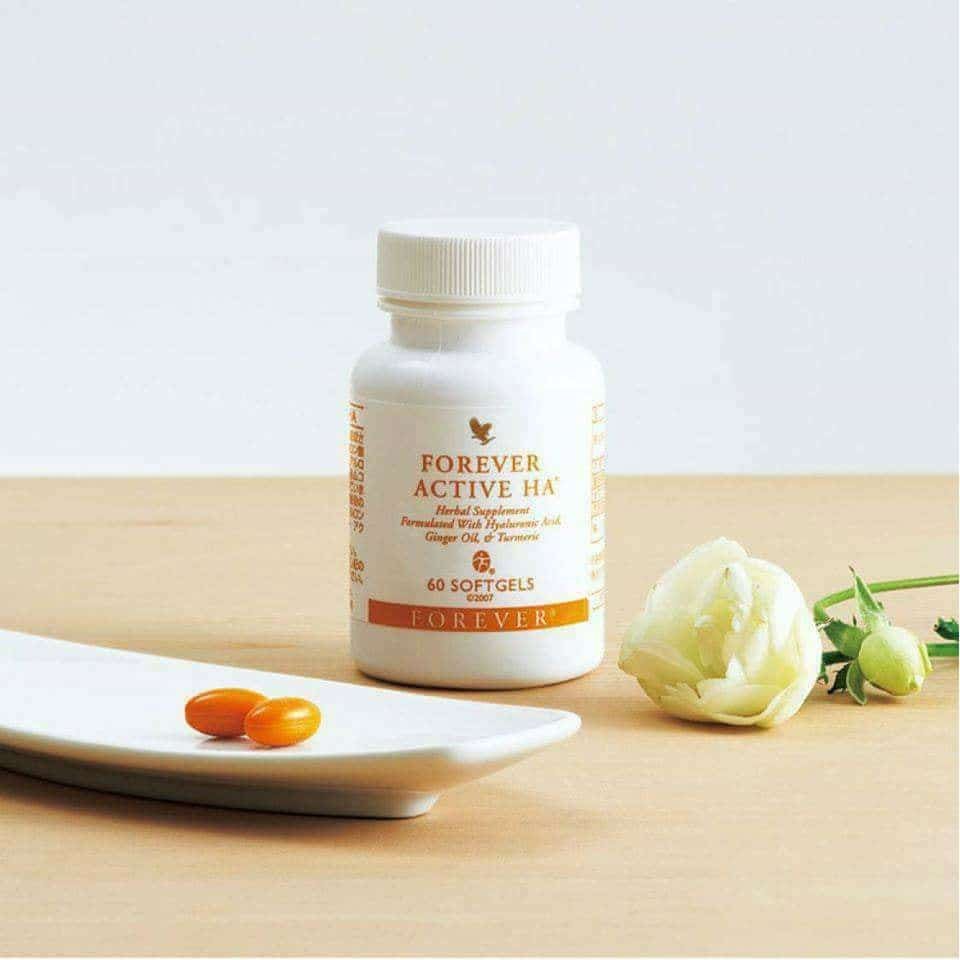 2) Ginger 
 Ginger has been used for centuries in chinese medicine and is widely used for joint pain medication especially arthritis medications.
Study shows that ginger was found to have anti-inflammatory and anti-oxidant properties that can reduce the activity of several chemical substances that promote joint inflammation. A research found that people who had osteoarthritis had 30% decrease in pain and 22% reduction in disability.  
3) Tumeric
According to the research, Turmeric, a plant related to ginger is having anti-inflammatory properties. The main active component  – Curcumin – able to improve number of health condition including reducing joint pain and increase ease of movement in people especially those with osteoarthritis. 
Forever Active HA Benefits
With the combination of Herbal ingredients in Forever Active HA, you can expect 7 major benefit and improvement with forever Active HA especially when you are over 40's.
It hydrates dry and aged skin
Promotes cell renewal in skin
It helps reduce wrinkles.
It provides lubricants to lubricate and cushion our joints.
Promote proper joints function.
It helps with repairing sunburn, wounds, and sores.
It helps with the eye dryness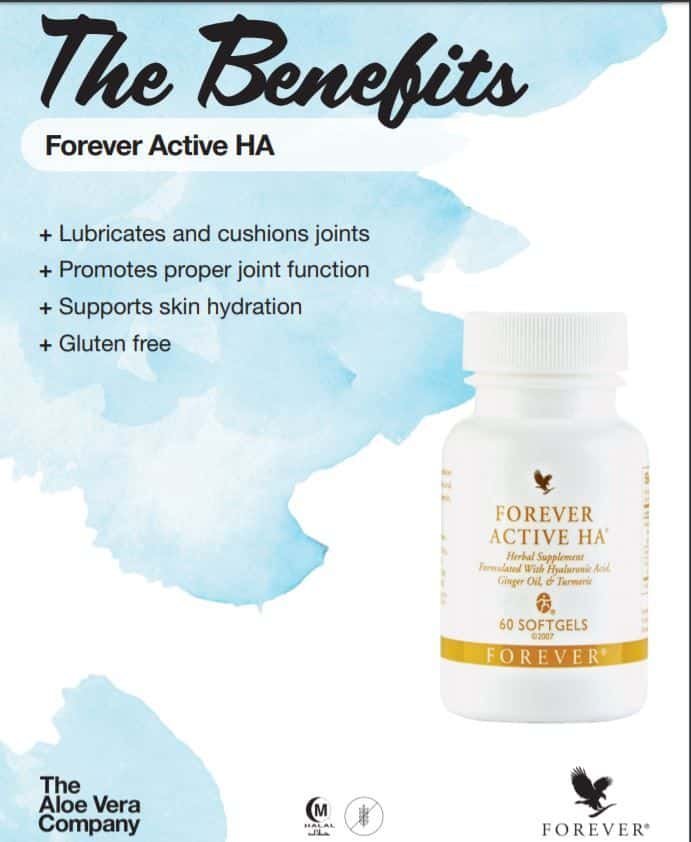 .According to CDC, there are more than 32.5 million in the United States having joint problems, Many of them did not notice the importance of taking care of their joints. Which makes them suffer during their mid and old age. This is why Forever Active HA is an important supplement to provide extra care to your joints.
There are 2 main categories that highly recommend using forever move to protect your joints.
Age over 40s
Sportsman or sportswomen
You can also check out our forever freedom and forever move to enhance the results.
Forever Active HA Usage
This bottle contains 60 tablets.
In the attack phase take up to 4 capsules a day ideally with a drinkable aloe vera.
In maintenance phase take between 1 and 2 capsules a day with a large glass of water.
Don't forget to consult your doctor before using this product if you are pregnant or lactating.
Bottom Line
As we get older, our body produces less and less HA but our body still required this crucial nutrient in our body. and Forever Active HA®  helps replace this crucial nutrient as it depletes with age. 
Forever Active HA innovative formula uses a unique form of low molecular weight hyaluronic acid. Aside from promoting joint health and its function, this substance also supports skin hydration and can hold up to 1,000 times its volume in water!
Whether you are at your elderly, athlete or you are suffering joint paint right now. Forever Active HA is definitely something that you can trust on.
This advanced blend of joint-supporting ingredients, like the beneficial ginger and turmeric, is a great supplement to help keep you moving.
So, what are you waiting for? Protect your joint start from today and get away from the pain. Click the order button now and grab it for your joint! 
Your Joint is calling for you!
Now, It's your turn, let us know your opinion about Forever Active HA and your experience using it. 
Leave your comments and questions about "Forever Active HA Review" in the contact us section. And we promise to answer your questions quickly because we know that time is of the essence!
And don't forget to share the article, because sharing is caring