In order to lose weight efficiently, one of the important aspects is to control and reduce the intake of fats and sugars. Don't get me wrong that fats and sugars are needed and important to our body but excessive sugars and fats will cause obesity and even diabetes that will harm our body health.
In today's article, We will reveal and walk through with you these amazing Forever Lean Products. A good grade supplement for anyone who wishes to lose weight or wants to reduce their daily intake of fats and/or sugars.
Keep reading this Forever Lean Review and you will find out how it can help your weight control journey easily and efficiently.
Product Specification
Product Name
Forever Lean

Brand

Forever Living Products

UPC

#289

Items Weight

120 Capsules

Key Ingredients

Indian Fig Extract
White Kidney Bean Extract

Availability

In Stock

Rating

⭐⭐⭐⭐⭐ 

5

/5
Forever Lean Review
Forever Lean as mentioned is a food supplement product for anyone that wanted to perform weight controls or those that wanted to reduce their daily intake of sugars, carbohydrates, and fats.
It is marketed as an organic weight loss supplement as it contains white kidney beans as its main ingredients.
Forever Lean was designed to block the absorption of calories from sugars, fats, and carbohydrates from your daily meals.
Especially the white kidney bean is able to slow down the absorption of fat into the small intestine.
It also slows the enzymes that turn start into sugar, inhibiting this mechanism.
With the combination of chromium, White kidney bean extract and Indian Fig Extract, it helps you to blocks unwanted element to your body.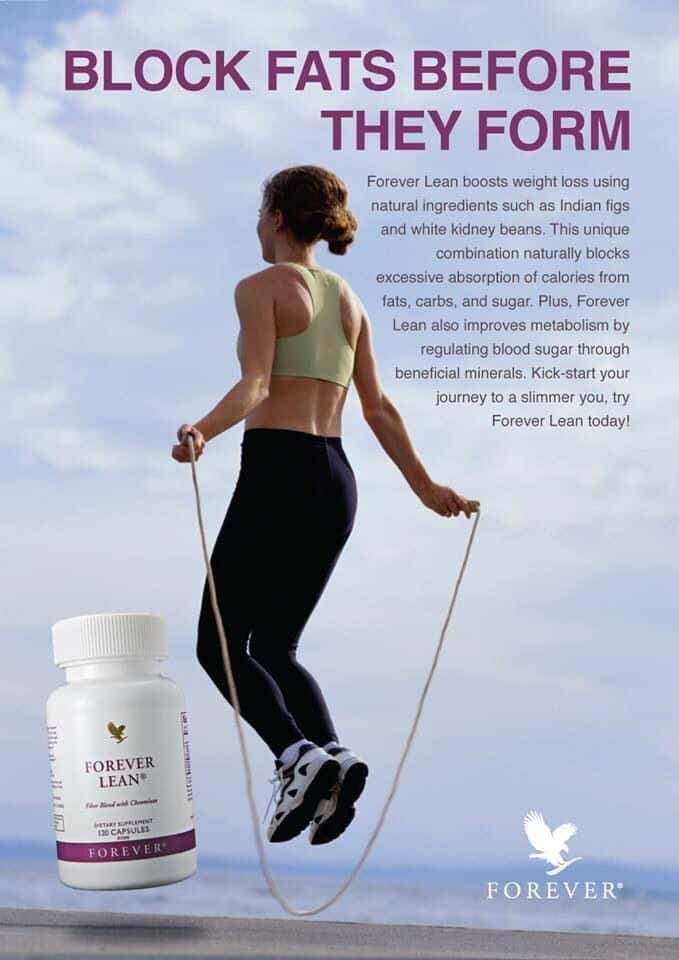 These amazing products not only help you a lot in prevention in your weight management journey but also control your appetite to prevent unnecessary input of calories to your body.
If you wish to boost your effort in your weight management journey. Do check out Forever Therm, Forever Garcinia.
These 3 supplement is the perfect combination for weight loss.
1. Forever Therm – Calories Fats Burner
2. Forever Garcinia -Inhibit Fat Production
3. Forever Lean – Calories Absorption Blocker.
If you are looking for a full program, I will highly recommend you to check Forever Clean 9 Program
Forever Lean Ingredients
There are 3 main primary active ingredient which helps you to prevent calories absorption such as fats and carbohydrates.
Understanding each of the ingredients helps you to get more confidents on the products.
1) White Kidney Beans Extract
 White kidney beans extract is so-called Phaseolus Vulgaris and is very high protein. It is natural and native to South America.
According to research, it is a carbohydrate blocker that works by inhibiting the digestion of starches which helps in weight loss. These starches are excreted and the calories are not absorbed. With this, It is able to reduce your body fat level to a simple caloric restriction.
In addition, it also reduces your body glucose level so that you won't feel hungry easily and therefore you will eat lesser.
 2) Chromium
This is the key elements that meant to reduce body fat and curb hunger. It is important because it could helps your body regulate blood sugar and support a normal metabolism. By reducing your blood sugar level, basically you won't feel hungry easily and you will not have appetite as usual.
3) Indian Fig Extract
Forever living extracted the fat-absorbing fiber from Indian fig plant. This unique fiber is amazing as it has high ability to bind to fats.
As you know, Fiber helps us to increases the weight and size of your stool and softens it, help you easy to pass, decreasing the chances of constipation. With the ability to bind with fats, these fats are excreted as well and will not stay in your body. 
There are tons of benefits in using Forever Lean in your weight management journey.
Let's explore the top 5 wonderful benefits :
Unique Composition with Neopuntia, Dry Bean Seed extract and Chromium.
Chromium helps in regulating blood sugar for normal metabolism.
It helps to reduce and block the absorption of your daily calories intake from fat and carbohydrates.
Temporarily inhibits the body's absorption of calories from sugars
Stop Hunger
The best Slimming Companion.
Stimulating Fat Burning
Vegan Friendly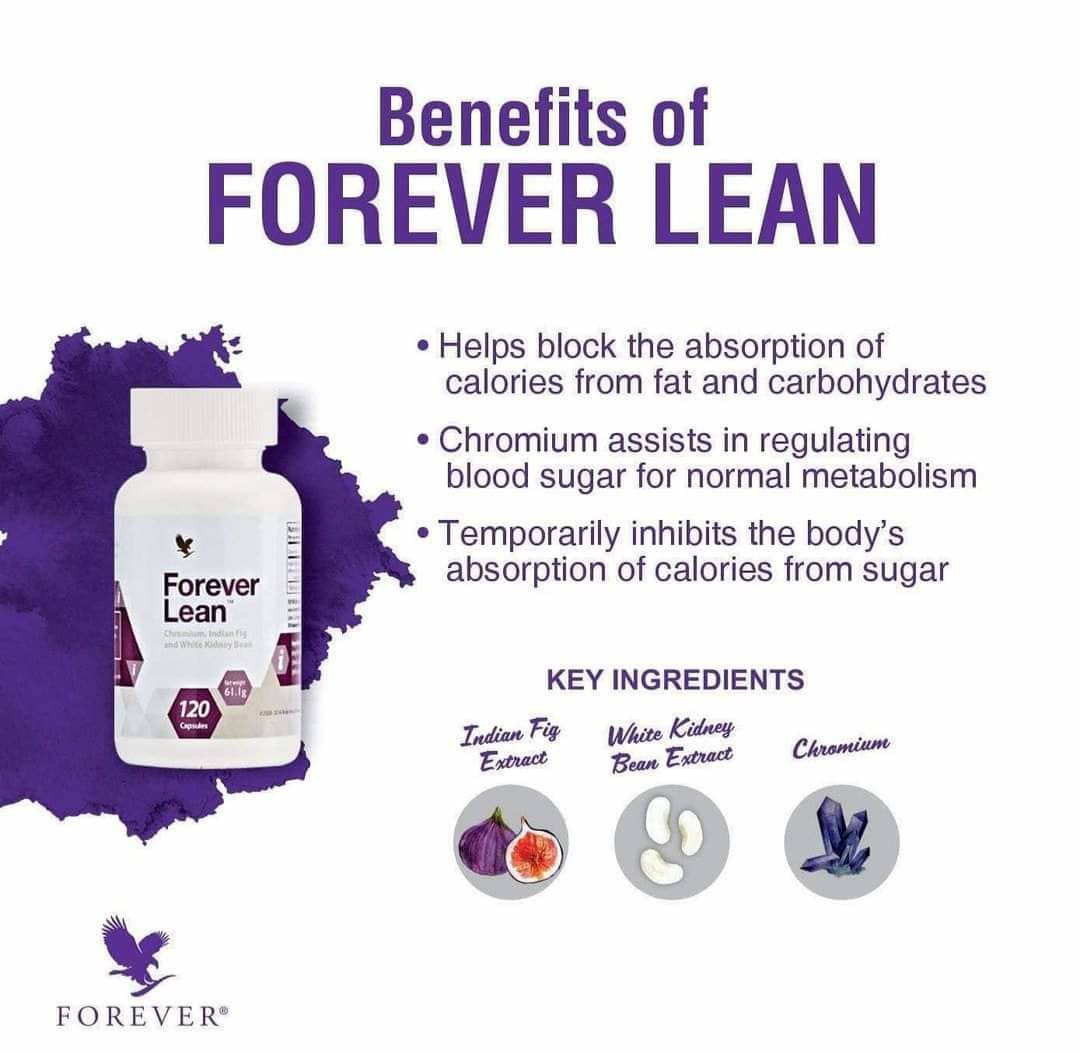 Forever Lean Usage
Forever Lean is basically design for weight loss purpose. But due to the ingredients that it help regulate your body blood glucose, reduce absorption of carbohydrates and fat. It may also help you in other condition such as below:
1. Weight loss
2. Type 2 diabetes
3. Lipid Metabolism
4. Biochemical Oxidation
Warning, It should not be used if you have the following condition.
Intravenous injection of Chromium
Forever Lean Dosage
To get the most out of this supplement, take it with a full glass of water before meals or snacks. It's also important to incorporate a healthy diet and regular exercise into your overall weight control regimen to achieve and maintain your weight goal
Bottom Line
Starting your weight management journey is not as hard as everyone speculated. You do not need to be in hunger. You just need some planning and prevention, That's ALL!
If you wish there was more you could do to help with with management in your every meal.
Forever Lean is the one that deliver 2 powerful ingredients to help you reduce body's absorption of calories without making you wire or jittery.
Furthermore, this weight management supplement is free of caffeine or stimulants. If you are sensitive to caffeine or looking to reduce your caffeine intake. Forever leans is a perfect solution to meet your weight management goals.
Now, It's your turn, let us know your opinion about Forever Lean and your experience using it. 
Leave your comments and questions about "Forever Lean Review" in the comment section. And we promise to answer your questions quickly because we know that time is of the essence.
And don't forget to share the article, because sharing is caring