Are you looking for some food supplement that helps to burns fat deep and help to control weight that is safe?
Obesity is one of the biggest disease that everyone need to take note. Obesity causing many of the other diseases such as high blood pressure, joint problem, diabetes and many more. Therefore, In order to keep you body healthy, make sure also keep your body weight so that you can stay away with all these diseases. 
In this article, We will take a review what is in forever therm and how it makes wonders in controlling your weight easily and effectively.
Keep reading this Forever Therm Review and you will amaze about this food supplement.
Product Specification
Product Name
Forever Therm

Brand

Forever Living Products

UPC

#

463

Items Weight

60 tablets 

Key Ingredients

Guarana
Green Coffee Bean
Green Tea
Raspberry Ketones

Availability

In Stock

Rating

⭐⭐⭐⭐⭐ 

5

/5
Forever Therm Review
What is Forever Therm and what is so special in it!
Forever Therm is a combination of botanicals and nutrients food supplement. With the combination of natural ingredients such as guarana, green coffee bean, green tea extract and raspberry ketones.
Green Tea, Green Coffee Bean and guarana are natural occurring caffeine. According to study, Caffeine is known to boost the metabolism for a few hours after consumption, and may have a very mild effect upon the appetite. While Green tea not only contain caffeine, it has a variety of catechins(EGCG) that allow to increased thermogenesis in the body.
Thermogenesis is the creation of heat, by which your body burns calories to digest food and produce heat. so it could contribute to weight loss efforts.
With the combination of these ingredients, Forever Therm has the design to help to burns your fats and calories effectively during your exercises. At the same time, it helps to boost your metabolism and also control your appetite to prevent unnecessary calories consume to your body.
Forever Therm Ingredients
The key ingredient that makes Forever Therm Special are as follow:  Each of these key ingredients contributes fat burning during your weight loss journey.
1) Guarana
Guarana seed extracts has strong stimulating and energizing power.  it helps to decrease appetites during your slimming period which helps you to limit weight gain. Also, Guarana is known as natural fat burner which help to increase metabolism and helps the body to get rids of deep fats effectively.
2) Green Coffee Bean
Green Coffee bean is coffee beans that are not roasted and it is extra popular in weight loss supplement. 2 of the key element in the green coffee bean that helps with weight loss is caffeine and chlorogenic acids. 
Studies show that caffeine may help to reduce body weight, body mass index, and body fat. However, scientists believe that the high level of chlorogenic acids is the key to the weight loss effect. Chlorogenic acids are able to help to boost fat metabolism and improve obesity-related hormone levels.
3) Green Tea
Natural stimulant green tea has been used for thousands years because of its amazing health benefits. One of the benefits is to promote weight loss. Accordingly to research, Green tea shows to increase metabolism by 4-5% and it helps to convert your body fats into free fatty acids that helps to increase fat burning by 10 -17%. 
4) Raspberry Ketones
Studies shows that raspberry ketones helps to support metabolism of fat. There are essential Vitamins B and C that help to support metabolic function. At the same times, you will have enough supply of vitamins that are depleted during physical exercises. 
With the perfect combination of the above ingredients above. Forever Therm has shows the capability to provide amazing results during your slimming journey with amazing benefits as follow. Not only it will help on weight loss but also have extra health benefits that you should know too.
Let's explore the top 6 wonderful benefits :
Support thermogenesis
Provide Energy-yielding
Provide Anti Oxidant Support
Boos Metabolism and Energy
Help to normalize blood sugar levels
Control Appetite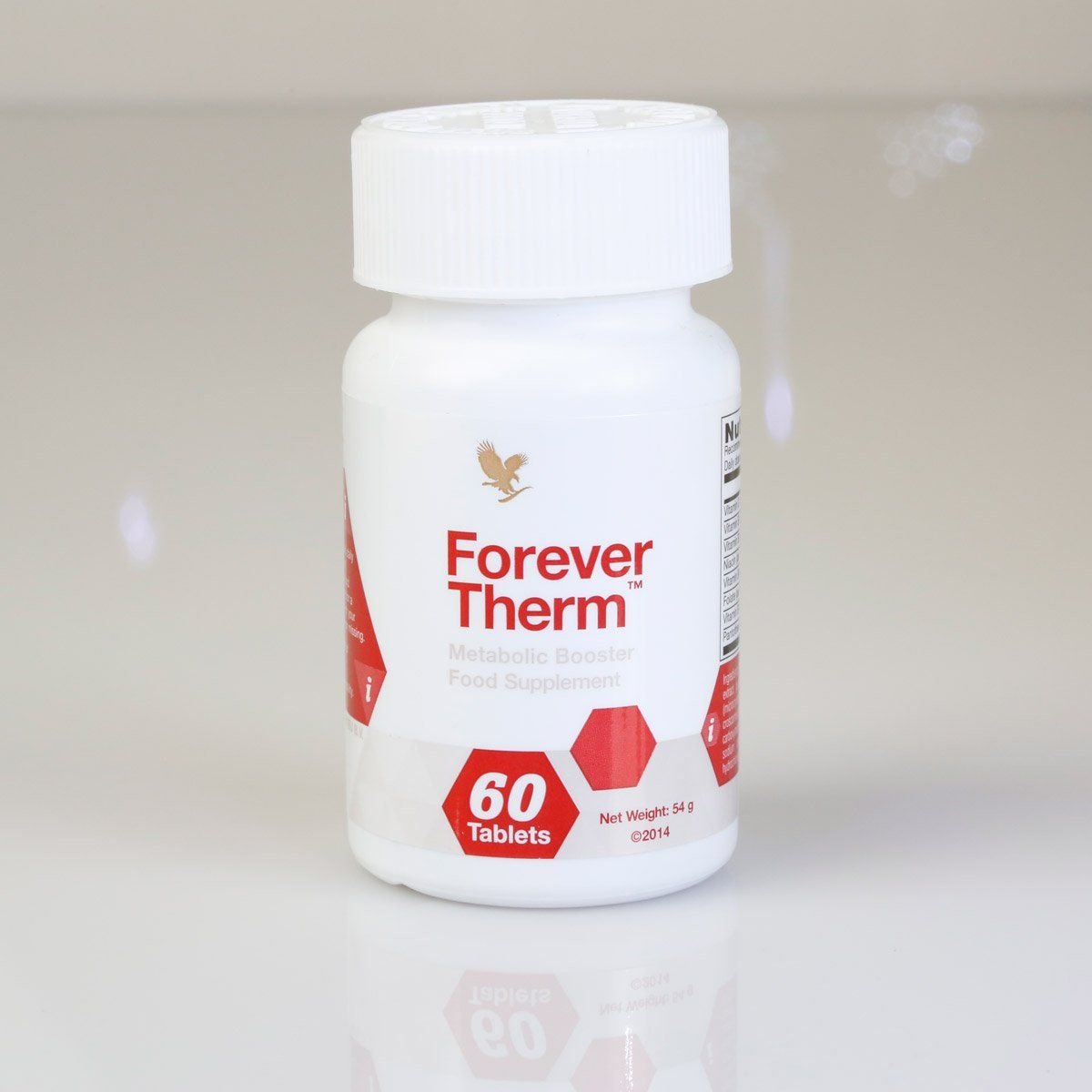 Forever therm is part of Clean 9 detox programs.  Clean 9 detox program is a powerful weight management program that helps you to jumpstart your slimming journey easily and effectively.
Check our Forever Clean 9 detox review today!
Forever Therm Dosage
Whichever is convenient to you, You can choose to take 1 tablet in the morning and 1 tablet at lunch or take 2 tablets in the morning before you go to work. It allows you to be energized the entire day.
Please do note that it is not recommended to take Forever Therm after 6 pm, because it has natural caffeine content.
Bottom Line
In order to meet your weight management goals, it is surely important that you maintain a healthy diet and regular exercises.
Forever Therm is one of the best option that offer combination of natural botanicals and vitamins to provide you energy and metabolism.
At the same time, The word "Natural" & "Botanicals" is the important aspect that makes you worry free about the ingredients you consume.
Forever Living products has a full programs of F.I.T Programs that you can follow easily without any hassle. 
This program help you to kickstart your slimming journey with healthy lifestyle that you ever dream of it.
So what are you waiting for? click on the button and check out this amazing product now!
Now, It's your turn, let us know your opinion about Forever Therm and your experience using it. 
Leave your comments and questions about "Forever Therm Review" in the comment section. And we promise to answer your questions quickly because we know that time is of the essence.
And don't forget to share the article, because sharing is caring