Who is ready to cut 20 fruits and vegetables at a time to get healthy skin, hair, and body? Ha-ha! I know nobody.
In this busy world of technology, everybody wants to eat ready-made food without knowing the advantages or disadvantages of that food.
And Forever knows that theses day many of us are getting harder when it comes to eating enough fruits and vegetables and it here it comes with Forever Supergreens.
If you are looking for something that can give your body a big boost of plant-based superfoods? then you are in the right place. Keep reading this Forever SuperGreens Review and you will know why it is one of the best superfoods that you should have in your daily diet.
Product Specification
Product Name
Forever SuperGreens

Brand

Forever Living Products

UPC

#621

Items Weight

30 packets, 0.16oz/packet

Key Ingredients

Spinach
Broccoli
Kale
Barley Grass Powder

Availability

In Stock

Rating

⭐⭐⭐⭐⭐

5

/5
Forever Super Green Review
So, What is Forever SuperGreens?
Forever SuperGreens is a source of antioxidants with powerful nutrients with a blend of aloe and over 20 fruits and vegetables. 
Forever is conscious about the health of its customers and always provides them a healthy product that leaves thousands of benefits to their health. This nutritious pack can be used in your delicious breakfasts or dinners easily.
It tastes amazing with a light feel of sweet taste. Although it is free of sugars, gluten, and fats, it still tastes like a pleasant sweet and sour taste. It energizes and charges your body with all the power and energy in it.
An Ideal blend of fruits, vegetables, and aloe provides Vitamin A, B, C, E, and K along with calcium, potassium, and magnesium minerals. It delivers key nutrients and antioxidant power to help to maintain your body's natural defenses and keep you body at the best performance.
In addition, it helps to support your body PH Balance and metabolism.
This is a happy meal for your body. Grab this pack now to make your body happy.
Forever SuperGreens Key Ingredients
1) Spinach:
Spinach is one of those green leafy vegetables that offer you a feast of nutrients. It contains a variety of vitamins like Vitamin B, C, E, and K with a bundle of minerals including potassium, Calcium, Iron, and magnesium.
All these vitamins and minerals are not healthy for your skin and hair only, but also for your whole health. It is a treatment for many health issues. Nutritionists call this leafy vegetable a superfood because of its benefits for your health.
Some of the benefits of spinach are listed here:
Prevents cancer.
Maintains blood sugar.
Good for weight loss.
Aids in eye health.
Reduces hypertension.
Improves bone health.
Keeps your mind and body stress-free.
Anti-inflammatory properties.
Boosts immunity.
Improves heart health and functioning.
Gives a glowing and youthful skin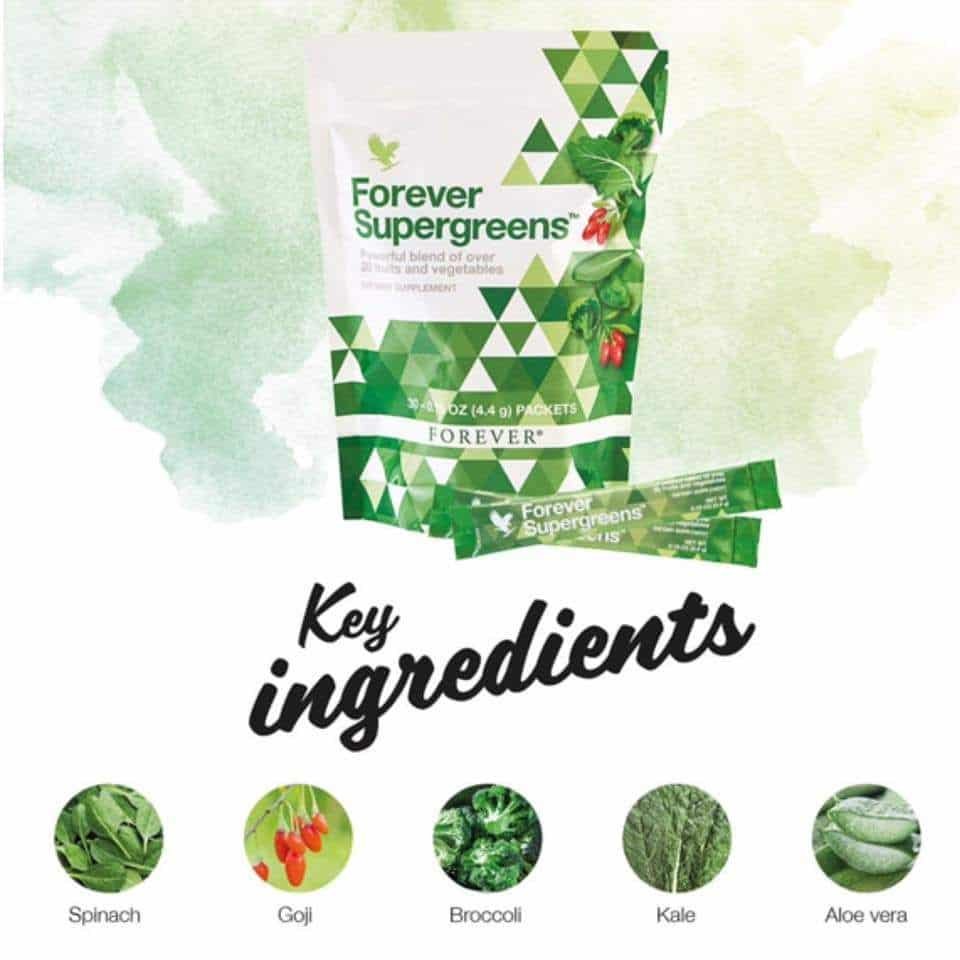 2) Broccoli:
Broccoli also belongs to the green vegetable family and a rich source of proteins and fibers. It also provides Vitamin A, C, E, and K along with Potassium, Magnesium, Selenium, and Calcium.
All the green vegetables play an important role in maintaining your health perfectly. A high quantity of Vitamin C makes it a perfect nutrient for your skin as well as whole health.
The benefits of Broccoli for your health are listed below:
Reduce inflammation.
Fights many kinds of cancer.
Controls blood sugar.
A rich concentration of antioxidants boosts immunity.
Maintains Heart Health.
Avoids constipation.
Promotes healthy digestion.
Healthy dental and oral health.
Fights aging and give healthy skin.
Maintains bones and joint health.
Improves Brain Functioning.
3)  Barley Grass Powder:
Barley grass is a rich source of proteins and vitamin C in your body. The essential amino acids in barley grass help repair blood vessels, bone marrow, and muscles.
Barley grass belongs to the grain family that is considered the fourth important cereal crop around the world. It also contains Vitamin A and K to maintain your health.
Benefits of Barley Grass are listed below:
Keeps your heart healthy.
Maintains blood sugar level.
Helps in weight loss.
Maintains glowing skin.
Forever SuperGreens Benefits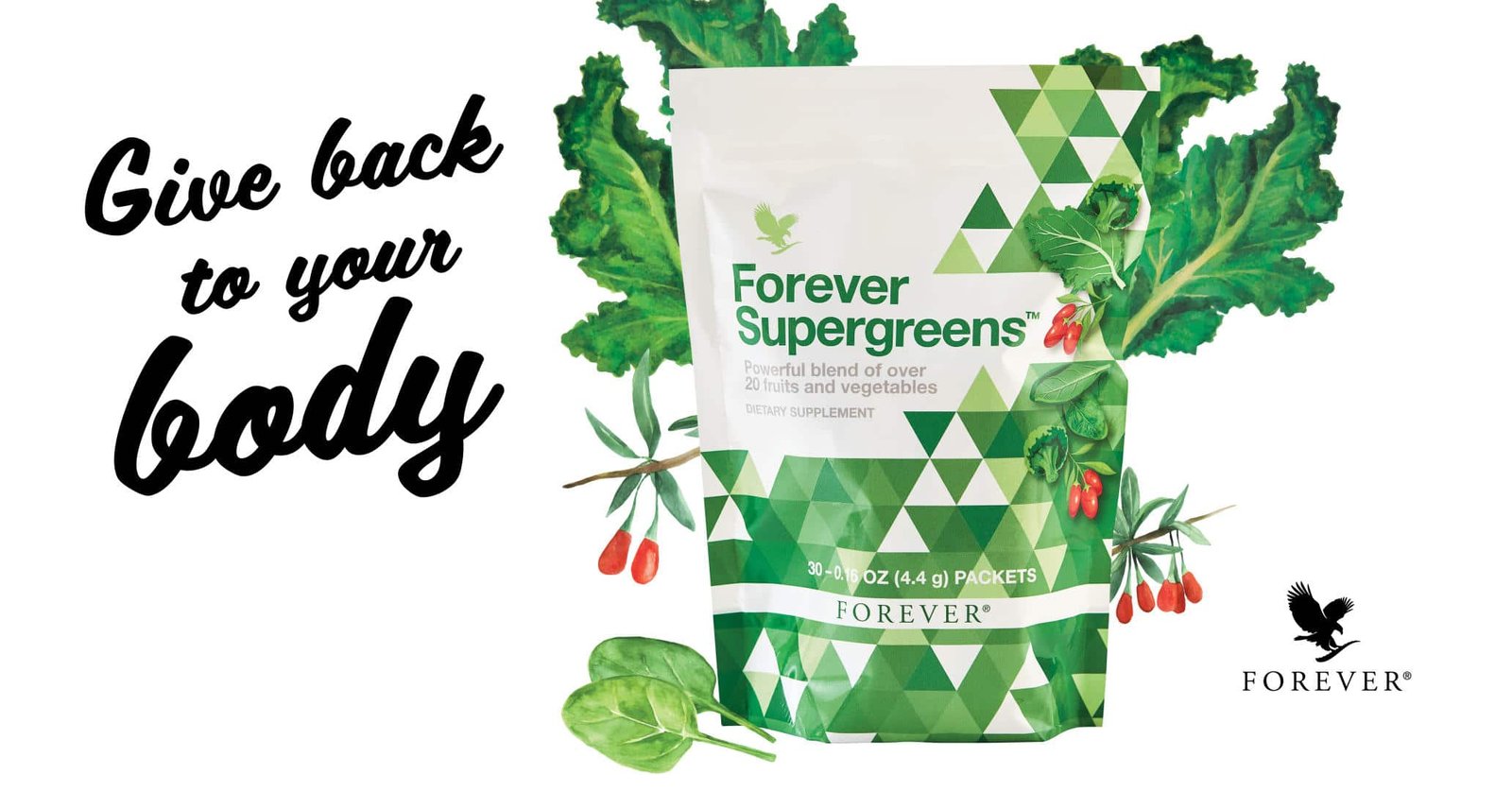 1) Energizes your body:
How can you enjoy the fun of living If you will be tired all day? Forever doesn't want to see you tired and sleepy all day.That's why it has brought this healthy, nutritious pack full of fruits and vegetables that contains vitamins and minerals to fulfill your body's needs. Lack of vitamins and minerals causes laziness and fatigue.If you feel this tired, you should try this nutritious pack to boost your mood and health.
2) Maintains blood pressure and sugar level:
The key ingredients of this nutritious pack including broccoli, spinach, and barley grass have those precious vitamins and minerals that help in maintaining blood pressure and sugar level.
Enjoy your meals with this nutritious drink that tastes heavenly. The highest concentration of calcium, magnesium, and potassium in this nutritious pack keeps your blood pressure at an optimum level. And sugar level is maintained by magnesium.
3) Gives healthy muscles, bones, and teeth:
Magnesium is the main ingredient that plays an important role in maintaining the health of your teeth, bones, and muscles. Muscles are very essential for the physical activity of your body.
Every single organ is surrounded or attached to the muscle. What will you even do with weak muscles? Bones are your body strength. It supports your body to perform any task by moving your legs or arms. Can you imagine your life with weak bones, muscles, and teeth? It is scary!!!
Take care of your muscles and bones by taking this nutritious pack.
4) Boosts your immune system:
A high concentration of antioxidants and Vitamin C makes your immune system stronger. This nutritious pack contains those fruits and vegetables that are enriched with vitamin C and antioxidants.
Stronger immunity means you can fight your disease easily, even mild or severe. A stronger immune system also prevents your skin from sun damage.
5) Healthy skin and hair:
A healthy diet of your skin and hair has always been vitamins and minerals. Lack of these two ingredients will result in acne, dry skin, or hair fall, etc issues. Your hair and skin are representative of your beauty.
If they are not healthy, it means you are compromising your beauty. Vitamins including Vitamin C and B and minerals maintains healthy skin and hair. Collagen formation, glowing and tight skin, thick hair, all are provided by this magical pack.
6) Relaxed mind and body:
A healthy mind keeps your body healthy. But what if your mind is not healthy. What if your minds stay tired and lazy all day. What if you feel exhausted and depressed all day? Will you be able to have fun at your friend's birthday or your cousin's wedding?
The answer is a big No! When your mind is tired, nothing feels good and right. When your mind doesn't get its essential diet, it feels tired. Lack of minerals, vitamins, and proteins, etc makes your mind slow and depressed which results in mood swings.
This nutritious pack offers a relaxed body and mind by providing all essential vitamins and minerals.
7) Healthy metabolism:
When you take all the essential nutrients in an accurate quantity, your body feels happy and complete. All the organs and organ systems perform their functions perfectly.
Your body breathing rate, digestion, immunity, cells and fluid concentration, etc everything is perfect. This healthy, nutritious pack is stuffed with all the essential nutrients to make your body happy.
8) Helps in weight loss:
A High amount of antioxidants with no sugar and fats promotes weight loss and healthy digestion. This pack provides your body with all the healthy nutrients while keeping your body fit and smart.
How to Use Forever Supergreens?
How do your take Forevergreens?  A sachet of Forever Supergreens mixed with 240 ml of water or any other beverage. This provides you daily nutrients you need!
Forever Supergreens Uses
Because Forever Supergreens is a solely blend of aloe, vegetables, fruits and superfoods. It is perfect for vegetarians and vegan diet.
A true vegans who avoid all animal and animal-derived products can safely consume this supplement drinks that contain essential nutrients that help to strengthen your immune system.
it In the new era society, people are busy and has less time taking care of their own body.
Our body needs sufficient nutrients to keep it healthy and Forever has come up with the new supergreens product contain with the daily nutrients that you need especially you are vegetarian or vegan.
Does Forever supergreens powder really work?
To me, It works pretty good to me.  I am not a vegan or vegetarians but because i rarely eat vegetables, this small packet provides me sufficient nutrients i need daily and i can feel the difference on my skin and overall health condition.
If you are vegan or vegetarian, this green powder is best to fuel your active lifestyle. The delicious berries and cream flavor pairs perfectly with Forever Lite Ultra or any of your favorite drinks.
Click Order Now and try your very first Forever Supergreens. You will amaze how it can help you from today!
Now, It's your turn, let us know your opinion about these superfoods and your experience using them.
Leave your comments and questions about "Forever SuperGreens Review" in the comment section. And we promise to answer your questions quickly because we know that time is of the essence.
And don't forget to share the article, because sharing is caring
Other Popular Forever Aloe Vera Products :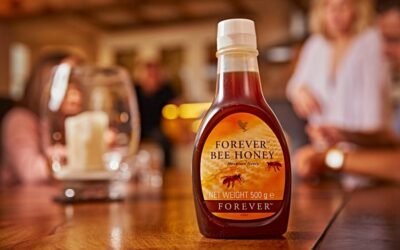 Everyone love honey not because it is sweet but because of its natural vitamins and mineral that are good for our body health. but choosing an pure and good honey is important. Because not all honey is made equal and most of the honey you can buy in the supermarket...