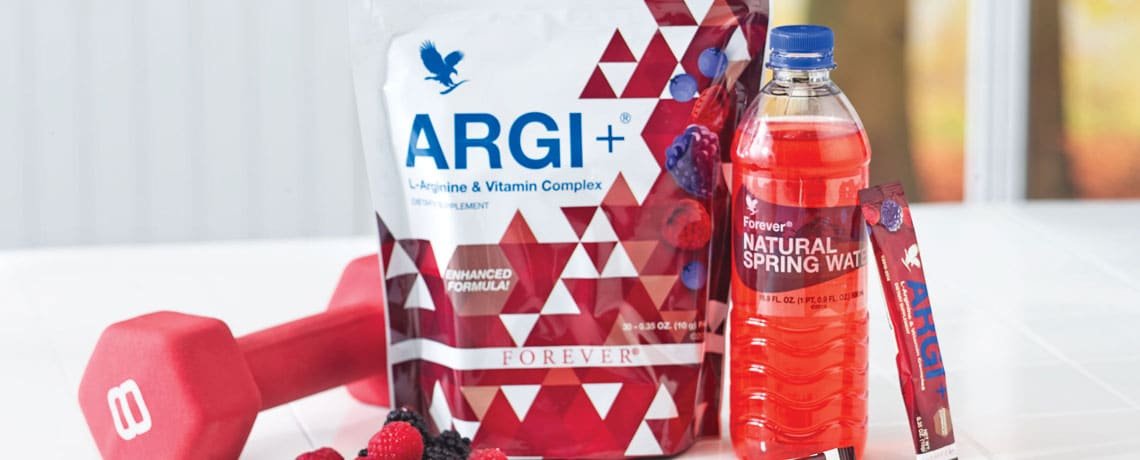 Forever Argi Plus Review
Cardiovascular health is a huge area of concern for men and women these days. Making changes in lifestyle and diet can be a big help but in this modern world, it is not easy to maintain optimal health due to various factors.
But not to worry, Forever Living had found a solution and that is about the amino acid – L-arginine – a key compound that used to create inside the body that helps those with cardio support and other challenges.
In this article, We will discuss "Forever Argi + Plus" which contains L-arginine with a mix of blend high antioxidants fruits that could help us in our daily healthcare to protect our cardiovascular system. Keep reading this "Forever Argi + Plus" to find out how it benefits us.
Product Specification
Product Name
Forever Argi Plus

Brand

Forever Living Products

UPC

#504
Key Ingredients

L-Arginine
Grape Skin & Berry Extracts
Red Wine Extracts
Pomegranate

Items Weight

30 packets/ 10g per packet

Availability

In Stock

Rating

⭐⭐⭐⭐⭐

5

/5
What is Forever Argi Plus?
Forever Argi+ is a proprietary combination of L-Arginine put together by Forever Nutraceuticals. It contains both L-arginine and also a range of superfruits with high antioxidants that help us to fight free radicals and also create Nitric Oxide (NO) to help to improve our blood flow in our body.
This helps our body to have a greater blood flow, without additional pressure on the cardiovascular system. With that, our body will have more oxygen and nutrients in our tissues, cell, muscle, and organs. At the same time, waste products such as lactic acid will be removed more efficiently. 
What is special about Forever Argi + compared to other pure L-Arginine in the market? Forever Argi + Plus is a proprietorial mix that is highly commended by Dr. Ferid Murad, One of the Nobel prize Physiology/Medicine Winner who discovers the Amino Acid L-Arginine. 
it is not only L-arginine but it mixes with superfruits that makes the taste is so good and provides us a high source of vitamin C to help to boost our immune system. Keep reading to find out the ingredients and the benefits of Forever Argi Plus. You will amaze after this!
Forever Argi + Ingredients
Let's take a look what are the key ingredients Forever Argi+ has that make it so special:
1) L-Arginine
A semi-essential amino acid normally made by the body. It can also be found in many foods that have proteins. L-Arginine converted in the body to a chemical called nitric oxide (NO) that helps the blood vessel to open wider to improved blood flow
2) Grape Skin & Berry Extracts.
A blend of grape skin and berry extracts contains high antioxidants that help to improved cardiovascular function and improve body immune system.
3) Red Wine Extract
High in antioxidants, red wine extract has powerful protective properties to support healthy cholesterol levels.
4) Pomegranate
Pomegranate fruits is well known for its strong & powerful antioxidants properties.
Forever Argi Plus Benefits
There are many benefits of forever argi +, I had list down the top 15 benefits of forever argi + for you below :
1) Support Nitric Oxide Production
Nitric oxide causes blood vessels to open wider to improve blood flow in our body.  It also stimulates the release of growth hormone, insulin, and other substances in the body.
2) Aids Cardiovascular System Support
Greater Blood Flow without additional pressure on the cardiovascular system. It helps to maintain proper blood circulation and maintain healthy blood pressure.
3) Antioxidants Protection
L-arginine and Pomegranate provide powerful antioxidants to fight free radicals damage to your body. At the same time provide a good source of vitamin A, C, E, and mineral Iron to protect your body.
4) Brain Function
With the improvement of nitric oxide boost, Forever Argi+ helps to improve, enhance memory and cognitive function.
5) Improve Physical Ability
The nitric oxide enhancing the ability of Forever ARGI+ can help increase the endurance level of muscle cells, enabling you to perform harder and longer. This is just one reason athletes love Forever ARGI+.
6) Boost Immune Support
It has the ability to activate the immune system to help your body to fight free radicals, viruses, and infection because of its high antioxidants level. 
7) Improve Male Sexual Function
One of the most popular benefits of Forever ARGI+ is that it can invigorate the sexual response mechanisms in the body, particularly in men. The ability of nitric oxide to enhance blood flow is well documented
8) Improve Metabolism of Fats and glucose
Vitamin D helps to contribute to energy production and metabolism. Also, With the ingredients in it, It helps to promote weight loss through improved fat and glucose metabolism.
9) Prostate Health
Help to improve the function of the prostate and protect it from oxidative stress.
10) Bone and Tissue repair
Arginine is good in the development of our bones and tissues because arginine help to boost the formation of collagen that is essential for the development of our bone mass.
11) Joints & Muscle Growth
L-Arginine plays a huge role in building protein. Therefore, our body will use this protein to build muscle and rebuild tissues.
12) Anti Aging
As per research, L-Arginine derives Nitric Oxide which is the key to healthy skin. Nitric Oxide is said to dilate the capillaries and increase healthy blood circulation to the skin. It supports 3 key functions which are a powerful antioxidant, function as a humectant, and boosts collagen production.
13) Improve Skin Health
As per research, L-Arginine helps to accelerate the healing of skin abrasion, burns, and wounds.
14) Cellular Health
Our body cells need sufficient nutrition to function properly. Forever Argi+ provides essential amino acids and vitamins that our cells need to rebuild and repairs.
15) Nervous System
ARGI+ provides potent antioxidant support for body wide protection. ‑e unique ingredient profile can neutralize free radicals, which helps boost energy and makes you look and feel younger than you are
Forever Argi Plus Uses
Forever Argi+ are best to use to support blood circulation and cardiovascular health. It improves your body blood flow and to boost your body immunity and energy level to keep you at the best condition.
This is best for people that who want to improve the following condition:
High Blood Pressure
Athletic Performance
Improve Skin Condition
Healthcare Supplement
How Do you Drink Forever Argi +?
To use Forever Argi +, Take 1 sachet of forever Argi + per day with a glass of water, Fruit juice, or aloe vera (10 g of powder for 240 ml of drinks.
Try to take it 30 minutes before exercise to improve performance, blood circulation, and energy level. Or you can take it 30 minutes before going to bed to help stimulate stem cell production.
You can't go wrong with forever Argi+. Why choose Forever Argi + ? Forever Argi + is a great tasting L-Arginine supplement with the blend of high a
To put it simple, one packet of Forever Argi plus helps o support blood circulation and cardiovascular health.
In addition, it helps to increase your body immunity, muscle function, energy level to improve your athletic performance.
This keep your perform at your absolute best everyday!
Now, It's your turn, let us know your opinion about Forever Argi + and your experience using it. 
Leave your comments and questions about the "Forever Argi Plus Review" in the comment section. And we promise to answer your questions quickly because we know that time is of the essence for you.
And don't forget to share the article, because sharing is caring