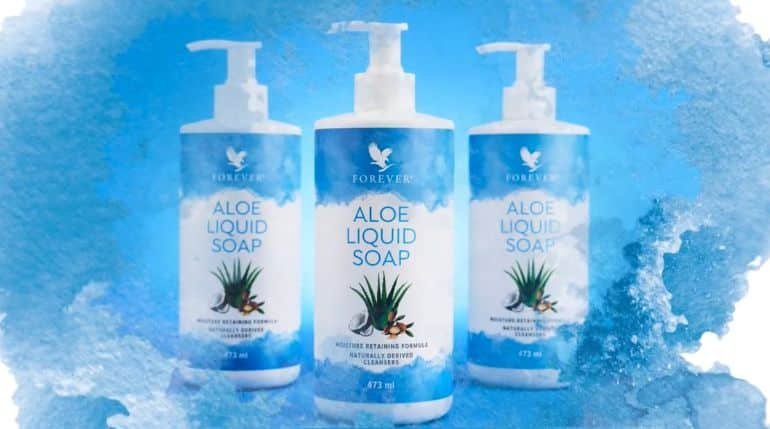 Forever Aloe Liquid Soap Review
When we talk about soap, there is many misunderstand that soaps are dry that they are really harsh on the skin.
But with forever aloe liquid soap, we know how to use aloe vera as the buffer so to speak to help to protect the skin and help to really smooth the skin. This formula has some wonderful natural formula designed to give you that cleansing experience without that stripped or dry feeling.
Today in this article, I am going to introduce this amazing brand new product from forever living – Aloe Liquid soap. It is a really great product to use for the whole family and is multipurpose
So, Just continue to read this Forever Aloe Liquid Soap Review and you will definitely love it!
Product Specification
Product Name
Forever Aloe Liquid Soap

Brand

Forever Living

UPC

#523

Items Weight

473ML

Key Ingredients

Stabilized Aloe Vera Gel
Jojoba Beads
Cucumber Extracts
Coconut Fatty Acids

Availability

In Stock

Rating

⭐⭐⭐⭐⭐ 

5

/5
Forever Aloe Liquid Soap Key Ingredients
A Brand New formula provided by Forever living company is this Forever Aloe Liquid soap. This New aloe liquid soap is truly a beautiful formula that covers your family from head to toe.
It can be used as face wash, body wash, hand wash and even it can be used as a shampoo due to its uniqueness Forever Aloe Liquid Soap Ingredients:
1)  Stabilize Aloe Vera Inner Gel & Argan Oil
Argan oil is known as the "liquid gold of Morocco" and is carefully harvested from the fruit of the tree. This extraordinary ingredient help to boost and improve the health of the skin.
Argan oil contains vitamin E and natural fatty acids to condition and supports good skin. While Aloe soothes and softens the skin by penetrating the skin layer.
2) Coconut Fatty Acid
When we heard the word about fatty acids, we are wondering is that a good thing?
Well, as per research, your skin actually has a fatty element to it in the way of lipids, and when you have a fatty coconut acid meaning that element of the skin it makes this beautiful marriage because the skin recognizes it.
And instead of drying it out, it keeps the skin really smooth and supple.
3) Cucumber Extract and Arnica flower
A beautiful flower from the same family as the sunflower, It is known for its powerful ability to help moisturize the skin.
It provides a great cleansing experience while also protecting the skin and help to keep it soft and supple so that it doesn't feel robbed of its precious oils
Forever Aloe Liquid Soap Benefits
You can literally use it from head to toe. With the new formula, You can use it as hair shampoo, Face wash, and body Softsoap. You can use it in so muti-versa.
Designed from head to toe
It is ideal for hand and body hygiene.
It can be used daily for face wash
Best Baby Soap that is suitable & gentle for children and infants for shower or bubble bath.
The aloe vera liquid soap provides a pleasant sensation of sweet freshness while disinfecting the skin.
Liquid soap contains a powerful antimicrobial agent.
Antibacterial
It contains a high percentage of aloe gel, which makes it 100% natural.
It is compatible with all skin types.
Regenerates the skin in depth.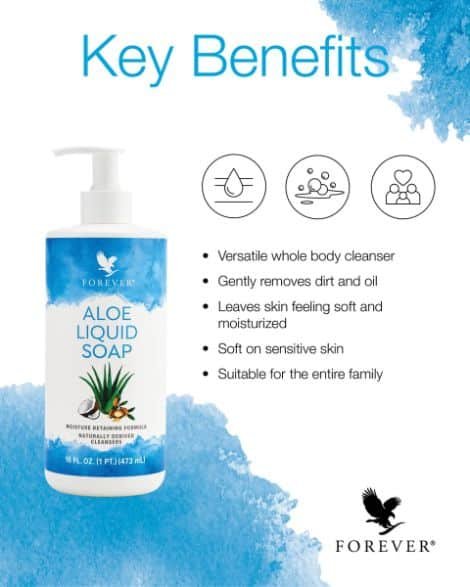 The Advantage of Using Aloe Vera Liquid Soap
With the benefits of aloe vera for the skin, you can enjoy the rich nutrients that aloe vera has. Besides that, Aloe Vera is better tolerated by the skin and is above all more hygienic.
Forever liquid soap is a softsoap that is particularly well tolerated by the skin and hydrates it perfectly well.
Thanks to its extremely high share of Aloe Vera, it penetrates every single of your skin layer and does the cleansing thoroughly. So you take care of your skin from the moment they wash them – simply a good feeling!
In addition, with its no-tear formula. Baby and kids will happily taking shower with it as it will not irritate their eyes.
How to Use Forever Aloe Liquid Soap?
Can you use aloe liquid soap on your face? The answer is Yes. From head to toe, You can use basically any place that has skin on it. From baby to adults.
Face Wash- Use it to cleanse your face and body. 1/2 to 1 pump and adding little water to make it lather and clean your face.
Body Wash – A single pump to your shower flower mixing with little water sufficient for you to take a good shower. Use Aloe Scrub to de-scrape dead skin and leave skin feeling softer.
For Baby – 1 – 2 pump in baby bathtubs, make it bubble bath and your baby will enjoy it. Due to its ingredients is natural, it does not irritate the eyes of the baby.
Intimate Hygiene – Soothes, Softens, and cleanses without irritating the mucous membranes.
Makeup removal: 1/2 pump on your palm and mix with little water, massage your face to remove makeup. Bubbles with aloe help your skin softer, fresher, and brighter after rinsing with clear water.
Summary
With the new Formula, Forever Aloe Liquid soap is now more gentle and soft to our skin.
You can have its place everywhere in your houses such as the kitchen, bathroom, and even garden.
Aloe Liquid Soap harnesses the strength of aloe with other strong ingredients to provide a versatile whole-body cleaning experience, whether on your kitchen counter or in the tub.
If you need something which is gentle, multipurpose while having a high percentage of aloe vera ingredients.
This is one of the best essential household items that every family should have.
This Amazing Liquid Soap is not sold in the local store except Forever Living Official Store. Click the Order Now >>Button to get your very first Aloe Vera Today!
There are more other amazing aloe vera products which you might be interest to explore.
Now, its your turn, 
Let us know your comment about "Forever Aloe Liquid Soap Review". We promise to try our best to reply your comment as soon as possible.
and lastly, don't forget to share, as sharing is always caring.