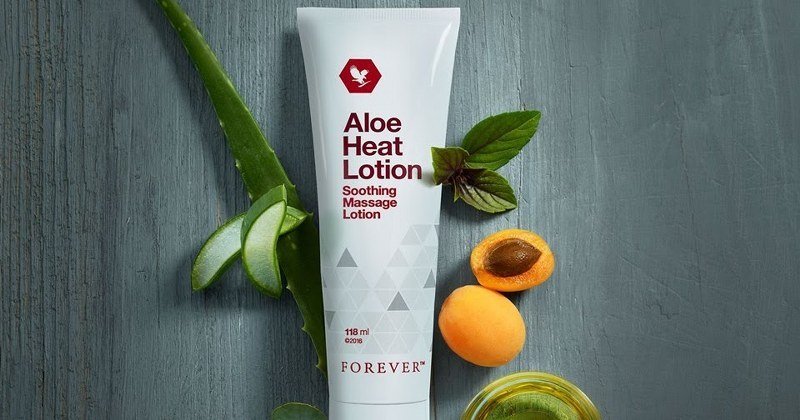 Almost all of us are experiencing the agony of exhaustion, the pain of muscle, and aching due to several kinds of issues.
And this is really horrible feeling, isn't it?
You might have tried many several creams and lotions to get rid of it, but it doesn't seem to help a lot in relieving your muscle stress and pain.
In today's article, Forever Aloe Heat Lotion might be something that you are looking for sometimes that will get the job done for you.
Keep reading this Forever Aloe Heat Lotion Review till the end and I assure you that you will realize that this is the perfect massage lotion for all your problems.
Product Specification
Product Name
Forever Aloe Heat Lotion

Brand

Forever Living Products

UPC

#064

Items Weight

4 OZ

Key Ingredients

Aloe Barbadensis Leaf Juice
Eucalyptus Oil
Menthol

Availability

In Stock

Rating

⭐⭐⭐⭐⭐ 

5

/5
Forever Aloe Heat Lotion Review
Forever Aloe Heat Lotion is as the name, Heat Lotion which will generated substantial heat toward your aching and stress body.
This ultra-rich and non-greasy oil-water lotion that allow you to get a warm massage for getting away with tiresome, relieving your sore muscles and at the same time moisturizing dry skin.
If you apply this products on the area where you have pain, and it's almost instantly like literally in a minutes it releases the pain. So it's great for muscle pain, back pain and shoulder pain. So, Any pain on your body, you can just apply it and you will feel relief.
In fact, compare to other massage lotion, it uses the most natural and organic ingredients. Aloe Vere use to penetrates to the body faster and therefore you will feel the results faster.
Now, Let's deep dive in to the ingredients :
Forever Aloe Heat Lotion Ingredients
1) Aloe Vera Inner Gel
Same as other Forever Living Products, Forever Aloe heat lotion is still the ultimate stabilized aloe vera gel. This aloe-powered formula delivers heating and cooling effects to help soothe sore muscles. 
2) Eucalyptus Oil
Eucalyptus is an evergreen tree that widely used for its medicinal properties. It has so many benefits where Forever Living fully utilizes its benefits in the aloe heat lotion.
2) 

Menthol
Aloe Heat Lotion goes on cool and stimulates with the sensation of aloe and menthol to soothe on contact. You will also feel refreshing with the menthol smell rather than medicine smell.
Forever Living Aloe Heat Lotion Benefits
There are many areas you can use this aloe heat lotion. and you will definitely benefit from it.
1) Suitable for Any Pain in all areas.
You can apply in any area that you feel the pain,
shoulder,
back
ankle
Elbow
chest and etc.
You can feel the relief and heat penetrate into your body immediately.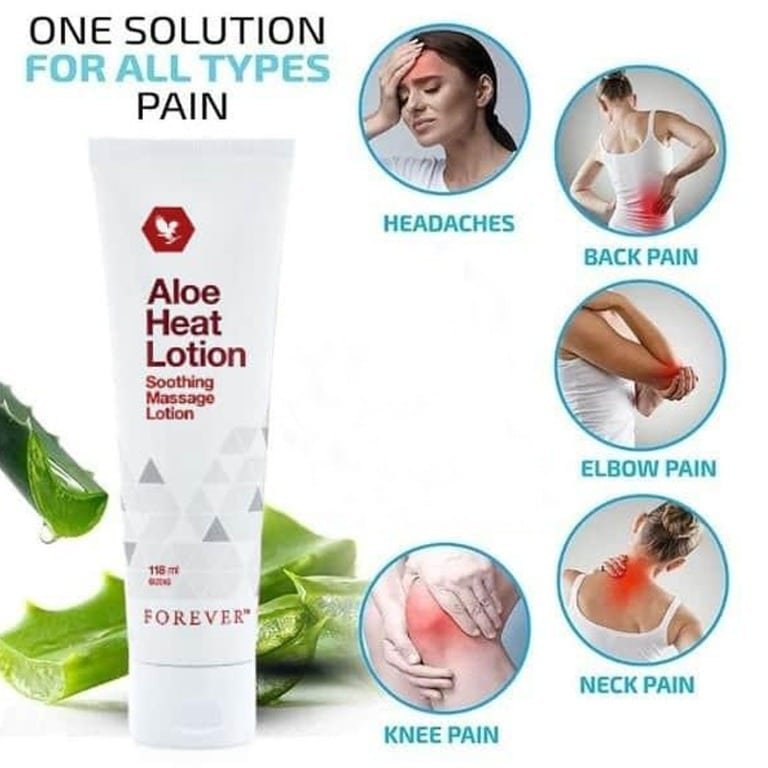 2). Blood Circulation
It creates a lot of warm heat in the area that you apply. As you know, heat creates a lot of blood circulation and blood circulation brings a lot of oxygen into the area. It will then repair the problem faster.
3). Organic Heat Ingredients
This lotion is enriched with natural and organic resources that are very efficient for the purpose of relieving the pressure and stress on your muscle.
4). Soothing and Moisturizing ability
With the Power of Aloe, not only has the ability to relieve the soreness of muscle pain, It has the soothing and moisturizing ability. Therefore you can rest assured that your skin is protected and at the same time meet the purpose of pain relief.
5). Relief from Tiresome and Stress
If you have been working for long hours, apply some on your neck and head. The Eucalyptus and Menthol smell makes you super substantial. Tiredness and stress disappear almost immediately.
I can assure you that you will have a great night sleep after a good massage with this heat lotion.
6). Safe For All
Because of its natural and organic ingredients, it is safe to use for almost everyone. From kids to elders. Unlike others that might have plenty of chemicals formula that is not very suitable for little kids.
Forever Aloe Heat Lotion Uses
Who should be using this Aloe Heat Lotion? Aloe Heat Lotion is best to use for : 
Sports enthusiast
Senior Citizen
Housewife & Mothers
People who work long hours
Aloe Heat Lotion is best in relieving stress and pain. No matter which categories you are in above. You will feel refreshing after using it. But for major injuries, it is better to consult your doctor or chiropractor. 
How Do You Use Forever Aloe Heat Lotion?
Apply the area in which you feel uncomfortable. Depends on the area, there is no rules on the volume you required. As long as it has sufficient quantity to massage the pain area that you need.
But please remember to be careful not to contacted with eyes. If it happens, wash the eyes with water immediately with clean hand and you should be good after a few minutes.
Bottom Line
Forever Living Aloe Heat Lotion is made with most natural and organic ingredients.Instead of using chemical or drug ingredients. I believe more people like you and me prefer more natural and organic products yet it does the work that we need.So what are you waiting for? Click
Order Now >>
today and get this amazing Aloe Heat Lotion.Your pain relief session starts today! and I am sure you will definitely love it.
Now, It's your turn, let us know your opinion about Forever Aloe Heat Lotion and your experience using it. 
Leave your comments and questions about the "Forever Aloe Heat Lotion" in the comment section. And we promise to answer your questions quickly.
And don't forget to share the article, because sharing is caring