Forever Absorbent C Review
Vitamin C, a vital nutrient needs by our body. And Daily vitamin C has long been associated with good health.
Since our body was unable to provide Vitamin C by its self. Therefore it is necessary that we had to find vitamin C from external sources, most common fruits that everyone know with high vitamin C is citrus fruits like oranges, berries and lemons. But are you able to bring a many of this fruits with you everyday wherever you go?
With Forever Absorbent C, You are able to absorb sufficient vitamin C daily without bringing many fruits wherever you go.
Forever Absorbent C with Oat Bran is an outstanding nutritional supplement. It combines two vital nutrients into one convenient product. The bonded matrix composition, is a unique delivery system combining 500 mg of oat bran with the full 60 mg of Vitamin C in each tablet. A daily intake of Forever Absorbent-C is highly recommended for good health.
So, Just continue to read this Forever Absorbent C Review and discover what is special compare to other. You will definitely love it after this.!
Product Specification
Product Name
Forever Living absorbent C

Brand

Forever Living

UPC

#048

Items Weight

100 Tablets

Key Ingredients

Oat Bran
Vitamin C
Papaya Powder

Availability

In Stock

Rating

⭐⭐⭐⭐⭐ 

5

/5
Forever Absorbent C Key Ingredients
Forever Absorbent C is an outstanding nutritional supplement. It uses the formula that allows you to keep the vitamin C in your body a longer period. Slowly release and allow your body to absorb it at the maximum.
1) Natural Oat Bran
Oat Bran helps support immune functions and assist in your body's absorption of vitamin C. With the combination of Natural Oat Bran, you will be able to keep vitamin C in your body longer period because when your stomach digesting the oat bran, it will slowly release vitamin C to your body and your body will absorb it easily and at maximum.
2) Ascorbic Acid (Vitamin C)
Forever Living Absorbent C combine Vitamin C with Honey too. With the Natural Orange flavor, Citrus bioflavonoids and papaya fruits poweder. All this combination boost with maximum of Vitamin C with natural sweetness, mingling perfectly with the vibrant orange flavor.
Forever Absorbent C Benefits
There are numerous benefits of forever absorbent C. I had list down the top 10 benefits below :
Helps form and maintain bones & skin condition
Powerful Anti-oxidants
Promote healthy immune functions
Maintain healthy blood vessel
Maintain healthy Gums and teeth
Slow down aging process
Improve circulation
Dissolves Blood Clots
Fight Bacterial + Viral Infection
Get the daily value of vitamin C easily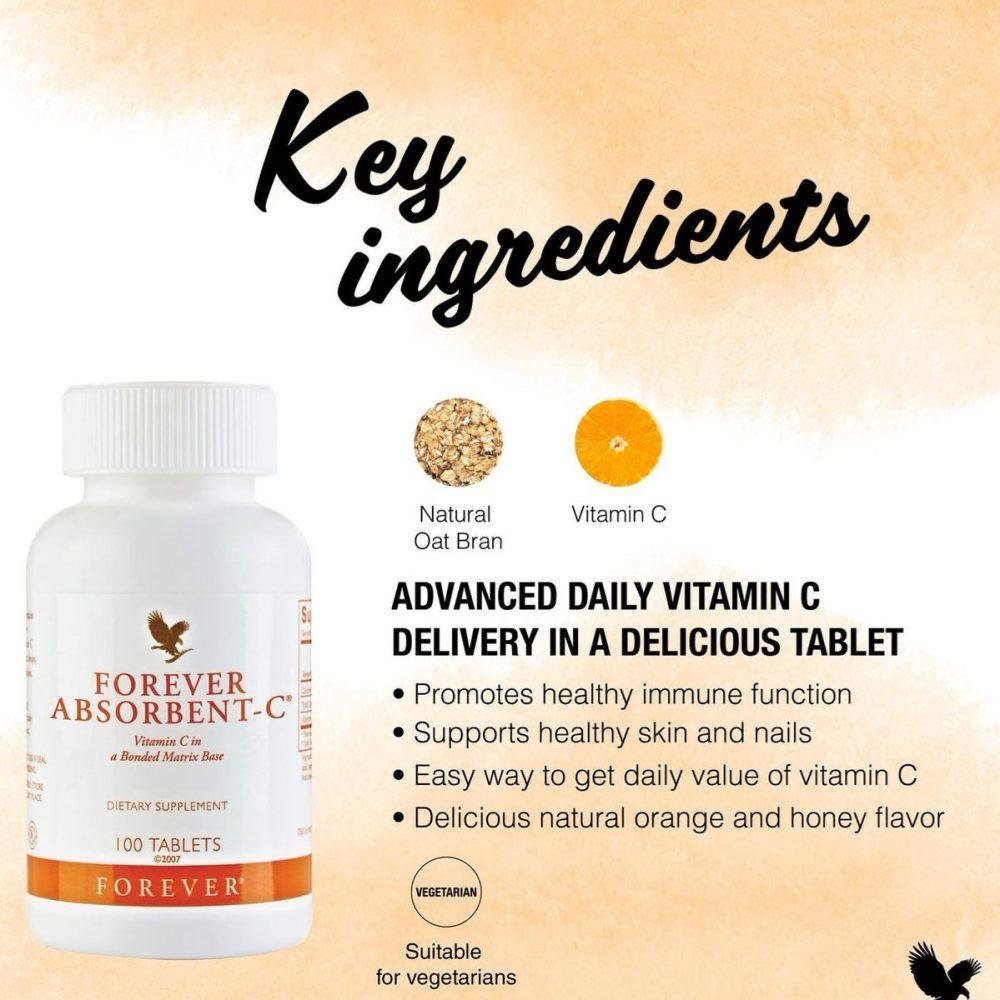 The Advantage of Using Forever Absorbent C
The unique part of forever absorbent C compares to what you can get in the market.
1. Each tablet of Vitamins C only consists of 60 mg  – according to research, the RDA for vitamin C for adults is 120mg adays. High dosage of vitamin cause extra burden to your kidney. Fortunately, Forever Absorbent C has done the research and come out with the product with sufficient dosage to consume.
2. No Coloring & Flavoring – It uses natural ingredients like papaya, oranges ascorbic acid with honey flavor. 
3. Easy dissolves & Maximum absorption – as mention above, it combines with bran oat to help to store vitamin C in your body longer to allow maximum absorption to your body.
4. Vegetarian Friendly – Fully fruits and vegetable, therefore is suitable for vegetarian. 
5. Forever Absorbent C Price – Affordable and reasonable price. 
How to Use Forever Absorbent C?
Recommended dosage:
For adults – 1 tablet 3 times a day
For kids (12 y/o and below) – 1 tablet a day.
Summary
Our body is unable to produce vitamin C on its own. Therefore, We need sources from outside, especially from fruits and vegetables. And because it is water soluble vitamin, it is easy to absorb and at the same time easy to lose.
In our current lifestyle, is quite impossible for you to consume enough vitamins C from vegetable or fruits every 3-4 hours. Which lead to we need external source supplement of vitamin C.
Forever Absorbent C with its ultimate formula provide what our body needs and able to keep the vitamin C in our body for longer period.
Vitamin C is kind of important to our body that we should not ignore and forever absorbent C covered everything you need in your daily lifestyle.
So, what are you waiting for? Click order now today to get our Forever Absorbent C Today!
Now, it's your turn, 
Let us know your comment about the "Forever Absorbent C Review". We promise to try our best to reply to your comment as soon as possible.
and lastly, don't forget to share, as sharing is always caring.